Jenkins Explores Life in 'Texoma'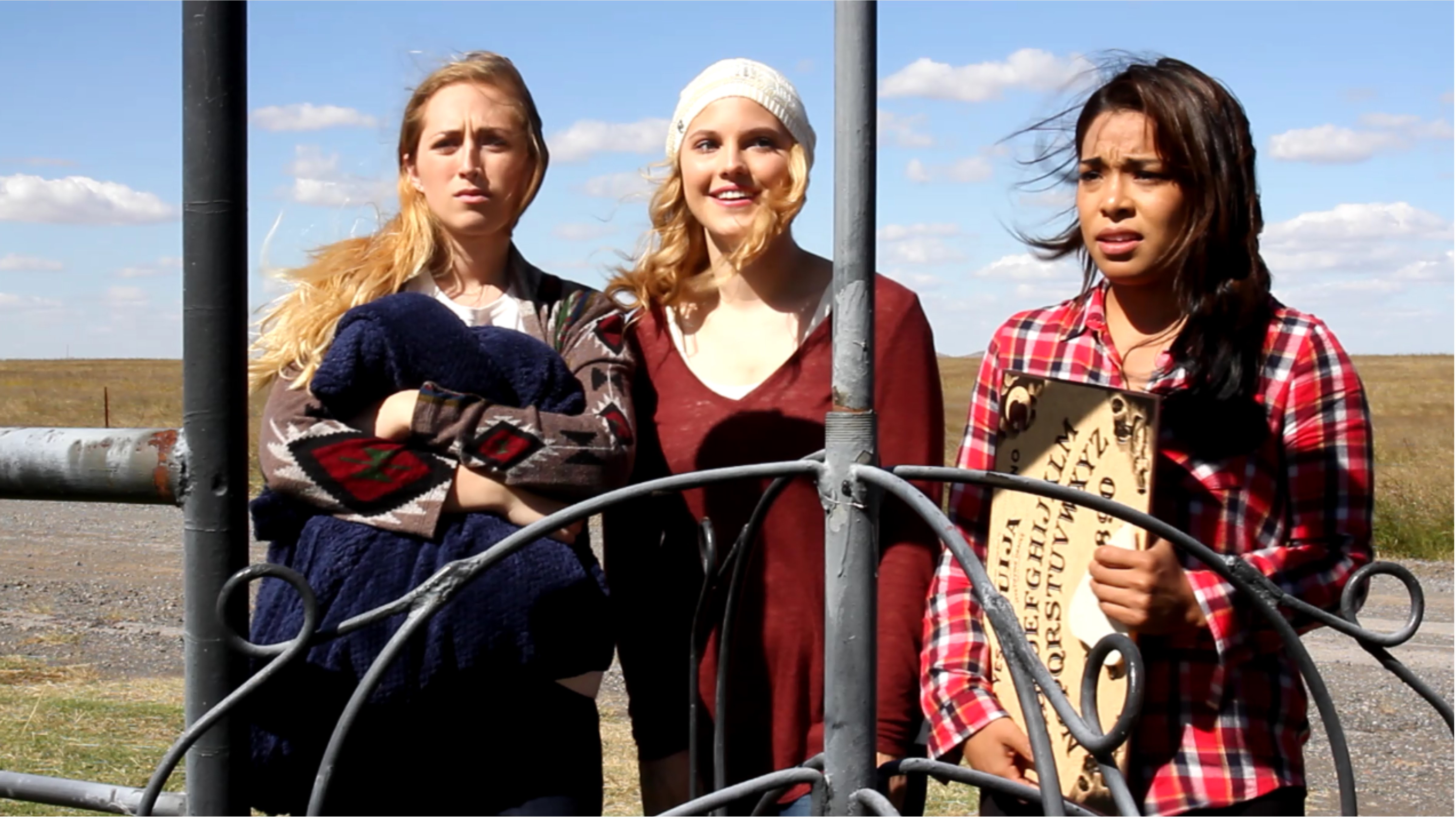 A Look at Texoma: Actors (from left) Paige Kriet, Savanna Sanders and Lizette Ross perform in a scene from the movie "Texoma". The film is communication professor Dr. Matt Jenkins' latest project.
Zayna Haliburton
Staff Writer
Communication Professor Dr. Matt Jenkins is currently working on a new movie titled "Texoma."
Jenkins said he wanted to make a movie using what was around him, and that was Southwest Oklahoma.
"We actually sent the script into a script reader at a studio, and she loved the location. Just absolutely loved it," Jenkins said.
In order to get actors for the movie, Jenkins said he used a casting company. Many of the actors are coming from places outside of Oklahoma.
Having actors come from out of town to film the movie gives Jenkins a great feeling.
"I'm flattered that they want to come all this way and work with me," Jenkins said.
Not only did Jenkins have actors come from out of town to film "Texoma," but he also used students in his production.
Senior journalism and media production major Savanna Sanders has a role in the very beginning of the movie.
"It was a very different experience compared to what I'm used to doing at school like on CU News," Sanders said.
Another one of Jenkins' students is Corey Ferbee who provided music for the movie from his album Ground Breakers. Ferbee is a member of GodsChild Muzik Group.
Jenkins enjoys allowing students to be a part of his movies and hopes that they are able to learn something from it.
"I ask the [students] because I know that they can fulfill a specific role for me or responsibility like a production crew," Jenkins said.
"I hope they gain experience and see how a production is put together."
Jenkins is working on promoting the film before it is completed.
He is using social media platforms such as Facebook and Instagram to discuss "Texoma."
Jenkins said he will put up a post on Instagram, and if viewers want to see more they can click the link in his bio. The link will take them to a website with clips from the film and cast member blogs.
He said that Internet presence will be a high priority.
"We'll be constantly updating the [website] and adding more things in order to keep interest going on the production," Jenkins said.
Jenkins said a student even helped him come up with the idea of creating the hashtag #Texomamovie for every time he makes a post about the film.
He hopes to have the production complete early next fall and plans to premiere it upon completion.
Jenkins said having many people attend the premiere is an important goal of his.
"I want to have a full house for the premiere," Jenkins said. "I want every seat filled there, and then I'd like to see the [movie] get into ten film festivals."
Jenkins also worked on a three-minute length film with four students a year ago and completed it in August.
It is titled "Monday Tea," which he hopes to premiere at the end of the semester or next semester.
He said he enjoys what he does and likes the uncertainty of it all.
"When you're producing, it is all a juggling act, and you've got to make sure everything falls into place when it's supposed to fall in place," Jenkins said.
To stay informed about the production of "Texoma," follow Jenkins on Instagram at mattjproductions.
You may also like...