Gamers Anonymous: Born to Play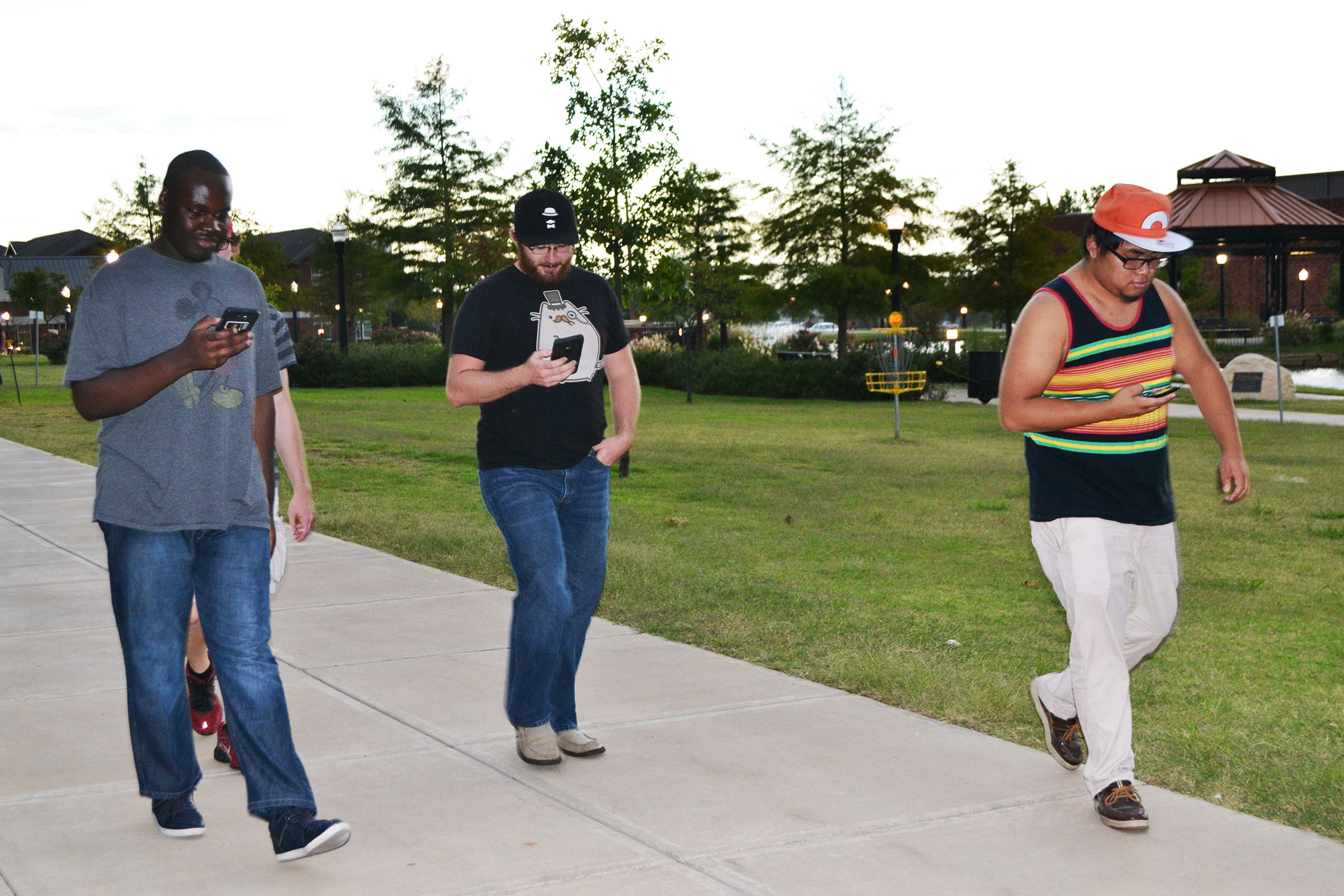 Mobile Gaming: Members from the Gamers Anonymous club toured campus playing Pokemon GO. The game involves earning experience by visiting landmarks and battling other teams for gyms.
Zayna Haliburton
Staff Writer
Anyone interested in tabletop, console, board, card or video games can join Gamers Anonymous.
The group meets once every week where they have a meeting and then play a game after. Junior Levi Kinnamore serves as president for Gamers Anonymous. He said the organization formed two years ago from a student named Cameron Green.
"His thought was that there are quite a few gamers here on campus and we should try to gather them together," Kinnamore said. "The advisor Mr. Sanders thought it was a good idea and he signed up for it too and they got the organization together within that year."
"With every meeting I try and take a week and try to find games that will be suitable for multiple people to play or for multiple people to see," Kinnamore said. "Usually we come up with those on the fly, we usually don't try to plan ahead too much unless we have events."
One event they hosted was a Pokémon Go Walk 6 p.m. on Thursday Oct. 6, open to the public. Participants were divided into three groups according to the game: Mystic, Instinct, and Valor.
Kinnamore said that there was more to the event than just trying to "catch 'em all."
"We're going to have them walk around while the leader of each team will try and discuss the history of Pokémon and gaming and in life itself," Kinnamore said. "We're going to have prizes."
Sophomore criminal justice major Joseph Burke joined Gamer's Anonymous last year and currently serves as treasurer. He said he enjoys playing a variety of games.
"[Gaming is] one of my number one past times," he said, "just playing games whether it's tabletops or actual video games or card games in general. It's pretty much my main focus outside of school."
Burke added that he enjoys playing a variety of games with the members of the organization, including "Keep Talking and Nobody Explodes," a game that involves teams paying attention and ultimately being focused.
There are four people, three of whom cannot see the bomb but can see rules on how to diffuse one. The fourth individual can see the bomb but does not know how to diffuse it. That person describes the bomb out loud while the other three describe how to disarm the bomb based on the description.
According to Burke, the games would grow intense.
"It got hard, too," he said. "You can increase the number of modules on the bomb, basically different amount of puzzles you have to disarm. The more and more you added, it got ridiculous."
Gamer's Anonymous will hold their last meeting for the semester at the end of November and is open for any student to join for a membership fee of 10 dollars.
For more information on how to get involved, students can attend meetings at 6 p.m. every Thursday in Academic Commons room 133.
You may also like...