Aggies Fall at Midwestern State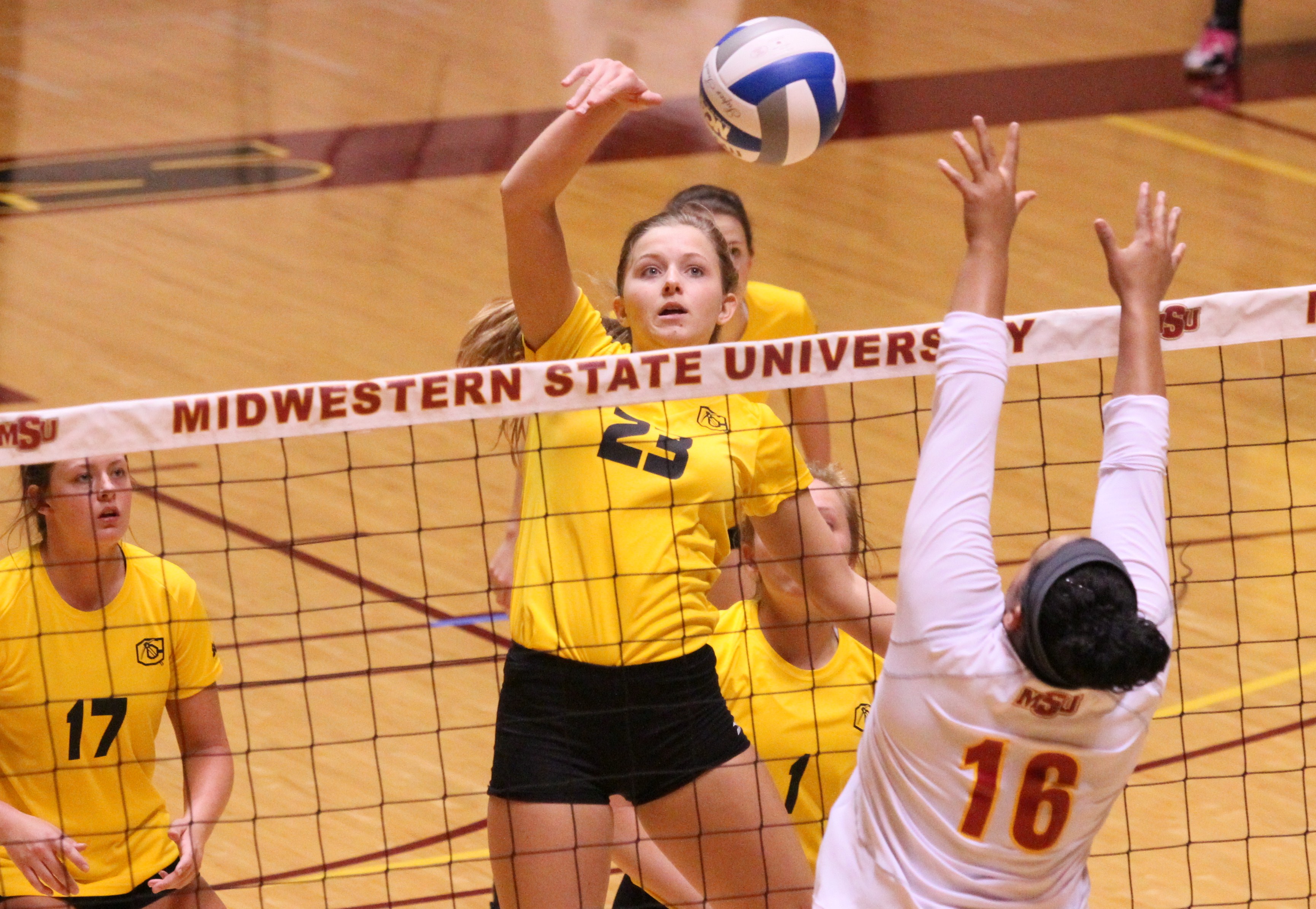 At the Net: Sophomore Jenna Gillean sends the ball over the net for the point. Gillean led the Aggies with nine kills in loss to MSU in their second-to-last match of the year.
CU Sports Information
The Cameron University volleyball team fell in straight sets to their Red River rival Midwestern State on Tuesday night, 25-17, 25-16, 25-12.
The Aggies, who are now 3-25 overall and 1-19 in Lone Star Conference play, hit just .056, compared to MSU's .279 attack percentage. Cameron tallied five total blocks, while the Mustangs recorded four of their own.
CU stuck with MSU through most of set one, until a five point run gave Midwestern State the edge through the first frame. The Mustangs jumped out to an early lead in set two, and kept that throughout to secure the set win. In the third and final set, the teams were even until MSU scored eight straight points to pull away and take the match in three sets.
Cameron was led on the attack by Jenna Gillean, who had nine kills and 10 digs, while Brittany Lawson had six kills and 13 digs. Shelby Pohlmeyer recorded her first career double-double with 21 assists and 13 digs, and Katrina Campbell added 11 digs of her own. Additionally, Sabra Washington recorded a solo block and two block assists, while Pohlmeyer and Hailee Faustner added two block assists each.
Midwestern State, who is now 12-19 overall and 6-13 in league play, was led by Sarah Garfield with 13 kills, while Kristan Aduddell had 46 assists, and Khailia Griffin had 21 digs. Meghan Bettis added an 11 kill, 10 dig double-double to the Mustangs' cause.
Cameron will conclude their regular season with a trip to Texas A&M-Kingsville on Saturday, Nov. 12 at 2 p.m.
Tags Aggie SportsFeatured
You may also like...