Students Survey Presidential Debate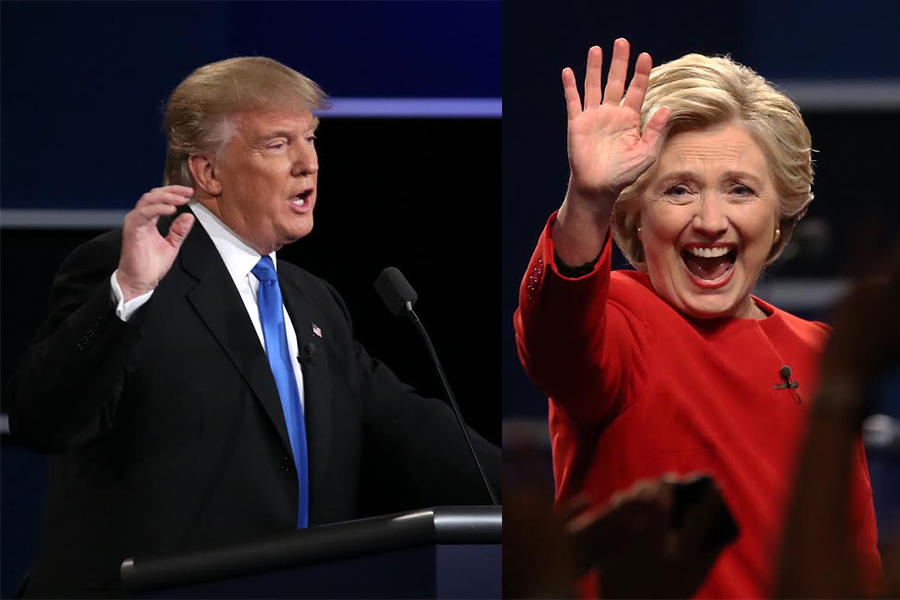 Vicky Smith
Managing Editor
@pinkwritinglady
Fifty Cameron University students viewed a live streaming of the first presidential debate between Hillary Clinton and Donald Trump at 8 p.m. on Monday, Sept. 26, in room 114 of the communication building.
Before and after the debate, Cameron students, among nearly 350 other college students across the nation, completed surveys created the by University of Missouri (MU).
Professor of Communication Dr. Justin Walton, who coordinated the event on campus, said MU has been collecting data on political debates and campaigns for close to fifteen years.
"Whenever we have presidential cycle, they have hosted a number of debate-viewing parties at different campus locations," Walton said. "Essentially, what happens is the students that participate in these debate viewings fill out a pre-debate survey that registers their perceptions towards politics, their interest in the current campaign [and] their feelings towards the candidates."
Walton said after watching the debate, the students then take a post-debate survey that registers any changes in their views of the issues or the candidates based on the debate they just observed.
"All of this data gets collected at the University of Missouri, and they analyze it," he said. "For the next three to four years, they will be presenting research at academic conferences and publishing their findings out of this election cycle."
According to Walton, MU researchers are interested in finding multiple facts, such as how a debate influences a person's political opinion and what viewers learn from watching a political debate.
"They're interested in people's general political knowledge – indicators of civic interest or civic participation," he said. "[They're interested in] participants' political worldviews and political beliefs, and they're also interested in political socialization, which is how have you learned about politics.
"They're interested in whether those continue to play prominent roles in your understanding of political issues."
Walton said he originally expected thirty to thirty-five students to attend the debate viewing, and he was thrilled when fifty students participated.
"I really appreciate the students that came out for the event," he said. "[Nationwide,] there were 400 college students total that participated in that first debate watch. … Cameron contributed almost thirteen percent of the overall sample to that first debate, which is pretty cool."
Walton said he believes students personally benefit from not only watching the debate but also from taking quality surveys.
"It's nice for students to see a thought-out survey instrument," he said. "Getting a chance to see a well-designed survey gives you some ideas of how to construct your own surveys. … There's some very specific questions being asked, and they also think about how to scale the items."
Walton said for some students, the debate on Monday night was probably the first presidential debate they have ever watched, which he said might increase the likelihood of them watching future debates.
According to Walton, Americans have a civic responsibility to exercise their right to vote.
"Voting – actually having the chance to cast a ballot – is something that we cannot take for granted," he said. "There have been too many groups throughout our own history that have been disenfranchised and have really struggled to exercised that right."
To stay informed daily, Walton said he listens to political news on the radio and reads news articles.
"If you're disconnected from politics, and you don't know what to do, go to the candidates' web pages [and] read what they've posted," he said. "Ask yourself, 'Do I agree or disagree with this, and at the end of the day, which individuals would I feel most comfortable occupying this particular political role?' You've got to make an informed judgment."
The next presidential debate viewing will be on Oct. 9. Students who are interested in attending should contact Walton at justinw@cameron.edu.
You may also like...