SAA Connects Students, Alumni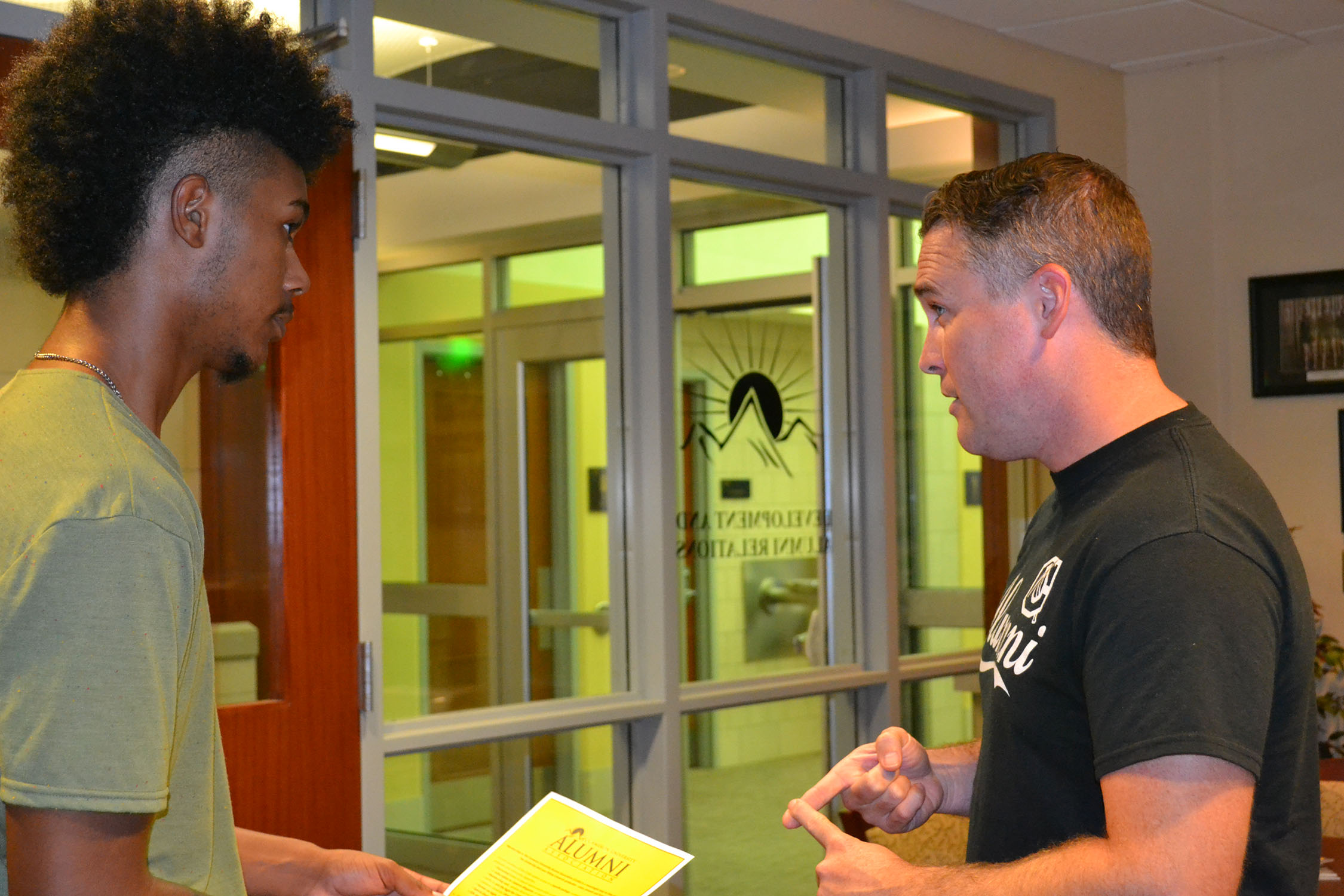 Connections: Students who would like to receive advice from Cameron alumni about life after graduation can join the Student Alumni Association.
Zayna Haliburton
Staff Writer
Students wanting to make connections with Cameron alumni and stay connected to the university after graduation can join the Student Alumni Association (SAA).
A two-year fixture on Cameron campus, the SAA is open to all Cameron University students and offers various benefits to those who join.
According to Associate Director of Alumni Relations and SAA Staff Adviser Frank Meyers, SAA members receive mentorship opportunities, workshop experience and invitations to alumni functions throughout the year.
The SAA offers programs that help current students and graduates. Last year, the SAA invited a financial advisor from Fort-Sill Credit Union to discuss topics such managing money month to month, building a credit score, and the importance of savings.
Myers said speaking engagements give students a different perspective compared to someone working in higher education, who may offer different pieces of advice.
Members of SAA are given opportunities to meet and work closely with alumni and make connections in order to help them in their future.
"We know we have some fantastic alumni," Meyers said, "but sometimes our students don't know who they are. So if we can hook up our great, successful alumni with our students who have so much potential and get them connected, we really think there is an opportunity to grow the prestige of the institution."
Junior elementary education major Taegan Gatlin has been a part of the SAA since it started. In her experience, getting to meet successful people is an important part of the experience.
"They were going to try and match us up with alumni that graduated from Cameron and are already in the workforce," she said. "So I was really excited [for] that."
According to Meyers, these connections provide benefits for students outside of what they would get normally.
"With access to alumni, you have access to job shadowing, you have access to mentorship, you have access to internships," he said. "Your odds of wanting to get hooked up with someone specific dramatically go up when you are involved with an organization like this."
Myers stated that the alumni play an important role with the SAA and can only continue to benefit students after graduation.
"An institution is only as good as its alumni," Myers said. "So if your alumni have a great reputation and go out in the workforce and their like, 'Man, people from Cameron are awesome,' the value in that degree goes up because of that reputation."
Myers said later in the fall they are hoping to host a kickoff event at D-BAT downtown.
D-BAT is an indoor batting facility. This event is open to any students wanting to participate.
"It's kind of a recruitment event," he said. "We're going to invite people that are outside of the SAA to come. We want them to know about it."
The SAA is available to all students currently enrolled at Cameron University. Students pay ten dollars a year to become a member.
Gatlin encourages all students to join.
"Just do it," she said. "It's just a good way to be involved with other people off the campus that are already successful."
For students looking to get involved in the SAA, Cameron University's Office of Alumni Relations located in room 202 in CETES offers more information, or call 580-581-2988.
You may also like...