Running for the Gold: Toth's Olympic Aspirations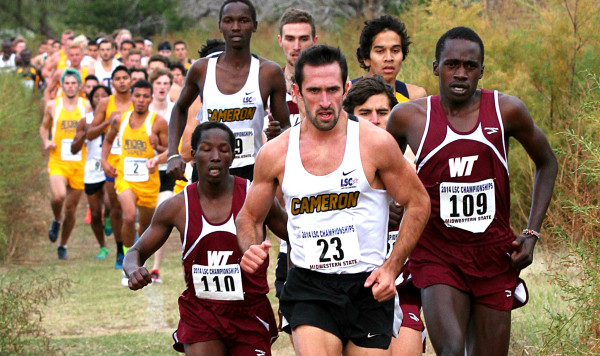 Jacob Jardel
Voices Editor
@JJardel_Writing
For Cameron alumnus Thomas Toth, running is more than a passion – it's family.
He and his wife Mikaela Toth currently reside in Plaistow, New Hampshire. However, when he is away from home, Thomas is racing his way to national – and international – success.
In January 2016, Thomas ran his first half-marathon in Houston, Texas, where he set one of the 10 fastest times of any Canadian. He built on that success in his second half-marathon, winning the Canadian championship at the Scotiabank Calgary Marathon.
With those two races under his belt, Thomas has bigger and brighter aspirations for his future, mainly the 2018 World Championships in Spain and the 2020 Olympics in Tokyo. After serving as a backup for Canada's half-marathon world championship team, he has high hopes for the future.
"[Being a reserve] has given me huge motivation and has driven me every day to do better and be better," he said. "I do believe that, by the end of 2018, I will represent Canada on the global stage."
Mikaela agreed with this sentiment.
"I think it's time," she said. "I think he is ready."
One of the university's most decorated athletes in recent memory, Thomas has a competitive spirit that started with his love for running as a youth. He was the youngest of four siblings, and his oldest brother was an accomplished runner in high school.
He said their drive fueled him into striving for his own dreams on the track.
"Running was something we could do together," he said, "and eventually it became something more competitive. I chased the times and marks my brother had set before me, and it gave me something to look up to."
The family atmosphere, combined with the level of competition, has sustained his love for running. He also found inspiration in basketball players like Kobe Bryant and Michael Jordan, whose work ethics he wished to match.
Taking these qualities to heart, Thomas soon made a name for himself at his secondary school in his native Lakefield, Ontario, Canada, where he was a seven-time conference medalist, seven-time district champ and four-time all-Ontario cross country team member.
After two years at Sir Sanford Fleming College, he started his cross country career with the Black and Gold in the spring of 2012. Traveling 1,500 miles from his home town, he had reservations about feeling alone in a completely foreign environment.
But he did not have to wait long to feel like Cameron was home.
"Within hours I felt welcomed by my new team," Thomas said. "One of my first 'this is home' experiences I had was my first dinner in the café. Having such a warm and welcoming environment helped the transition a lot.
"This wouldn't be the last."
Cameron University was not the only place he called home in his time on the team. He staked his claim on the racetrack time and time again.
Transition was the theme of his first year both personally and athletically.
"I thought I knew it all and had all the answers," he said. "My first year was a cold slap in the face.
I learned how many different cultures there truly are and gained such a better knowledge of the world," he said. "I really learned how to apply myself to the goals I had and how to utilize the resources around me in order to seize every opportunity."
However, some of his biggest lessons led to how he could grow overall.
"I truly learned how hard I could push myself not only in athletics but also in every facet of my life," he said, "how to become a better friend, student, athlete and, more importantly, man.
"I can truly say Cameron molded me into a better person. Without the school and the environment it gave me, I would never have gained the appreciation for the world around me and everyone who helps build it."
This growth showed in his junior year, where he claimed four top-five funs on the season, including a first-place finish at the Cowboy Jamboree and a third-place finish at the Lone Star Conference Tournament. He also won LSC Runner of the Week honors twice.
That success blossomed into a victory lap of a senior year. He finished in first place at the LSC Championships, the first Aggie to ever take home the crown, and took home the title of LSC Runner of the Year. He then placed ninth in the NCAA South Central Regional Race and 11th in the National Championship race.
For Thomas, his final push was one to remember.
"My senior year played out in my mind almost flawlessly," he said. "I didn't come away with a national championship, but I did get every other goal I had on my list."
Despite cross country being a relatively individual sport, though, he was quick to give credit to his team and support systems for the successful senior season.
"Everything from the classroom to the track I wouldn't have been able to do without the great coaches, teammates, athletic department and Mikaela," he said. "So really we all 'set the track ablaze.'"
Now more than a year removed from receiving his degree in criminal justice, Toth has not stopped running down his dreams of being a world-class runner. After his two successful half-marathons, he is setting his sights on taking the international stage by storm.
Between his final race at Cameron and his first race as a professional, though, he made sure to establish a family outside of the racetrack when he married his wife.
The two met through the team, with Mikaela acting as the unofficial "mom" of the team, cooking the members dinner, helping them run errands or providing them with a place to hang out. She recalled the first time they met after one of Thomas' teammates brought him over to her apartment.
"I remember I was sick and had virtually no voice," she said. "I remember saying, 'Hi. I'm Mikaela. I don't normally sound like a man.' And we have been best friends ever since.
"We have been together since September of 2012, but I have been in love with him since day one."
The two married on Oct. 16, 2015. Even on that day, his love of running found its way into the wedding.
"When I said Cameron's team was like a family, I meant it," Thomas said. "Our wedding party was made up of the team and friends we made at Cameron."
But the ceremony would not be the last time his Aggie teammates would help him out along the way.
Current cross country coach Zach Johnson worked with Thomas during his senior year at Cameron. Since then, the two have continued to collaborate on successful ventures, despite the distance between them. Johnson sends weekly workouts, and Thomas sends back results.
Thomas expressed gratitude for his ability to continue working with the CU coach.
"The effort he put into my athletic career was more than I could have ever anticipated," Thomas said. "Not only does he really do everything in his power to make sure everyone competes at their highest level, [but also] he's been there for me in my personal life."
Johnson said that he first saw Thomas while coaching at another school, noting his competitive nature. Upon coaching him at Cameron, Johnson noticed the seriousness Thomas showed regarding his running, his training and his goals. This dedication sticks with Thomas, something Johnson commended.
"No matter how hard the workouts are that I give him, he always finishes them," he said. "Not many people could train alone with no one supervising their workouts and get the level of work done that he has."
Johnson said this work has led to improvements since graduating, with Thomas running at a higher level than he did at Cameron. The coach mentioned that, with more improvements and continued success, Thomas can go far with his goals.
"I think if he can stay healthy and continue to train at the level he is, we will see him in the 2020 Olympics representing Canada in the marathon," he said.
Thomas also credited former teammates Antonio Moreno and Janis Pastars, former coach Casey Kreger, athletic director Jim Jackson and associate athletic director Kim Vinson as fonts of support for his athletic accomplishments.
He mentioned Moreno in particular as a big support in his life.
"Toni has been my brother since I first arrived at Cameron," Thomas said. "I don't think I have met a nicer person in my life. I can't wait to see what he does this season and next semester on the track."
Thomas also credits faculty-in-residence Dr. Thom and Denise Balmer as some of the biggest pillars of support who have helped him build the foundation of his success at Cameron and afterward. They still converse on a regular basis. According to Thomas, the two made Cameron even more special to him and his wife.
"They truly treated us like their own," Thomas said, "and leaving them to move to New England was really like leaving our parents. We are very fortunate to have them in our lives."
The Balmers reciprocated that feeling, stating that the Toths are two of their many "Cameron kids." Thom said that he and his wife enjoyed seeing both Thomas and Mikaela grow throughout their time as students.
Now that the Toths have left the university, they relish in the moments where both of them succeed on and off the track.
"We celebrate with pure joy to watch Thomas become not only a Cameron and Oklahoma champion [but also] an international champion," Thom said. "We love watching Thomas and Mikaela grow into their skills and talents."
Thom also recalled the dedication both showed as resident assistants – a drive that translated to Thomas' training regimen then and now.
"We remember seeing Thomas running in the pouring rain," Thom said. "We tried to give him a ride, and he said, 'It's just a little rain, I am training for all environments … I think Thomas knows that life is not supposed to be easy."
Thomas added that his family from Canada has been supportive of him despite the distance between Lakefield and the various places he has raced. He said that he owes them not only his love for the sport but also consistent guidance throughout his life. However, Thomas cited his wife Mikaela as his top supporter throughout his career.
"She has molded me into the man I am today and has provided so much support," he said. "She has helped me reach out in academics and my personal life to become someone better. I truly do owe her more than I can repay."
For Mikaela, though, seeing him succeed provides a sublime feeling of joy. She mentioned that there are many aspects that go on behind the scenes that most people do not notice, from his deep commitment for healthy training habits to his passionate determination.
She said the pride she has for him is ineffable.
"I could not really explain what the feeling is," she said. "I am so beyond proud of him and his accomplishments that if I could invent a word for it I would. He has grown up and learned so much.
"I am very excited to see where his career is taking him."
For now, Thomas' career is taking his home nation of Canada for the National Cross Country Championships on Nov. 26 in Ottawa, Ontario. The results of this race will determine who the team Canada will take to the world championships in March 2017 in Uganda.
Thomas said that he is looking forward to this race, especially with the stakes involved.
"Doing it back in Canada, with a worlds team on the line, just makes it all the sweeter," he said.
Being in his home country for this pivotal race just adds to the family atmosphere that has surrounded Thomas' running since his younger days. His Canadian family will likely be there in person to cheer him on. Johnson will be coaching him for the race. His wife, as always, will help him with every non-ran step along the way.
But he has one more family giving him a world of support half a continent away, and he could not be happier for it.
"I truly believe if it wasn't for Cameron I wouldn't have accomplished a half of the things I've set out to do or become a quarter of the person I am today," he said. "I couldn't have asked for a better experience than the one I received from Cameron."
You may also like...