CU Succeed: Women at Work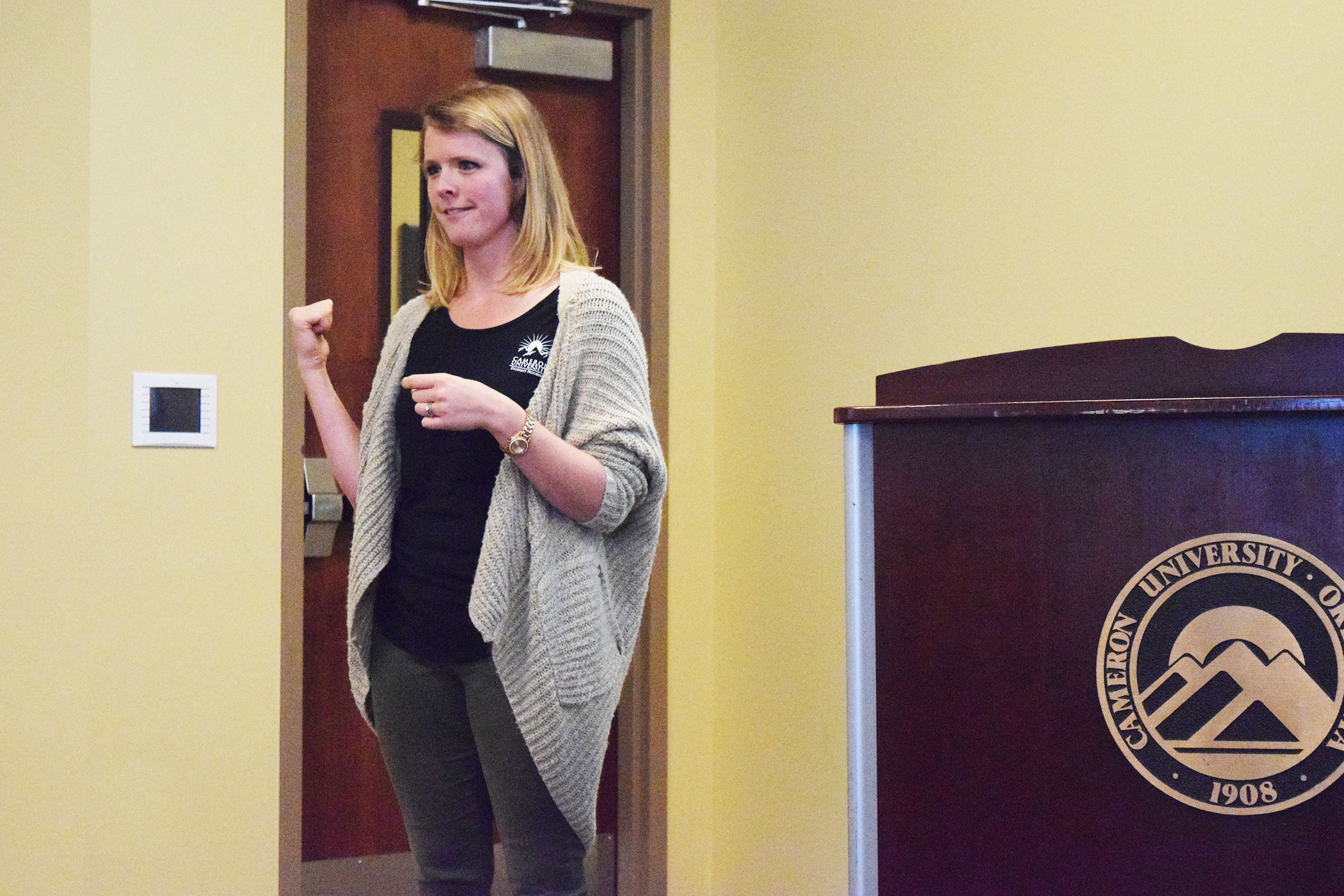 Cheyenne Cole
Staff Writer
The CU Succeed Workshop series continued on Sept. 14, in the MCC Buddy Green Room with the topic Empowering Women in the Workplace.
Director of Student Housing Katie Hubbard spoke at the workshop and said she is very passionate about the topic because she previously worked in an environment that was not as welcoming to women prior to her position at Cameron.
"I realized I need to empower myself," Hubbard said. "I need to advocate for myself; I need to stick up for myself. That's something I think a lot of women, younger women, too, shy away from."
In preparation for the workshop, Hubbard spoke to Vice President of Academic Affairs Ronna Vanderslice about Vanderslice's journey to empowerment and read "Lean In: Women, Work, and the Will to Lead" by Facebook COO Sheryl Sandberg.
Hubbard said she wanted attendees to become aware of factors that may hold them back in the workplace.
"I hope that women don't settle," Hubbard said. "I hope when they see a barrier that they're not too intimidated to try for something."
Hubbard attributes the treatment of women in the workplace to the ingrained ideals placed on individuals during their childhood.
"It's easy for us to see an assertive woman and call her bossy because that's how the media portrays women, and it's associated with that," Hubbard said. "The more you draw attention to that, the more you can make your mind shift away from that."
Hubbard's advice to young women entering the workforce is "to advocate for themselves, to not shy away from negotiating their salary and asking for promotions and responsibility. Go for it. Try new things and don't be afraid of how it's being perceived."
Hubbard said what she hopes attendees take away from the workshop is the drive to become what they want to be.
"I want people to be empowered to pursue what they want to pursue," Hubbard said. "Whether that is a stay-at-home mom raising their family, being CEO of a company or being a counselor, I want people to be empowered to do that and not be worried about the social pressures that come along with it."
Reagan Pyles, sophomore early childhood education major, attended the workshop and said it served as a reminder of the importance of women's leadership.
"I think that we look at men as our power-figures, and it's been like that for a long time," Pyles said. "Now people are saying 'Oh, women can do the same things that men do.'"
Inclusion and Student Success Coordinator Olivia Polynice organizes the CU Succeed Workshops and said the goal of the workshops is to help students explore different topics they would not normally see in the classroom.
"The workshops can help students in school, but they can also help them as a person," Polynice said. "I've always been a strong believer that college isn't just about getting the education, but it's also about becoming who you're meant to be. If students learn something at a workshop they didn't already know, then they've grown."
Student suggestions for workshop topics are welcome. Students interested in attending future CU Succeed Workshops can visit www.cameron.edu/cusucceedfor a full list of workshops that will take place throughout the fall semester.
You may also like...