Changes at Cameron Library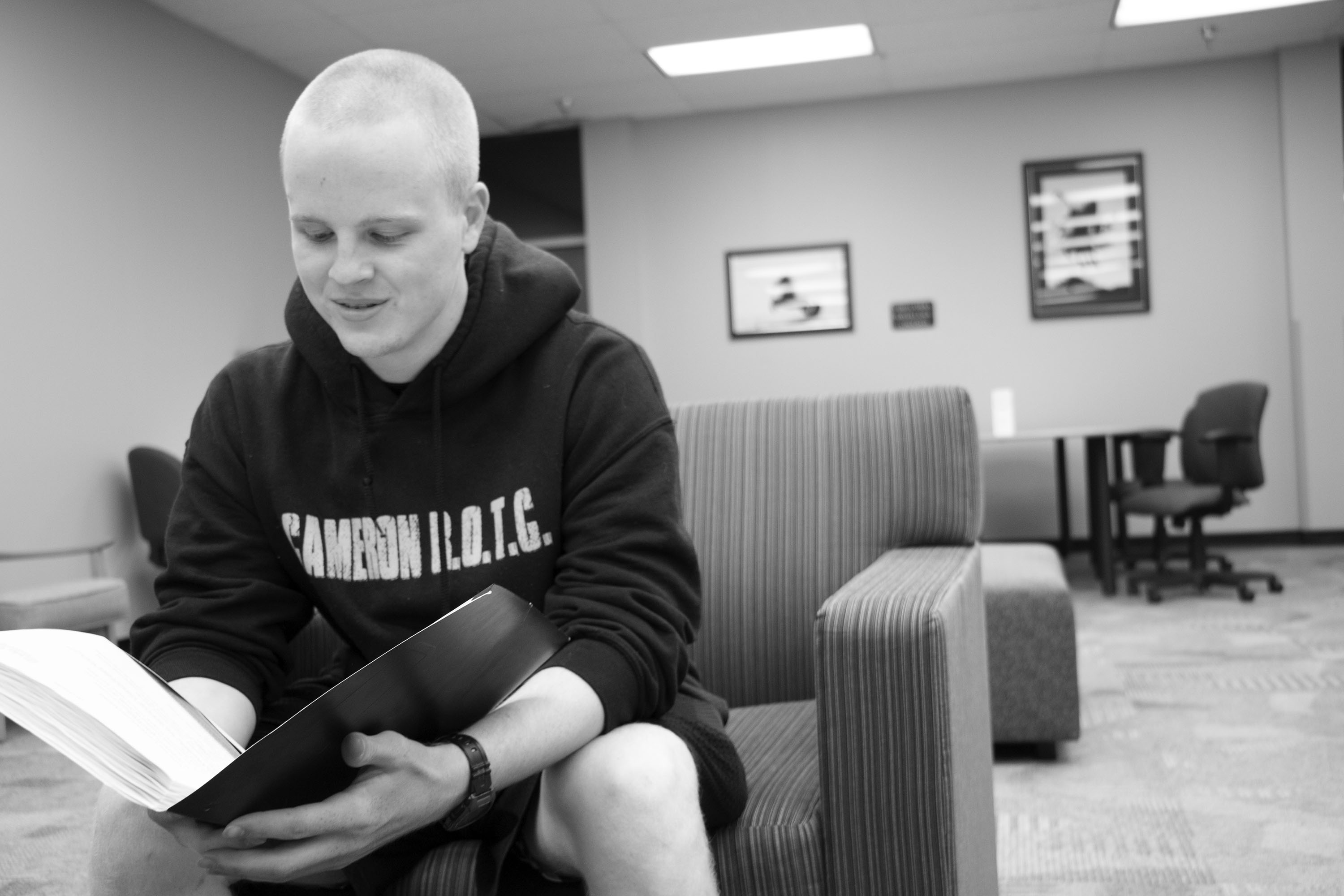 Studying in Comfort and Style: The Cameron Library now features new furniture and more computers. MSIII cadet Christopher Lacock (above) studies in one of the renovated study spaces.
Vicky Smith
Managing Editor
@pinkwritinglady
This fall, the Cameron University Library offers many new resources that benefit student learning.
CU Library Interim Assistant Director Barbara Pickthorn said Vice President for Academic Affairs Dr. Ronna Vanderslice and Associate Vice President for Academic Affairs Dr. Sylvia Burgess have been instrumental in the process of renovating the library.
"They [looked] at what other libraries are doing to get more students in the library," Pickthorn said. "They have encouraged us to make changes. … Everything that we've done is to try to be more student-friendly."
Pickthorn said she and the library staff also received feedback from surveys that question students about the library.
One change she and the staff has implemented is the addition of furniture.
"We ordered bigger chairs – the bigger, soft chairs – the big foot stools [and] the ottoman," she said. "We've added some colored sofas."
Pickthorn said the library will also be receiving more computers from labs that have closed down, such as the lab that was in the music building.
According to Pickthorn, students are now permitted to drink soda and eat food in the library. In the past, the rule was to only drink water unless a certain area specifically permitted other beverages and snacks.
Now, students can access a vending machine in the library.
Pickthorn said the library might feature a coffee bar in the future.
"There's a program they're hoping to implement, which allows students to be entrepreneurs" Pickthorn said, "and they would run the coffee shop. … It's still something they want to do to give students the chance to run a business."
Students can also now determine where they want to study based on the noise-level signs that hang outside the designated study rooms.
"We ask people to choose rooms that fit the amount of noise level or voice level that they need to have because some people don't want any talking," she said, "and some people want to work together.
"So, we have collaborative spaces, and we have quiet spaces in an effort to try to control [noise]."
Pickthorn said there's a room at the top of the stairs that's called the "silent space."
"We just want people to be able to go in there and read a book," she said.
Another feature of the library that will appeal to students who are also parents is the family room.
"[The family room] has computers for the students and then things for the children to do and little [Leap Pads] for the kids so that they can do games."
Pickthorn said students are also welcome to check out various gadgets, including lap desks, earphones, calculators and Kindle Fires for test-taking purposes upon prior approval from a professor.
According to Pickthorn, because the Cameron Exchange building is now closed, the CU Honors students, as well as the PLUS scholars, have their own room in the library where they can join together for meetings and fellowship.
Pickthorn said the library is still undergoing changes that will ultimately help students.
"That's the focus basically – to make it more comfortable for students to be here," she said.
For more information about the Cameron University Library, visit Cameron.edu/library, call (580) 581-2957, email ask@cameron.libanswers.com or tweet @CameronLibrary.
You may also like...