Cameron Falls in Tenth Straight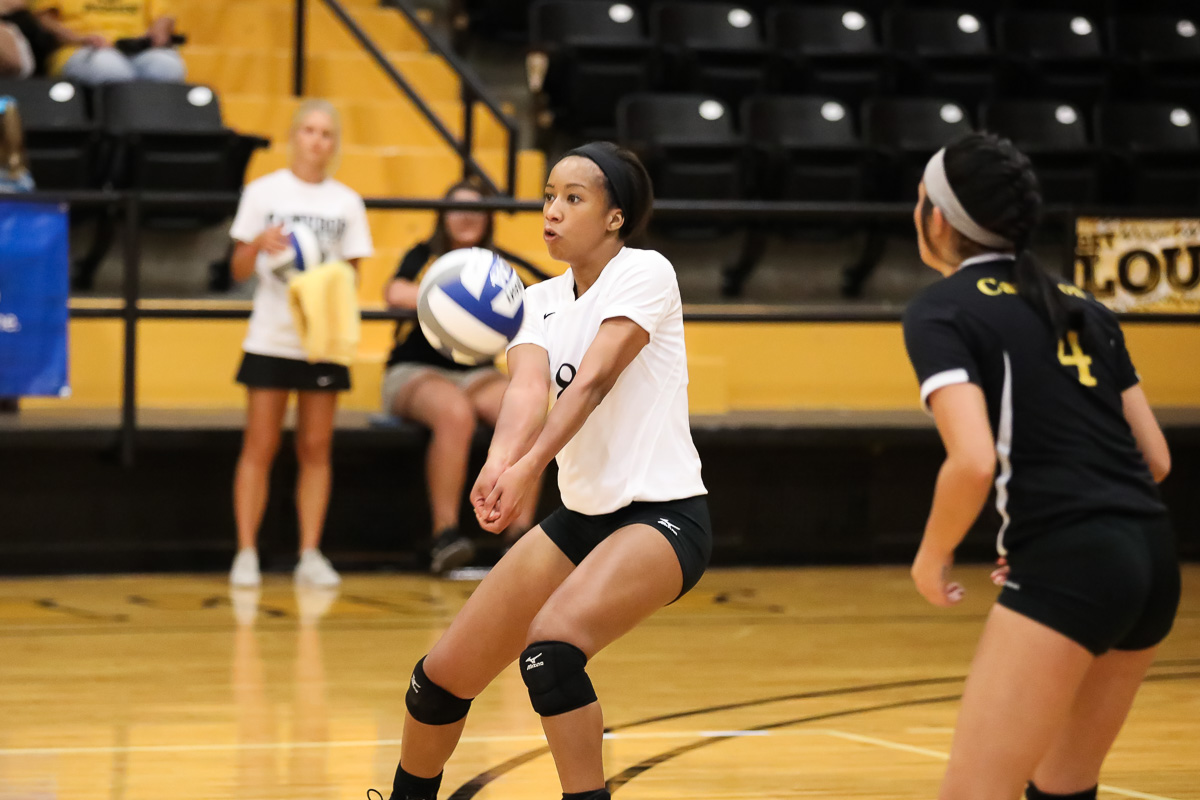 Send It Back: Paige Dixon sets up a chance to return the ball. The sophomore assisted on three blocks in Cameron's loss to Southern Nazarene on Oct. 11. This defeat mark's the Aggies' tenth-consecutive loss, bringing them to 2-16 on the year as they finish their non-conference slate for the season.
Krista Pylant
Copy Editor
@KristaPylant8
Cameron volleyball lost for the tenth straight match, falling to non-conference opponent Southern Nazarene 3-1 (22-25, 28-26, 25-23, 25-21) on Oct. 11 in Bethany.
Freshman Sabra Washington set a career high in blocks, assisting with each of the Aggies' five. Sophomore Paige Dixon chipped in to help on three of those stops.
On offense, sophomore Jenna Gillean recorded a team high 16 kills. She matched her efforts with 16 digs for her fifth double-double on the year. Freshman Ania Keene also finished with double-digit kills, notching at 11 on the match.
The Aggies jumped to 6-2 lead to begin the match, but a seven-point SNU rally brought the Crimson Storm a 9-6 edge. Cameron remained behind but tied SNU five times before reclaiming the lead at 20-19 and again at 22-21.
Cameron would win the first set 25-22 after taking advantage of 11 SNU attack errors while keeping the Crimson Storm to .060 hitting. Gillean put down six kills on offense for CU.
The second set saw an even more tightly contested battle with 15 ties that took the game to extra points. Keene knocked down a kill to knot the set for a final time at 26-26. But an SNU kill and an Aggie ball handling error the Crimson Storm the 28-26 win. Southern Nazarene notched 22 kills during the frame.
For the third set in a row, the Black and Gold took the first lead. However, SNU recorded back-to-back kills for the advantage midway through the frame. The Crimson Storm withstood six Aggie tie scores to hold onto the lead and take set three 25-23.
With two early lead changes, SNU advanced into the fourth set holding a steady pace until the Aggies caught up to level the set at 20-20. But CU would lose momentum as SNU posted a 5-1 run behind four kills and a block to the set 25-21 to take the match.
The loss drops Cameron to 2-16 on the season. They finish a homestand against Texas Woman's on Oct. 18.
You may also like...