Aggies Find Poise for State Pageant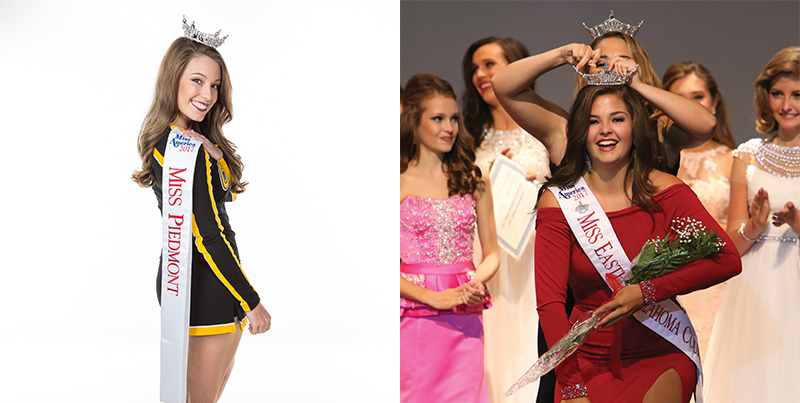 Krista Pylant
Copy Editor
@KristaPylant8
Not only are Rylee Wilson and Jancy Jeffus both students at Cameron University, but they are also 2017 pageant title holders.
Wilson, a junior accounting major, holds three Oklahoma pageant titles including her most recent crown for Miss Piedmont, which she won in July, while Jeffus, a sophomore animal science major, recently won Miss Eastern Oklahoma County in August.
Both Wilson and Jeffus will compete in the Miss Oklahoma pageant in June 2017.
Rylee Wilson
Hailing from Altus, Oklahoma, Rylee Wilson transferred to Cameron University from Western Oklahoma State College after receiving a scholarship to cheer on the spirit team.
Wilson began cheering when she was in the fourth grade and has participated in the sport ever since. In high school, she also played basketball, softball, ran cross country, showed steers for FFA and served as class president.
During her sophomore year of high school, Wilson began competing in pageants, winning her first in 2012 as Miss Northwest Passage Teen and her second title in 2014 as Miss Altus.
In her junior year, Wilson began centering her platform on her passion for extracurricular activities and has carried that message with her to her latest title as Miss Piedmont 2017.
As a part of her pageantry appearances, Wilson travels to various public schools throughout the area encouraging children to foster active lifestyles.
"I focus on Pre-K through sixth grade a lot because that is when kids are starting to develop habits," Wilson said. "If you start young, they will create good habits and carry those up to junior high and high school."
In her first event as the newly crowned Miss Piedmont, Wilson volunteered at the USA Canoe and Kayaking Sprint National Championship in Oklahoma City.
On Sept. 10, she made an appearance at Piedmont's Founders' Day parade where she got to experience her favorite aspect of both pageantry and cheerleading, which is interacting with children.
"It's really neat to be a part of something that's bigger than yourself," Wilson said "Seeing these girls and how they want to be a princess just like you. Even whenever I'm in the cheerleading uniform, girls will come up to you and say 'I'd love to be a cheerleader.'
"It's just seeing little girls look up to you and knowing that you're doing it for them, and you're trying to be the best person that you can be, so you can be a role model for them."
Wilson is currently preparing for her second run at the Miss Oklahoma pageant; however, a recent injury set back both her training and cheerleading.
Wilson dislocated her knee and tore her medial patellofemoral ligament performing a stunt at the beginning of the September and has had to adjust her training regimen as a result.
"I can't work out my legs right now," Wilson said, "So I'm sticking to my arms and instead of having one cheat meal on the weekends, it's no cheat meals. Right now, no carbs after six. It's just really eating clean food and making sure I'm giving my body the proper nutrition that it needs, so once I do have my surgery, I can come back faster than ever."
Wilson is no stranger to injuries having fractured her back practicing back handsprings for cheerleading all-state tryouts her senior year of high school that forced her to wear a brace all day, every day from January to June.
After dislocating her knee this season, Wilson was concerned that she would have to find a new talent aside from clogging; however, she expects to be back in full force in December leaving her sixth months to work on her routine before the Miss Oklahoma pageant.
"I'm going to have to hit the gym extra hard to make up for the time I lost," Wilson said, "As well as going around Piedmont and finding other local events that I can be a part of so I can give back to the community and work on being me and finding myself and just working toward who I think Miss Oklahoma is."
Wilson's experience recovering from injuries coupled with her knowledge of Miss Oklahoma places her at an advantage for her return to the big stage where she aims to place in the top-10.
"The first time I went to Miss Oklahoma, I was 17 years old," Wilson said. "I was the youngest contestant, and I felt like a baby compared to everyone. I was so scared."
But Wilson's experience has translated into resolve, even in lieu of her injuries.
"Now I feel like I've had my two years off," Wilson said, "and I'm ready to come back stronger than ever."
Jancy Jeffus
A native of Grandfield, Oklahoma, Jancy Jeffus began competing in pageants when she was 15 years old inspired by her older sister who she watched make two trips to the Miss Oklahoma pageant herself.
Following two years of competing on the teen circuit, Jeffus transitioned into the Miss division in 2015, participating in 15 contests but winning none.
However, 2016 saw the tide turn for Jeffus who would win in her second pageant of the year where she claimed the crown for Miss Eastern Oklahoma County 2017.
"When they called my name it was complete shock," Jeffus said. "I couldn't hear anything after they called my name, and I was shaking for a good thirty minutes after I got my crown on. The tears were flowing. It's cloud nine and every time I think about it, that moment just makes me smile."
As the newly crowned Miss Eastern Oklahoma, Jeffus' first appearance included a visit to Choctaw's Oktoberfest, which brought over 40,000 people in attendance.
While the distance to Choctaw sometimes proves difficult for Jeffus, she continues to volunteer at local events like the Comanche County Fair and Spirit of Survival in Lawton.
Jeffus' current plans include continual involvement with the Children's Miracle Network and visits to local schools where she can share her platform, Be-YOU-tiful, with children.
"My platform is about promoting confidence and teaching young kids that they are absolutely perfect the way they are," Jeffus said, "There's no reason to doubt yourself and there's no reason to bash anyone else for being different because that's what makes us unique."
Jeffus' chose her platform based on her experiences in high school.
"In high school I was very quiet," Jeffus said. "I was the girl who sat in the corner and thought nobody came up to talk to me because I didn't look a certain way or I didn't sound a certain way or I just didn't have what it takes to have a lot of friends.
"That really hurt me growing up, so when I go into these schools, I want to be the person that I wished I had in high school."
Jeffus' platform is one that she reminds herself to embody daily, and she said that from competing in pageants she has seen personal growth within herself.
"It helps me so I can walk down the street and notice myself with my shoulders hunched looking like I'm closed in," Jeffus said, "So I tell myself, 'No you're Miss Eastern Oklahoma County. You stand up straight and wear your crown even if it's invisible. Walk tall and be proud of who you are.'"
In between appearances, Jeffus continues training toward her first Miss Oklahoma pageant.
As a part of the Miss Eastern Oklahoma pageant, Jeffus also won a fitness sponsorship, which assists her with meal and exercise planning, which she uses in addition to practicing her tap dancing talent.
While this Miss Oklahoma pageant will be Jeffus' first, she knows from her older sister's experience that the pageant will be a weeklong series of competition and events where stress tends to run high for all of the contestants.
"I am worried about being stressed out and being overwhelmed," Jeffus said, "But I know that these girls will help me get through it. All of the girls I've met so far are insanely sweet, and they just want to be there for each other. I feel like that atmosphere is going to make that whole week less stressful."
As far as goals for the Miss Oklahoma pageant, Jeffus said, "I would love to walk out of there knowing that I did everything I can to be the best person possible. Win or lose, I want to know that I did everything to better myself."
You may also like...