Aggie Volleyball Drops Seventh Straight Match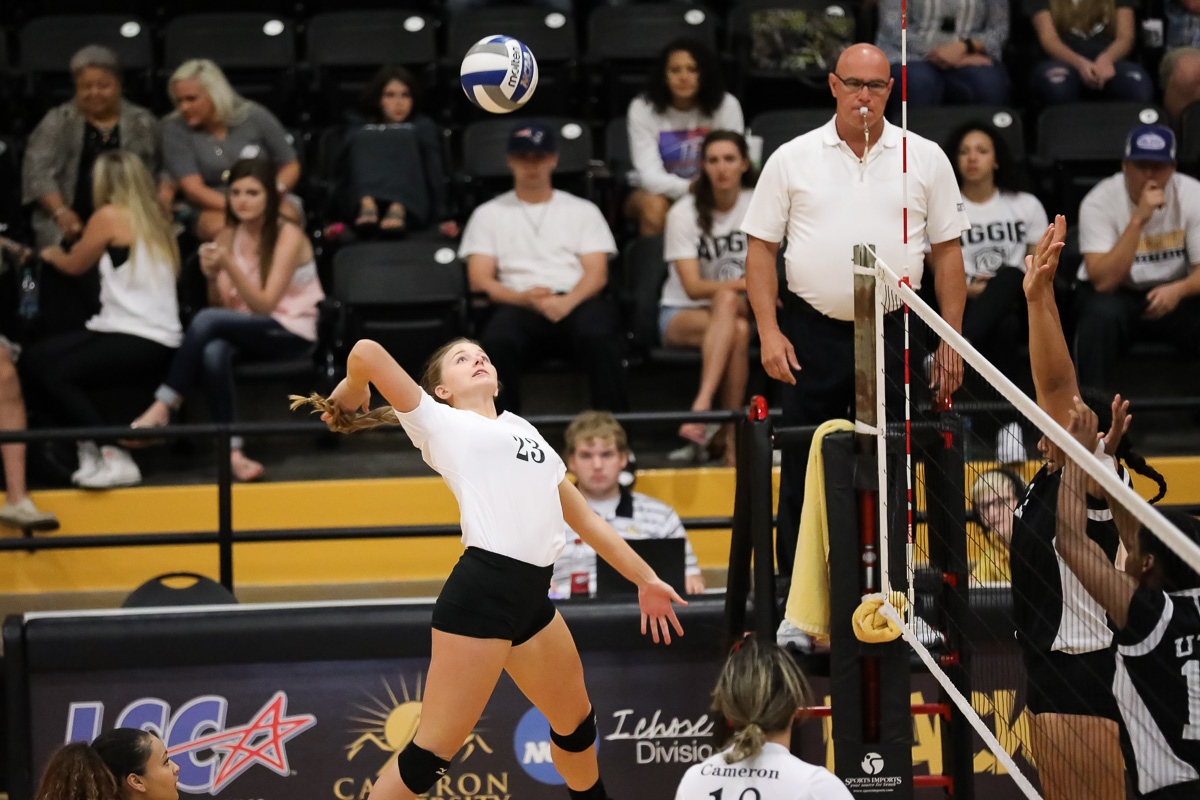 In for the Kill: Sophomore Jenna Gillean makes a try at the ball. Gillean extended her streak of matches with 10-plus kills to 14 games in CU's losses to Texas A&M-Commerce and Texas Woman's University.
Krista Pylant
Copy Editor
@KristaPylant8
Cameron volleyball dropped two more games during a Texas road trip from Sept. 30 to Oct. 1.
The losses extend the Black and Gold's losing streak to seven as they cap off their recent four-game span of away games.
Game 1
CU lost 3-1 (25-13, 23-25, 25-15, 25-10) to Texas A&M-Commerce on Sept. 30 in Commerce.
The Lions hit at a clip of .255 and generated 63 kills to power past the Aggies' 31.
In set one, the TAMUC jumped to a 7-0 start combining for 15 kills and hitting .250 to CU's .051 for a 25-13 game win.
Cameron would take the second set 25-23, outlasting 13 ties in a back-and-forth game. The final tie occurred at 23-23, but a Sabra Washington kill and a Lion attack error brought the Aggies the win.
For set three, TAMUC would take the last five points for the 25-15 set win. The Lions took the fourth frame with a 25-10 victory after hitting a match-high .342.
Sophomore Jenna Gillean extended her streak of matches with 10 or more kills to 13 after knocking down a team-high 10 against Commerce. She also recorded 11 digs for her fourth double-double of the season.
Junior Kylee Quillin led the Black and Gold with 20 digs, and freshman Shelby Pohlmeyer contributed a team-high 22 assists.
Sophomore Paige Dixon and freshman Joseline Caraveo combined for two blocks each.
Daisge Smith led the Lions with 15 kills.
Game 2
Cameron concluded its four-match road trip with a 3-0 (25-20, 25-23, 25-17) loss to Texas Woman's on Oct. 1.
The Aggies committed 19 attack errors on the match and hit .130 while the Pioneers notched a .277 attacking percentage.
In set one, following an 8-8 tie, TWU went on a five-point run following two kills and three Aggie errors. The Pioneers would amass a seven-point lead, their largest of the game.
The Black and Gold closed the gap to two at 18-16. But Texas Woman's held on to take set one, 25-20.
Cameron took the lead midway through the second frame and held a 23-18 advantage.
However, errors derailed the Aggies, as four miscues helped the Pioneers chain seven straight points for a 25-23 victory.
For the third set, Cameron would inch within one point of the Pioneers at 11-10. That was the closest the Aggies would approach TWU's lead.
Texas Woman's went on to win 25-17.
Gillean extended her streak of matches with 10 or more kills to 14 games after knocking down a team-high 12 against the Pioneers.
Sophomore Shelby Mench led CU with 29 assists, while Quillin and Dixon combined for 11 digs each.
Sara Oxford led TWU with a match-high 14 kills.
Cameron is now 2-13 on the season with an 0-7 record in the Lone Star Conference.
After playing two games at home against Tartleton State and Angelo State, the Aggies will hit the road again to take on Southern Nazarene University on Oct. 11 in Bethany.
For students interested in Cameron Volleyball and other Black and Gold athletics, visit cameronaggies.com/a> for more information.
You may also like...