Work Study 101: Benefits of On-Campus Jobs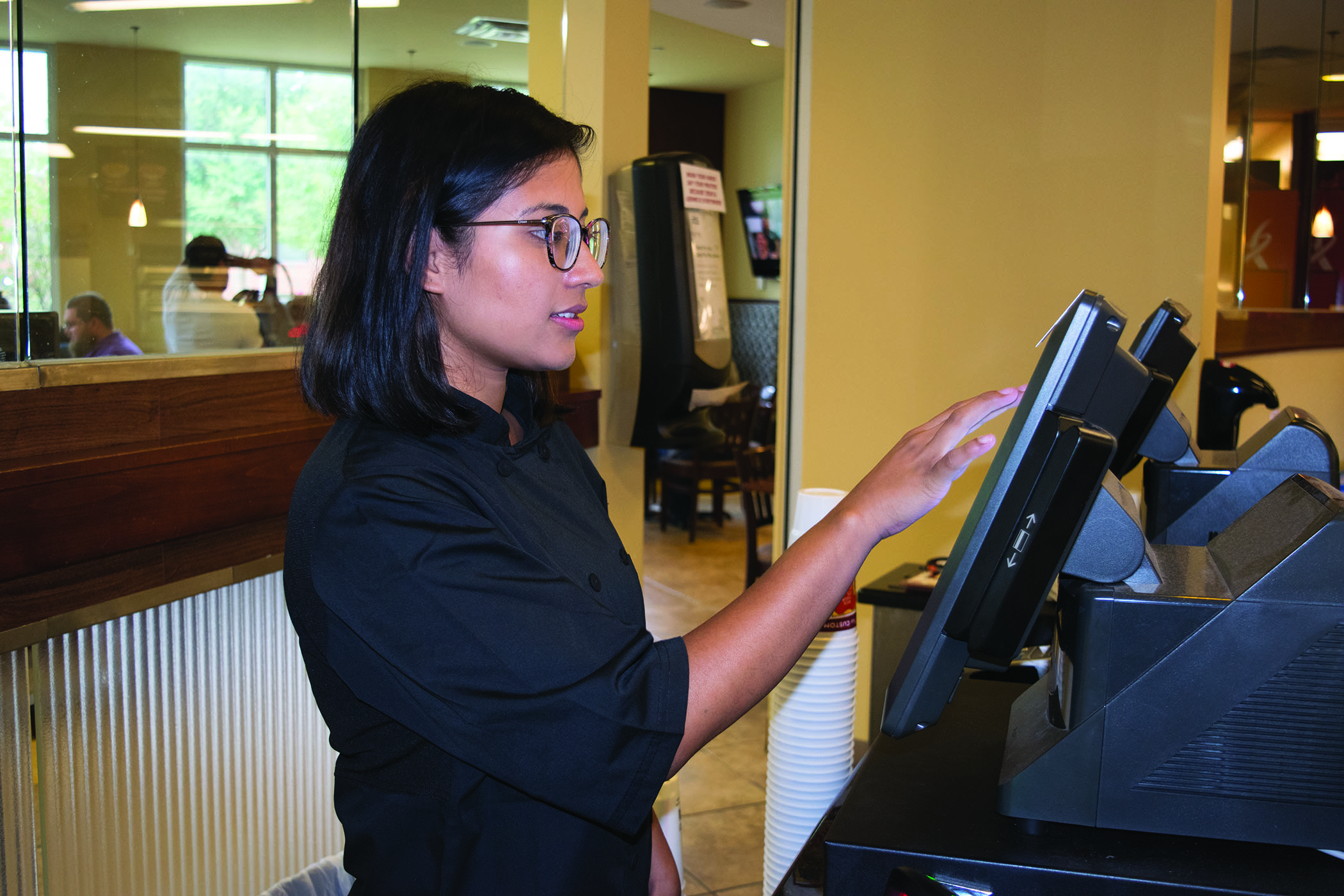 On-Campus Employment: Master of Business Administration major Solu Pathak operates the cash register at the MCC food court. By participating in Cameron's work-study program, Pathak is able to go to both class and work on campus.
Cheyenne Cole
Staff Writer
Cameron University's work-study program provides students with many opportunities to work on campus.
The program's mission is "to enhance student learning by providing workplace opportunities to gain professional development while meeting the needs of school departments."
Tiana Buckner, a junior graphic design major, works as a graphic design intern in the Office of Campus Life where she creates posters for various student organizations and Facebook and CU website banners.
Buckner said students in the art department are required to have a graphic design internship to graduate, and she is thankful she can fulfill that requirement through Cameron's work-study program.
"It's really hard to find a graphic design job in Lawton," Buckner said, "So this is a good opportunity for me. It's also a paid internship and a lot of internships aren't paid, so that's a bonus."
Senior English major Leilani Roman said she prefers her job as a writing tutor in the Center for Writers to the two additional jobs she works off-campus.
"It's very fulfilling," Roman said. "It's nice to know that I'm helping people. Students have come back to thank me for helping them. Writing is something that I'm very passionate about, so it's nice to be able to pass on my trade."
Megan Canfield, Coordinator of Campus Life and New Student Programs, helps oversee six work-study students in the Office of Campus Life and said she is grateful for the student workers.
"They always add a fun mixture to the environment of our office," Canfield said. "They're always willing to help out and do things, and they are really fun to get to know."
Canfield said that although students may not be paid as much as they would at a job off campus, the positive environment and camaraderie between the staff makes the office a fun place to work.
Sophomore information technology major Fikayo Ariremako, works as a student assistant in the library where he shelves books, helps students and makes sure the computers and printers are working correctly.
Ariremako, who hails from Ikorodo, Lagos, Nigeria, said the work-study program helped him make the transition to American culture.
"We're [international students] coming from a different culture," Ariremako said. "We get to meet people in the library and understand the culture here. We talk differently, so when we meet people at work, it gives us a chance to learn."
Senior biology major Ujjwol Khatri also works as a student assistant in the library and said that an advantage of working in the library is that when he is not busy, he has time to read and study.
Various positions are available now, such as Microbiology Lab Assistant, Writing Tutor in the Center for Writers and a Costume Shop Assistant in the Theatre Department.
Students who are interested in applying for a work-study position can visit www.cameron.edu/personnel/studentemployment for a full list of available jobs.
Tags Cheyenne ColeCU News
You may also like...