Volleyball Drops Home Openers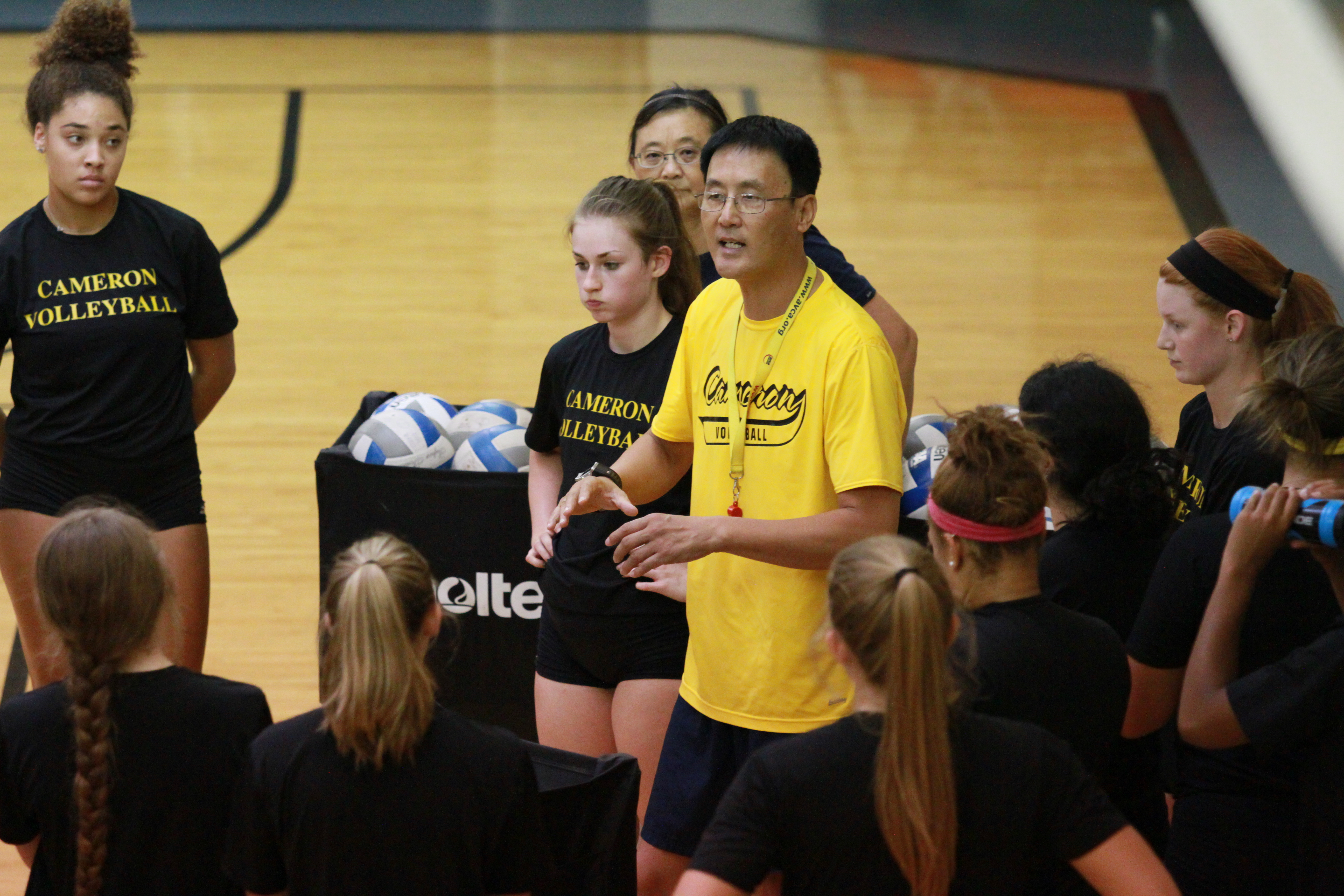 Krista Pylant
Copy Editor
@KristaPylant8
The Cameron volleyball team opened their home and Lone Star Conference season with a pair of losses on Sept. 16-17 in the Aggie Gym.
On Friday, the Aggies took their third match in a row into five sets, but they fell 3-2 (25-19, 25-14, 21-25, 21-25, 15-8) to West Texas A&M.
WTAMU stuffed the Aggies at the net, compiling 14 total team blocks while also outmatching CU with a .227 attacking percentage to the Ag's .140.
Paige Dixon led the Aggies in kills with 14 and contributed 16 digs. Also with a double-double was Jenna Gillean at 12 kills and 11 digs. Kylee Quillin had a team high 22 digs to add with four aces. Haleigh McClain-Ward recorded 22 assists on the match.
In set one WTAMU pulled away from a 14-14 tie chaining four straight points to jostle the Aggies. CU trailed by three near the end of the set, but three consecutive kills by the Buff's Elisa Bentsen took the set, 26-19.
The Aggies struggled in set two, never taking the lead and hitting just .020 to fall 25-14.
However, Cameron salvaged with a 21-25 third set win after taking advantage of late WTAMU attack errors to string a five point run. The chain provided cushion as Cameron remained on set point for three plays, but Dixon put down a kill to send the match into a fourth set.
Set four saw 15 tie and six lead changes. Late attack errors again plagued the Buffs who would fall 21-25, but WTAMU never let go off the lead in set five to boast a .409 hitting clip while holding CU to .040 for a 15-8 win.
Bentsen led the Buffs with 15 kills, and Lauren Britten recorded a team high 28 digs.
Against the UT-Permian Basin, Cameron fell in straight sets (28-26, 25-12, 25-23) on Saturday afternoon in the Aggie Gym.
Jenna Gillean led the Aggie offense with 12 kills followed by Joseline Caraveo at 8. Brittany Lawson recorded a match high 15 digs. Shelby Mench contributed 15 assists with Haleigh McClain-Ward one behind her. Ania Keene assisted with three of CU's seven total team blocks.
Set one went back and forth with 15 ties and six lead changes. The final tie came at 26-26, but a Falcon kill and an Aggie attack error awarded the first set to UTPB, 28-26. Despite the loss, set one also saw CU's highest attacking percentage on the match at .238.
The Aggies struggled in set two overtaken by 10 miscues and a -.030 hitting clip, never leading to fall 25-12.
In the third and final set, Cameron took advantage of two Falcon attack errors to inch within one at 23-22. However, the Aggies responded with two attack errors of their own out of three plays bringing UTPB the 25-23 win.
Caitlyn Guajardo and Kaitlyn Embrey led the Falcons with 13 kills apiece.
Cameron will hit the road for their next four matches, starting at Western New Mexico.
You may also like...