'The Tempest' Brewing Up a Storm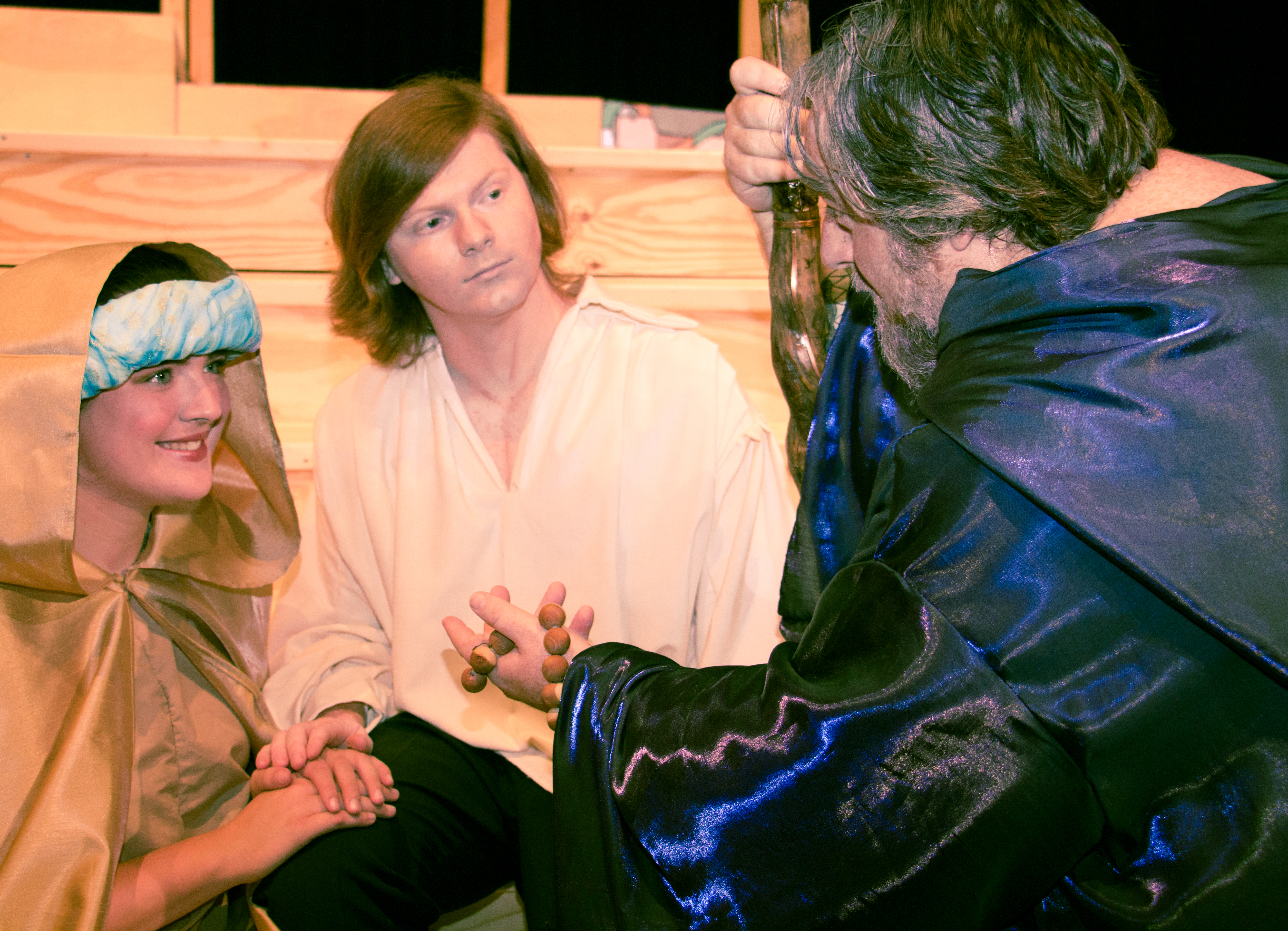 Conjuring Love: Student-actors Sierra Sorrell (Miranda), Cole Nowlin (Ferinand) and Mark Branson (Prespero) rehearse a scene from "The Tempest." The show opens Sept. 29 and will show through Oct. 2.
Payton Williams
Staff Writer
From Sept. 29 to Oct. 2, Cameron University's Department of Art, Music and Theatre Arts will perform their production of Shakespeare's "The Tempest."
Shakespeare's final work as sole writer, the play focuses on Prospero, a magician and rightful duke of Milan. His jealous brother Antonio stranded him for 12 years on a remote island with his daughter Miranda.
Prospero plots revenge over this time and at last gets his chance when a ship containing his brother, the king of Milan and assorted attendants, voyages past his island. However, various instances complicate his plans.
Assistant Professor Dr. Deidre Onishi is serving as director for the play. She also directed the department's last Shakespeare production, "Macbeth."
She felt that it was time to produce another after some years have passed.
"It's good for students to have that experience of doing Shakespeare," she said, "and everyone who'd been in the other Shakespeare had pretty much graduated, so it was time."
To her, this particular play has much to offer for performer and audience alike.
"I think the Speeches in 'The Tempest' are the most beautiful of Shakespeare's speeches," Onishi said on choosing "The Tempest" specifically, "The one about 'the stuff that dreams are made of' and Caliban's [speech] about the music on the island. There are very interesting speeches in other Shakespeare plays, but none as beautiful as in 'The Tempest.'"
Student designers assist Onishi in the production of the play. One student working on the design aspects of the show is makeup designer Kelsey Hood. She said she has appreciated the opportunity to channel her creativity.
"I think what's interesting is that I've been given the opportunity to create a work," she said, "and I've been given a lot of liberty to do exactly what I wanted to do with it."
On the stage, senior Mark Branson will play the lead role of Prospero for his capstone. For the past two years, he has been involved in Shakespeare in the Park at Oklahoma City.
He regards Prospero as one of the harder roles in the Shakespeare canon.
"You read Hamlet, Othello, Macbeth – any of those plays. They all have these incredible monologues where they turn to the audience and they bare their soul," Branson said. "Prospero has zero of those, and I think there's a reason for that. I think that Prospero's a man of secrets.
"As a result of that, because Shakespeare didn't give the actor those words, they have to find it in themselves in each individual moment of the play," he said. "That is one of the hardest struggles that I've had."
Branson and Hood are two members of the student cast and crew, many of whom are freshmen. One of these first-year students is stage manager Emily Winkler. She believes that stage management is about being a leader who can help a cast get where they need to be without getting angry.
She also talked about how she didn't believe she could do this as effectively without the theatre faculty.
"The whole faculty that works within the Theatre Department, they are so patient," Winkler said, "They're like, 'We're going to help you out, we're going get you there' … which is so awesome. I love it."
Tickets are available at the box office in the theatre lobby starting at 1 p.m. on show days or by calling the theatre office at (580) 581-2346 or the box office at (580) 581-2478. Doors open at 7 p.m. Thursday through Saturday, and at 2 p.m. on Sunday, 30 minutes before showtime.
You may also like...