Students Attend N.E.W. Conference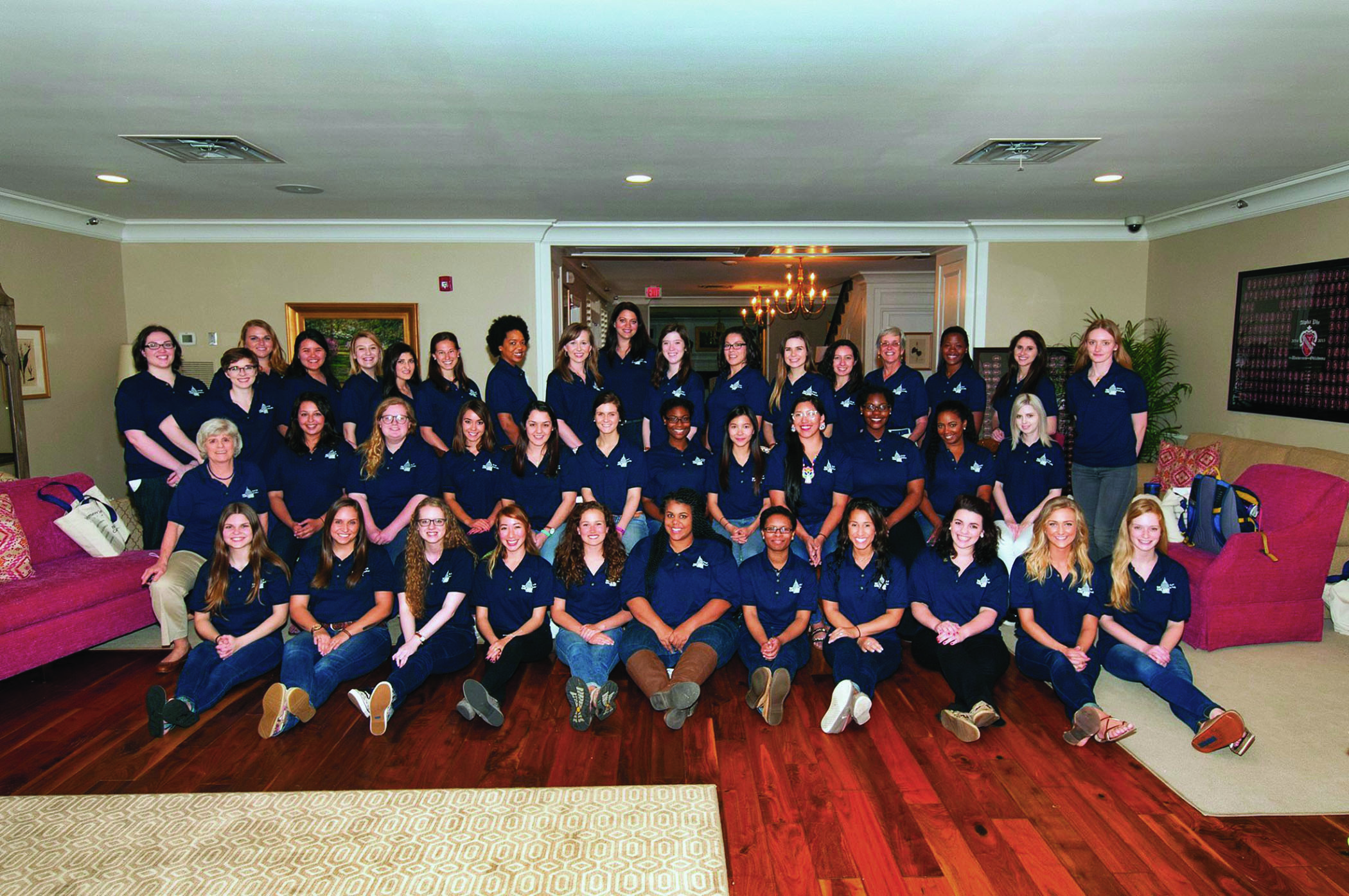 N.E.W. goals: Over the summer, two Cameron students, Katie Powers (bottom row, third from right) and Jessica Limbocker (bottom row, fourth from right), attended the National Education for Women's Leadership camp on the University of Oklahoma's campus. Each year, about forty women from Oklahoma are selected for the camp, and they learn from firsthand about leadership from elected officials.
Cheyenne Cole
Staff Writer
Two Cameron students attended the National Education for Women's (N.E.W.) Leadership five-day camp over the summer on the University of Oklahoma's campus.
The N.E.W. Leadership Institute program's goal is "to educate women in college about politics and leadership and encourage them to become effective leaders in the political arena."
Each year about 40 Oklahoma women who are undergraduate students are selected to attend the camp and have the opportunity to learn from elected officials, business leaders, community organizers and members of the judicial branch.
Katie Powers, Administrative Assistant for the Events Management Office and sophomore communication major, applied for the camp after encouragement from her Women's literature professor, Dr. Susan Hall.
"I never pictured myself as a political person," Powers said. "This isn't something I would seek out. Growing the leadership seed was the great part about the camp.
"Even if you don't go into politics, it totally changed the way you view yourself and women in leadership roles."
Powers said her favorite experience at the camp was a group project in which each team adopted a political perspective and had to advocate for or against a bill then present their argument to OU law professors.
Jessica Limbocker, a senior interdisciplinary studies major, joined the Oklahoma Women's Coalition, a network of individuals and organizations working together to improve the lives of women and girls through education and advocacy, after attending the camp.
"The Oklahoma Women's Coalition focuses on women's rights, which I never, ever even thought about," Limbocker said. "I never felt like I needed to, but they shed so much light on women and the importance of being treated equal."
Limbocker said the most important aspect of the camp for her was the networking between fellow camp-goers and the women in leadership roles who came to speak to them.
House Representative Cyndi Munson and Senator Kim David spoke to the campers about their journeys into leadership roles.
Limbocker said one of the most inspiring stories she heard at the camp was from Governor Mary Fallin who spoke about motherhood while participating in politics.
Powers said the camp felt like an empowering feminist conversation.
"Especially in Oklahoma, there are a lot of opportunities for men that women don't get," Powers said. "To empower women in this state should be a goal because we have the best of the best."
Limbocker, who plans on working in the healthcare field when she graduates this winter, said it was interesting to hear about the political side of women in the healthcare world at the camp.
According to the N.E.W. Leadership Institute, Oklahoma currently ranks 48th in women's representation in the legislature, and the Institute for Women's Policy Research gave Oklahoma a grade of D for women's overall health and wellbeing in 2015.
"In my view," Powers said, "the purpose of the camp is to let young women know that we need them in these positions in Oklahoma to make a difference and to change the entire room.
"If it's a room full of men, it's a totally different conversation than if one woman is in that room with them."
Powers encourages other students to apply to attend the camp.
"Get out there and apply for it," Powers said. "Don't let anything hold you back and know that women need to be leaders in their communities."
Students who are interested in applying for the camp can visit http://www.ou.edu/content/carlalbertcenter/womens-leadership.html for more information.
You may also like...