Getting Set for Volleyball Season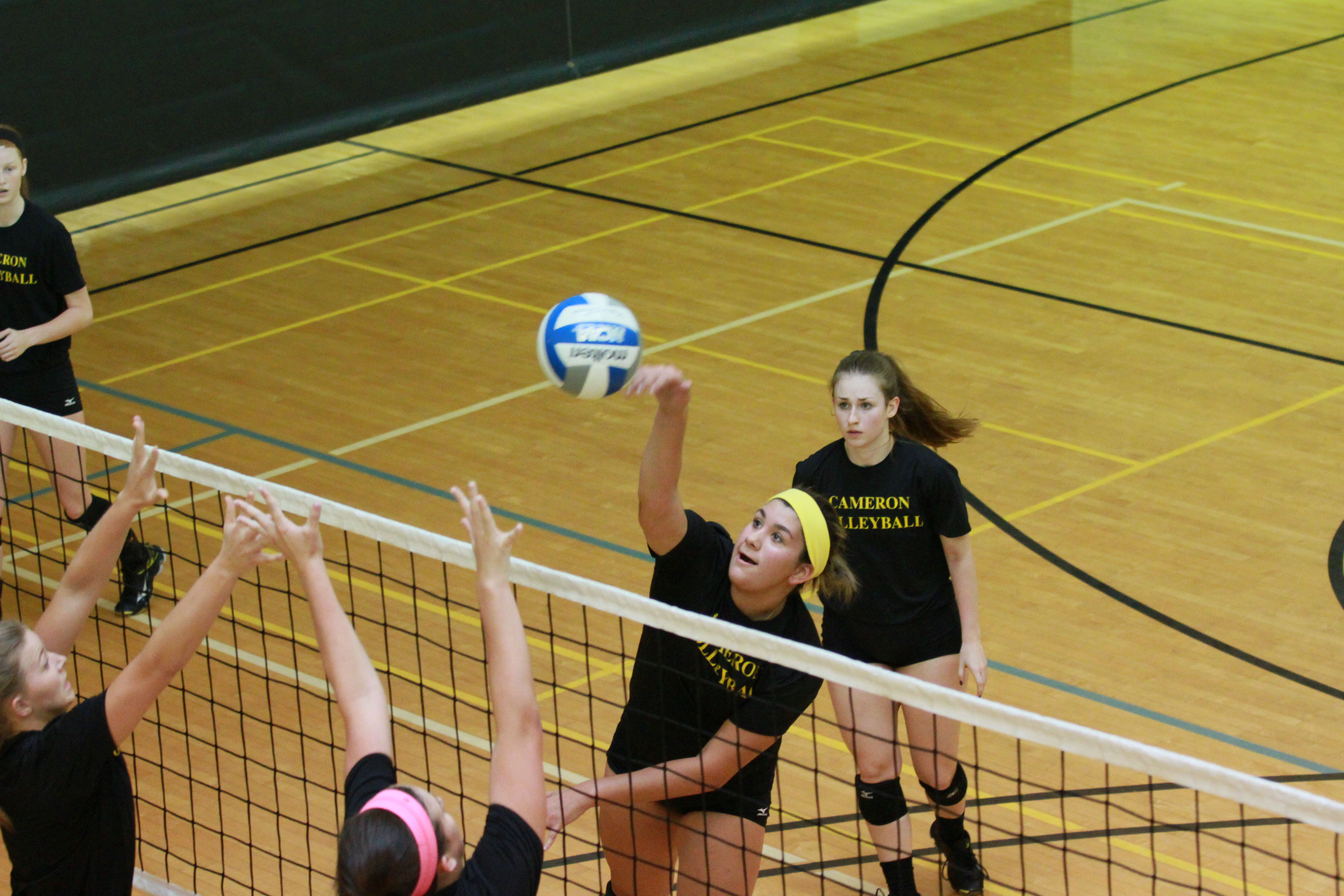 In for the Kill: Freshman Joseline Caraveo send the ball over the net during a team practice. Caraveo and the Aggie volleyball team are getting ready for another season under head coach Qi Wang. After two tournaments, the Black and Gold will host West Texas A&M for their home opener on Sept. 16.
Krista Pylant
Copy Editor
@KristaPylant8
With their season opener quickly approaching, the Cameron volleyball team has been taking to the court early in preparation for their upcoming matches.
The Aggies are no strangers to having a young team, and this year is no different as the team returns only six sophomores and will see the addition of nine freshmen and one junior transfer led by third year head coach Qi Wang.
Last season, the CU squad consisted of just two upperclassmen and had 12 incoming freshmen.
Still, the Aggies experienced their best start since 1998, opening with a 13-0 record and concluded with a repeat appearance in the Lone Star Conference semi-finals, the program's first since the 2006 and 2007 seasons.
Youth will continue to be the theme for the Aggies, but for sophomore Jenna Gillean, the familiar setting provides for a smooth transition and places the team at an advantage from a leadership standpoint.
"I don't think it's a ton different because we only had a few upperclassmen last year, so we all kind of had to step up one by one and become a leader," Gillean said. "We did open 13-0 last year, but I feel like our team chemistry is a lot better this year with a lot of positive energy going on, so as long as we are meshing as a team, I think we are going to do well."
Gillean along with Kayla Allen and Paige Dixon are returning sophomores who were starters last season.
Middle hitter Gillean begins her sophomore campaign coming off a 2015 season where she contributed a team high 84 blocks and a .275 hitting percentage as well as 281 kills – the second most for CU that season.
Fellow middle hitter Allen was also one of four Aggies to amass over 200 kills last season at 206 and recorded the second highest number of team blocks with 77. Dixon, an outside hitter, made ten starts during her debut season, seeing action in 23 games where she registered 87 kills and 21 blocks.
Fellow returners Hailee Faustner, Brittany Lawson, and Shelby Mench will join ten newcomers who hope to make some noise early in the season.
As last season's LSC freshman of the year, Gillean hopes the upcoming season will bring a fresh start and new goals.
"It's a lot of pressure," she said, "but I want to keep adding to the team as I can. As far as a team, we want to be more consistent, and go further into the LSC tournament."
Allen said she wants the team to stay strong heading into their first matches.
"I know we are a young team," she said, "but it's nothing we can't handle, so we're just going to go in head-first and handle everything strong."
With the release of the LSC Preseason Poll last month, the Aggies are predicted to finish in seventh place in the league.
You may also like...