CULP Sends Cadets Across Seas, Cultures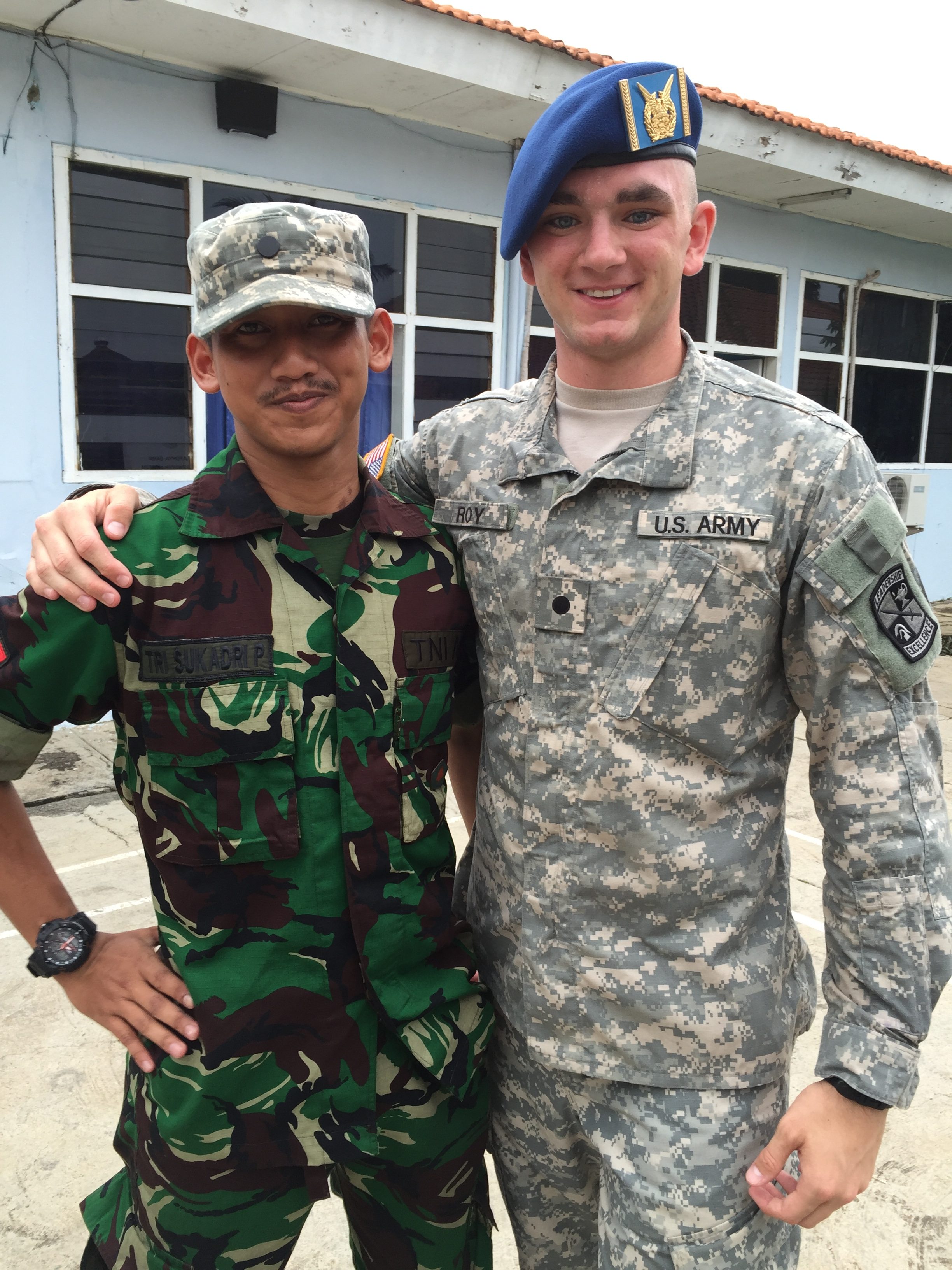 Battle Buddies: Cadet Jayden Roy swaps hats with an Indonesian soldier. Roy was one of five Cameron ROTC cadets who traveled overseas as part of a military cultural exchange program.
Vicky Smith
Managing Editor
@pinkwritinglady
Last fall, Military Science Department chair and Professor Lieutenant Colonel Eric Treschl selected five ROTC cadets to participate in the Cultural Understanding Language Proficiency (CULP) Program.
The cadets include Jayden Roy, Cara Belcher, Christopher Reif, Spencer Black and Christian Ryter. These cadets received the opportunity to travel overseas; Roy and Belcher traveled to Indonesia, Reif to Cambodia, Black to Djibouti and Ryter to Vietnam.
While overseas, the cadets taught English, as well as American traditions and cultural practices, to military cadets of their respective countries.
According to the U.S. Army Cadet Command website, "Participants [of CULP] experience up to three different venues during immersion, including humanitarian service, host nation military-to-military contact and education on the social, cultural and historical aspects of the country."
Senior history major Belcher said the Indonesian students were already well-versed in the English language.
"We just taught them slang terms," Belcher said. "For example, we had one day where we talked about yard sales – the difference between a yard sale and a garage sale."
While immersed in Indonesian culture, Belcher said she had to learn how to adapt to specific customs.
"A male can't just walk up to a female and start talking to her," Belcher said. "They're predominately Muslim, and they live their faith, so their cultural customs are … what their faith dictates."
Belcher said her experience in Indonesia ultimately opened her mind to understand how different cultures can coexist.
"I gained a different perspective that yes, you can have a cathedral on one side of the street and a mosque on the other side of the street," Belcher said.
Just like Belcher, senior history major Black gained insight into the Djiboutian culture, whose population is also predominantly Muslim. He said the American cadets and the Djiboutian cadets had a mutual desire to learn about each other.
"One of the big differences is polygamy is allowed," Black said, "so they can have more than one wife."
Black said before traveling to Djibouti, he had preconceived notions about what to expect in Africa. When he arrived, he discovered the people of Djibouti shared more similarities with him than originally anticipated.
"They like the same media as us," Black said. "They ask the same questions, they listen to the same music, [and] they dress the same way."
When Black did encounter differences, he said he was able to "recognize that just because something's different doesn't mean it's bad."
Sophomore history major Ryter has been learning about different cultures since he was in middle school, having traveled to nearly ten countries with his father and brother.
Ryter was the only freshman in his group, and CULP acceptance as an MS I cadet is rare. He said upon entering Vietnam, he and the other American cadets received warm welcomes.
"I didn't get a cold shoulder from any stranger on the street," Ryter said. "It wasn't super hard immersing myself into the culture because the people were all so friendly, and they were just willing to share local cuisine and culture and art with us."
Ryter said what distinguished the CULP trip from his other travels was the environment.
"The other trips I've been on were civilian, vacation sight-seeing," he said. "This was a military training environment. I was working with Vietnamese military officers, teaching them English."
Ryter said his favorite memory about the CULP mission is the camaraderie he and the other military personnel shared.
"I built up a friendship and a professional military relationship with officers from another country," he said. "Once I commission, if we go over there to do some kind of joint training exercise. … I may run into them because they have a very small military."
In addition to the cultural challenges, the cadets also had to adjust to the weather, nutritional and lodging differences, which were unique to their respective countries. Each of the cadets remained overseas for a month.
Roy, Belcher, Reif, Black and Ryter received the opportunity to participate in CULP because they are contracted cadets who have been in good standing with the university and with ROTC.
For more information about CULP, visit http://www.cadetcommand.army.mil/culp/. Students who are interested in joining Cameron University's ROTC program should visit http://www.cameron.edu/militaryscience.
You may also like...