Carrying the Torch: CU begins '16-'17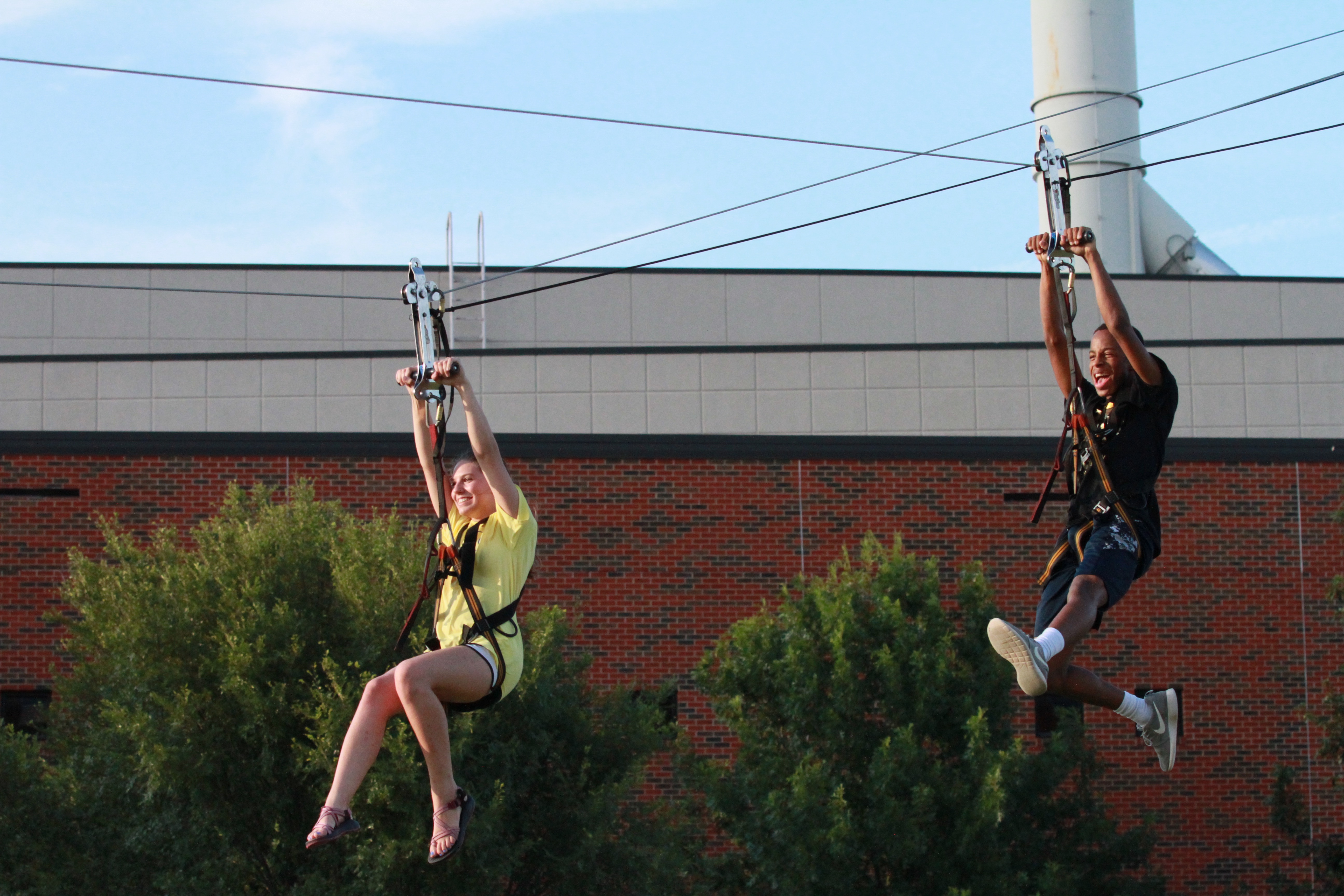 The Free Fall: Cameron students rode a 25-foot tall zipline across Ross Hall Lawn Aug. 22. Courtney Lewis (left) and Darius Morris (right) challenged each other to a gravity-fueled race down the tower.
Cheyenne Cole
Staff Writer
Cameron University's Programming Activities Council kicked off the fall semester with a Welcome Week full of activities across campus for students and staff from Aug. 14-21.
The Olympic-themed Welcome Week began on Aug. 14 with a Back-to-School Block Party in the Bentley Gardens.
Coordinator of Campus Life and New Student Programs Megan Canfield said Welcome Week serves as an initiation to Cameron and a way for students to get involved on campus.
"Students who are engaged on campus, attend events and step outside of their comfort zone are more likely to succeed on college campuses," Canfield said. "We want to provide students with those opportunities, not only to get involved, but to have a good time while they're in college."
On the first day of school, students who stopped between the McMahon Centennial Complex and the Science Complex could take advantage of PAC's Free Grab and Go Breakfast.
Students could play an adventure game on Tuesday in which they attempted to maneuver the Mount Olympus Escape Room by solving a puzzle in 25 minutes or less.
Journalism and Media Production freshman Bailie Evans attended a free pizza event on Wednesday and said she enjoyed the social opportunities the event provided.
"The activities help people get involved on campus," Evans said. "I met some staff members that were handing out pizza. I met some friends in the line, so I think it's good to have activities that reach out to students and bring them together."
Canfield said the free pizza event drew over 600 people, and PAC ran out of pizza in under two hours.
Justin Reff, freshman communication major and PAC member since 2013, helped hand out pizza and dyed Rice Krispies Treats in the shape of the Olympic flag in the MCC Ballroom.
"Welcome Week gives me the opportunity to meet new students at Cameron, whether they're from Lawton or they're international students," Reff said.
"It also gives students an opportunity to take a break from work, school and thinking about that next quiz or test."
On Thursday, PAC partnered with the Oklahoma Blood Institute to organize a blood drive where 35 people donated blood to help with the flood crisis in Louisiana.
According to Reff, when PAC plans events, they do their best to accommodate a variety of students, while also making the activities entertaining and beneficial.
"Whether it's a movie, grocery bingo, zip lining or the CU Olympics," Reff said, "we want students to spend their afternoon or weekend having fun on campus."
To end the week, PAC provided a free screening of the movie "Central Intelligence" with popcorn on the Ross Hall Lawn on Friday night.
Canfield said students can get involved on campus by exploring and joining some of the 40 different organizations on campus.
For more information about PAC and its events, students can attend their weekly meetings at 6:30 p.m. on Mondays in the MCC in the Buddy Green Room.
You may also like...