Cameron Adds to PLUS Program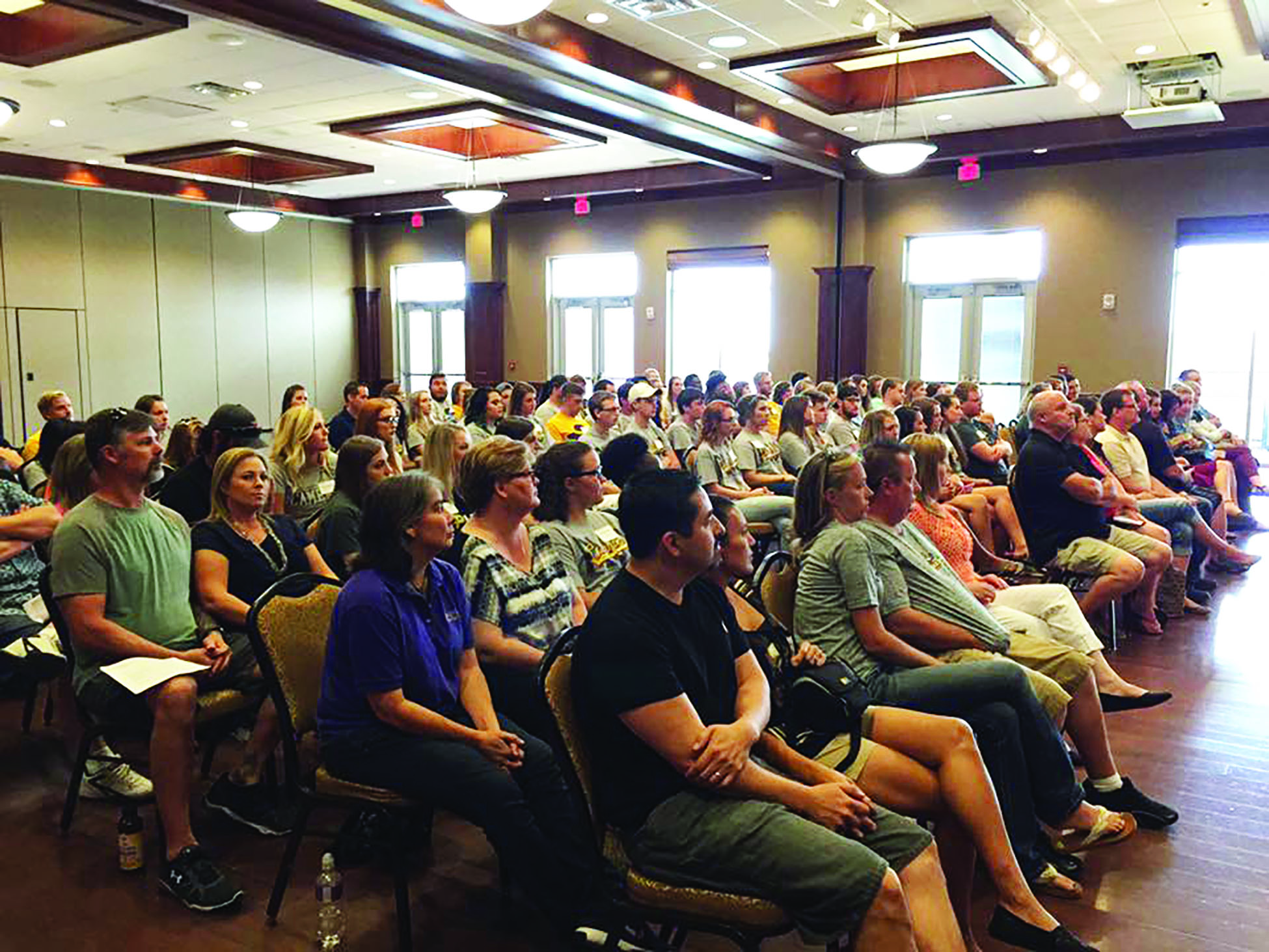 Four More Years: PLUS freshmen and their families hear from President McArthur about their prestige and rigor of the program.
Cheyenne Cole
Staff Writer
Cameron University named 24 freshmen students Presidential Leaders and University Scholars (PLUS) for the 2016-2017 school year.
The PLUS scholarship is awarded to Oklahoma high school seniors who have shown dedication to academics, leadership, involvement and community service.
Approximately 25 students receive the scholarship each year and are selected based on their grade point average, ACT or SAT scores, their resumes, their essays written on the topic of leadership and interviews.
The scholarship includes a tuition fee waiver for up to 18 credit hours each semester, a double room waiver and a stipend for the student in their first year and last year of the program.
The goal of the four-year program is to shape recipients by training them to develop leadership skills that will help them become leaders in their professional lives.
Associate Director of Alumni Associations and four-year PLUS student adviser Frank Myers said not only do the PLUS scholars benefit from being in the program, but also Cameron benefits from having these students on campus.
"We're looking for the best and brightest that Oklahoma has to offer," Myers said. "We select these students with the expectation that they are going to be great assets to Cameron and great spokesmen for Cameron."
The PLUS program helps students financially, gives them mentorship opportunities, allows them to lead events, helps them research various career paths and lets them attend local events like board meetings and city council meetings.
Timothy Alaniz, fourth-year PLUS scholar and senior biology major, said that being a part of the PLUS program is an honor and his experience in the program has been life-changing.
Alaniz, who plans to be a physician assistant, had the opportunity to job shadow Dr. Stephen Snell at ENT through PLUS.
"I've met a lot of leaders in the medical field," Alaniz said. "The resume building skills and being able to talk to large crowds of people – all of that is thanks to PLUS."
PLUS scholars have specific academic, community service and campus involvement requirements that they must meet each semester, as well as leadership training classes they must attend during their freshman year.
This year, the PLUS freshmen have a special opportunity to learn from President John McArthur, their instructor for the required Introduction to University Life course.
Myers said that the financial aspect of the scholarship is helpful to the students because it "goes a long way in getting an education and graduating from college debt-free."
Payton McDonald, freshman PLUS student and biology major, hopes to make life-long friendships with her fellow PLUS members and gain relationships that will guide her through her career.
McDonald said her advice to high school students who want to apply for the PLUS scholarship is to be confident.
"Go into that interview and act like you already have the scholarship," she said. "Confidence is the key to leadership."
High school seniors interested in learning more about the PLUS scholarship can call the Career Services Department at 580-581-2244.
You may also like...