Breaking Language Barriers: Students Teach English to Kuwaiti Soldiers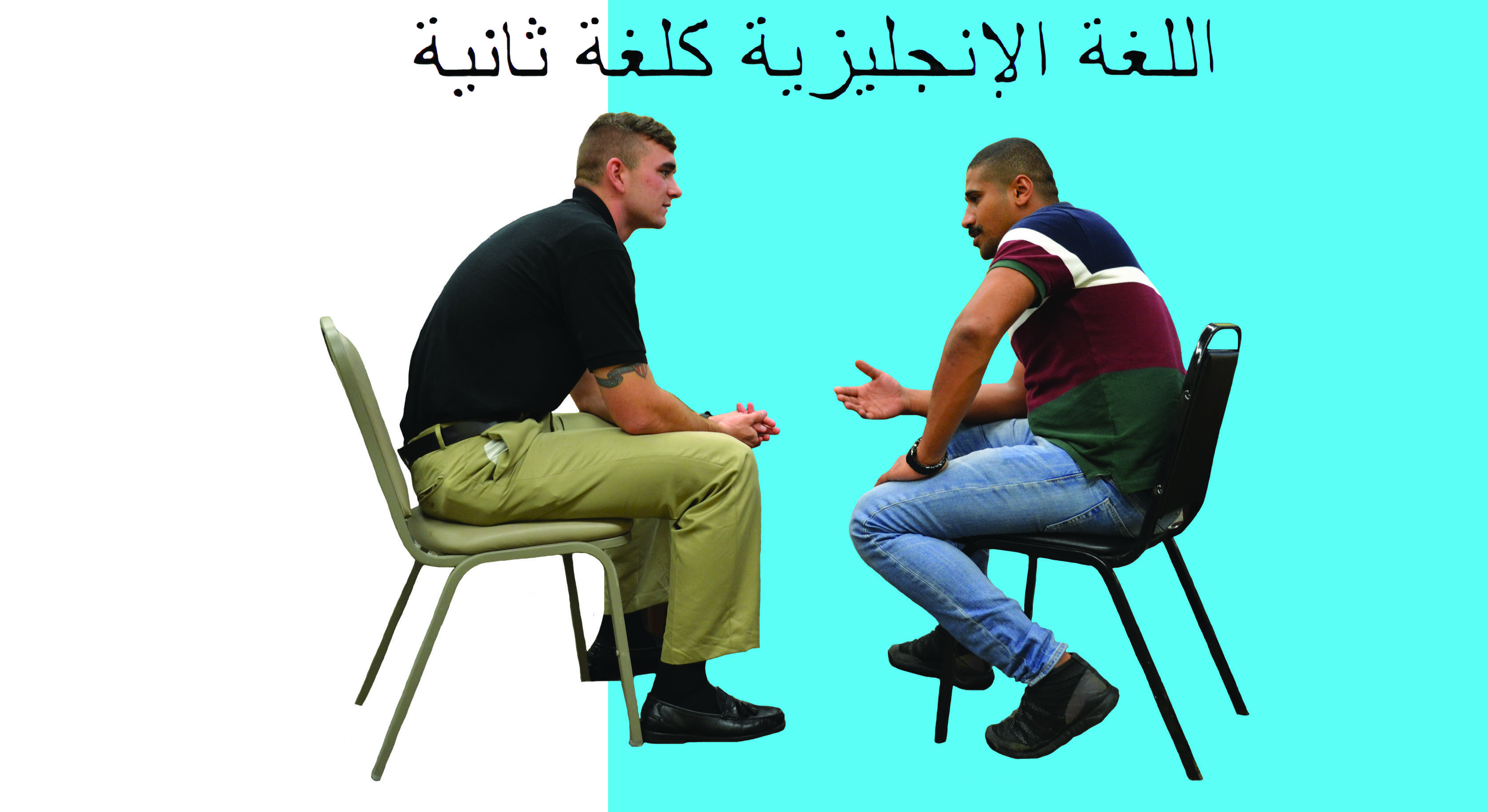 Learning from One Another: MSIV psychology major Jayden Roy (left) teaches English to a Kuwaiti solider. The next workshop is at 2:30 p.m. on Friday, Sept. 23, in CETES.
Vicky Smith
Managing Editor
@pinkwritinglady
Sigma Tau Delta, which is the English Honor Society (EHS), and Reserve Officer Training Corps (ROTC) cadets taught English to Kuwaiti military personnel at 2:30 p.m. on Friday, Sept. 9 in CETES.
Associate Professor of English Dr. William Carney, who is the adviser for EHS and the International Club, coordinated the event with a contractor who is working with Raytheon.
Raytheon initiated the project of teaching Kuwaiti military personnel who are living on Fort Sill how to speak English as a second language.
Carney said in preparation for the event, he received help from MSVI cadet Christopher Reif, EHS President Zoie Timothy and EHS Vice President Wesley Jones.
"I'm grateful to have the help," Carney said. "We had wonderful participation. There were about twenty soldiers and probably about twenty students."
Carney said to teach the Kuwaiti soldiers English, the students participated in word play and engaged in normal conversation.
"I heard a lot of talk about, 'Well, what does that word mean?'" Carney said. "Does that word mean that same thing everywhere in the United States? Do all English speakers use it?
"One of them that I thought was just great involved people talking about 'y'all'. What does 'y'all' mean? Does everyone use it?"
Carney said the last time he had the opportunity to teach English as a second language was when he was in graduate school.
"There was a group of us who used to go down to the local prison and have English time," he said, "which that was quite a bit different than this. We [EHS] haven't done anything quite like this. I would love to keep doing it, and if it's possible, find ways to reach out to other community groups."
According to Carney, the teaching experience was not only gratifying to him but also beneficial to the students who helped.
"I think first and foremost, there's always a good feeling when you can help other people,"
Carney said. "I think the other thing, certainly for our English majors, is the more you can think about language, the more you understand the way you speak."
Sophomore political science major Jordan Lattanzi, an MSII cadet, said participating in the English workshop showed him how to open his mind and learn from another culture.
"I'd never tried to speak another language or been at a country where I had to learn another language," Lattanzi said. "I think it was rewarding to actually meet someone from a different country and become friends with them. It showed me a different perspective."
Lattanzi said the group used a variety of methods to help teach the Kuwaiti soldiers English.
"When they would try to say something, we had to draw it out or sign it out," he said. "That was the most challenging part."
According to Lattanzi, all the Kuwaiti soldiers owned Ford Mustangs, so having conversations about Mustangs became a great teaching strategy for the students.
"They were interested in buying some cars," Lattanzi said, "[so we] helped them look up some parts they might be interested in and different models they would like."
Lattanzi said he exchanged contact information with the Kuwaiti soldiers before they left campus.
"They're coming back," he said. "Hopefully we'll get to know each other a little bit better."
Carney said any Cameron students of any major and classification are welcome to help teach English to the Kuwaiti military personnel.
The next workshop is at 2:30 p.m. on Friday, Sept. 23, in CETES. For more information, contact Carney at wcarney@cameron.edu.
You may also like...