'The Most Challenging Opportunity'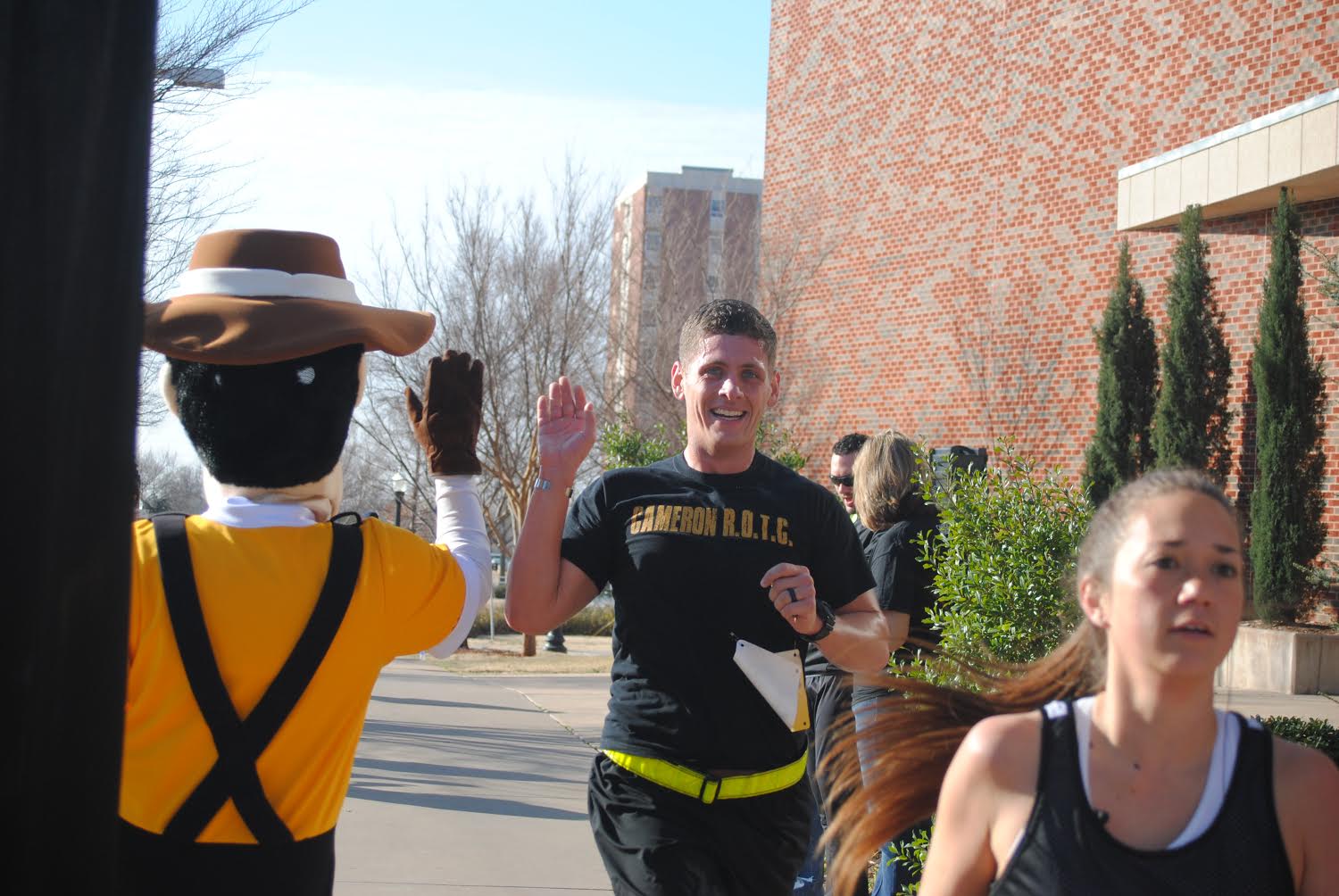 Holcomb on the move: Norman Holcomb greets Ole Kim while practicing early morning physical training with other cadets. Holcomb plans on commissioning as a Second Lieutenant in the infantry after graduation in May.
Vicky Smith
Managing Editor
@pinkwritinglady
Ranked as the top overall cadet in ROTC is senior Norman Holcomb, whose plan after graduating from Cameron in May is to commission as a second lieutenant in the U.S. Army.
Holcomb, who has been a member of the CU ROTC program for two years, said his first impression of the program was great.
"As soon as I arrived, I was accepted into the family that was already created here," Holcomb said. "Cadet Delano and Cadet Palmer helped me transition into the cadet experience and really made the transition from noncommissioned officer to cadet easier. I truly believe that I am extremely lucky to be graduating with the group of cadets, and soon to be lieutenants such as these."
Before coming to Cameron, Holcomb was seeking to make a change in his life, which is why he joined the Army.
"I decided to join the Army because I dropped out of high school in 2005," he said. "It really was a quick decision and happened to be the best decision of my life."
Holcomb said he will look back on his experience in ROTC as one of the most rewarding in his career.
"I have met the future leaders of the Army," he said, "and I have developed leadership skills and improved my education in ways I would not have been able to as an active duty soldier. The friendships and bonds that are made in ROTC are going to last a lifetime."
Holcomb has also received awards during his time in ROTC, including the George C. Marshall Leadership Award, the Lieutenant General Maude Award, the Special Forces Association Award for Excellence, the Frank Rickard Infantry Award, 2LT Tobias Alexander Scholarship and the Military Order of the Purple Heart Award.
According to Holcomb, three people have been his biggest inspiration to continue to reach his goals.
"My wife is of course the first," Holcomb said. "She pushes me every day to become a better leader and human being."
Holcomb's wife, Keesha Holcomb, is also a member of Cameron ROTC. His second inspiration is Ryan Hayes, a former staff sergeant in the Army.
"He was the one who turned my life around in 2009," Holcomb said. "Without him I would not be even close to who I am today."
Holcomb said the aspiring soldiers and cadets whom he has had the privilege to lead are his third inspiration.
"There are countless cadets who inspire me to become a better leader every single day because of their willingness to become better in all aspects of leadership," he said.
Holcomb's biggest motivation to complete the ROTC program has been knowing that he will, without a doubt, be an infantry officer.
"[It] is the most challenging opportunity I will have in my life," he said. "I cannot wait to lead America's sons and daughters on a daily basis in the infantry branch."
His advice to freshman is to seriously consider joining the Cameron ROTC program.
"It is not only about the leadership you will develop through the classes you take," he said, "but it is also about the bonds you will make with your classmates and other cadets in the program.
"If you want to make a change for the better and develop leadership skills you will not find elsewhere, then this is the challenge that you must take."
For more information about the Cameron ROTC program, visit cameron.edu/militaryscience.
You may also like...