The Hard Truth: Domestic Violence and the NFL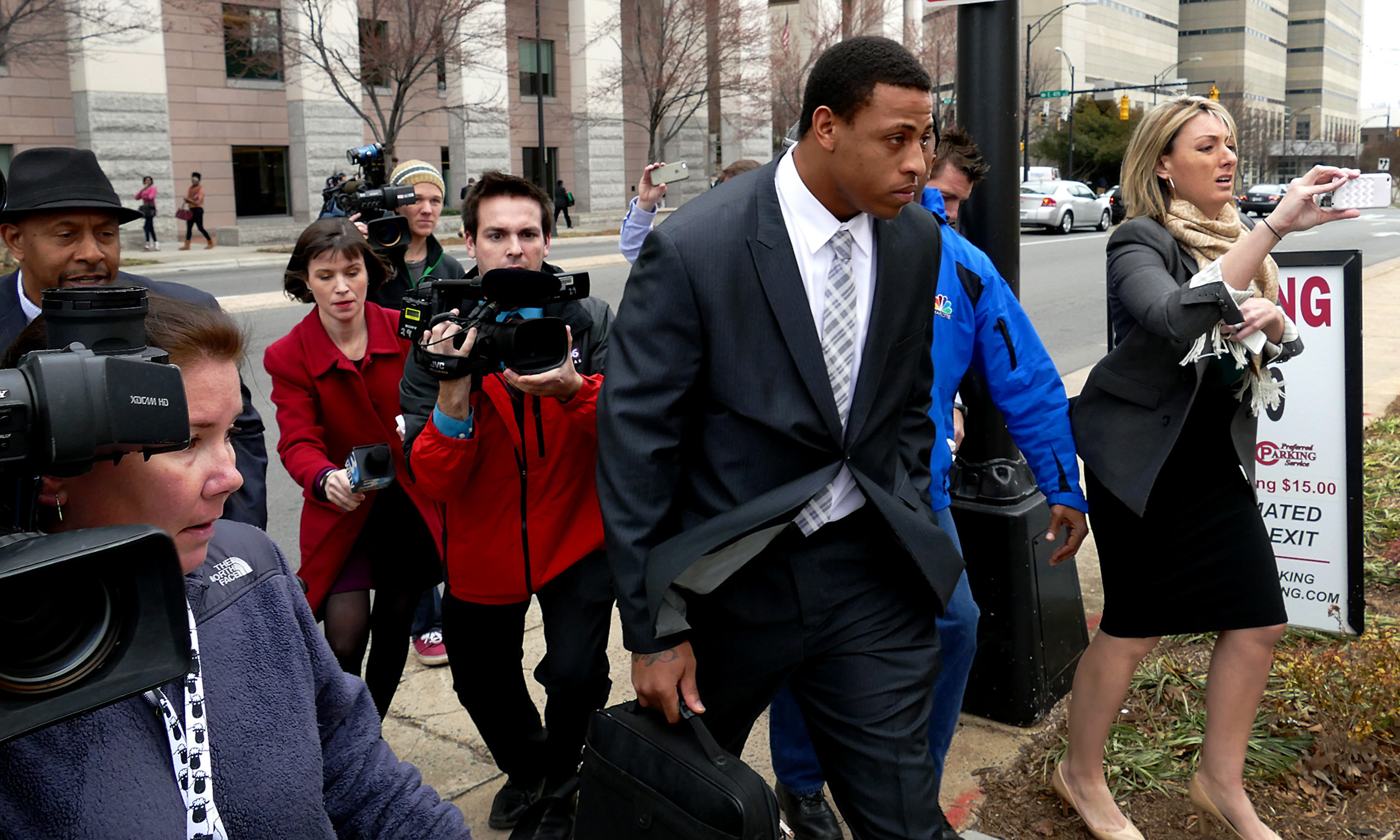 "And then what?": Defensive end Greg Hardy leaves the Mecklenburg County Courthouse with the media seeking comment on Feb. 9, 2015 in Charlotte, N.C. Hardy's domestic-abuse case was abruptly dismissed Monday because his accuser is believed to have reached an undisclosed civil settlement with Hardy could not be found to testify.
Jacob Jardel
Sports Editor
@JJardel_Writing
One of the longest running commercials on Cameron's closed-circuit television station features actress Kristen Stewart addressing assault and the importance of awareness and speaking out.
It's been running since the CU News was in the Admin Building basement.
This semester, posters started popping up on bulletin boards across campus bringing up similar topics. Phrases like "'No' means 'no'" and other anti-rape mantras started mingling with announcements of club events and scholarship opportunities.
Years later, the college conversation still evokes the same topics. Looking back, there is one question left to answer:
How much has really changed?
The National Coalition Against Domestic Violence (NCADV) states that 10 million individuals fall victim to domestic violence annually. Given the number of individuals who stay in abusive relationships, it stands to reason that many perpetrators see little to no jail time for the assaults.
Some of them may even be on television on Sundays.
Recently, NFL defensive end Greg Hardy denied allegations that he had ever hit a woman. This refutation comes two years after a reported incident when Hardy assaulted his ex-girlfriend, Nicole Holder and threatened her life. Photos surfaced showing bruises all over Holder's body.
Hardy claimed his innocence in a very ineffectual manner.
"I didn't say I didn't do anything wrong," he said to ESPN's Adam Schefter. "That situation occurred, and that situation was handled, but as a man you can't avoid situations that aren't or are your fault.
"Saying I did nothing wrong is a stretch, but saying I'm innocent is correct."
Utterly confusing and admittedly contradicting non-apologies aside, the fact of the matter is that Greg Hard continued playing in the league despite these accusations. This fact is nothing short of baffling.
However, he is not the first NFL player to come under fire for assault involving a significant other. Former Baltimore Ravens running back Ray Rice is still amid his exile from football after news and eventually video surfaced of him assaulting his now-wife in an Atlantic City casino.
According to Hardy, there's no real comparing the situations because it's the story of an innocent man and a guilty man. To some in the sports world, it's the difference between video evidence and a lack thereof.
Host of Fox Sports' "Garbage Time" Katie Nolan criticised both Rice and Hardy, the NFL and the media as a whole since the Rice incident occurred in May 2014.
"The truth is, the NFL will never respect women and their opinions as long as the media it answers to doesn't," she said in a 2014 video on her YouTube channel.
As harsh as it sounds, Nolan is much closer to the truth than most would like to believe.
Take a look at how the NFL treats suspensions. DUIs, substance abuse and performance enhancing drug cases land players bans in the one-to-four game range. Repeat offenses can get a player suspended for a season along with media scrutiny over the athlete's character.
But domestic assault? Nothing happened until the NFL has proof, and nobody from the locker room to the newsroom has anything to say until it happens. Just look at Rice's case, where he was initially suspended two games for assaulting his wife.
Backlash from news media and social media at the minimalistic suspension made NFL commissioner Roger Goodell backtrack and bolster the league's domestic violence policy to instate six-game suspensions for initial offenses with a lifetime ban for repeated incidents.
What happened next could only be described as a circus; media website TMZ obtained video of Rice punching his wife in the face. The incident resulted in the NFL suspending Rice indefinitely and a court overturning the suspension.
That's not to say that the NFL doesn't care about women. But it seems like they care a lot more about the image of the league and its players.
Enter Greg Hardy. He was suspended for 10 games in 2015 after an arrest, 18 months probation and 60 days in jail. An arbiter reduced the suspension to four games July 2015, and expunged the charges from his record in November 2015.
In the meantime, Nolan had a lot to say on her show about the whole situation with Hardy.
"If me hoping that the league, the Cowboys, their PR people and the media could act with just a shred of human decency is ruining football for you, then I'm disappointed at how much we're willing to accept to protect our precious Sundays," she said.
She had a lot of other, more critical things to say about the situation filled with admittedly appropriate expletive-ridden on-the-spot callouts of various personalities in sports, including the Dallas Cowboys, Hardy's most recent team. But the point still remains the same: the NFL needs to do something different with its approach to how they treat domestic assault and those in the league who commit the crime.
"Don't let [the Cowboys] fool you into thinking they support Greg Hardy. They don't," Nolan said. "They support sacks. They'll say and do whatever they can while he's in Dallas to get him to keep devastating offensive lineman. When he's done doing that, they'll shove him out the door a worse man than he was when he got there because of years of enabling him.
"And then what?"
Hardy's contract came to an end at the end of the 2015-2016 season. In the place of apologies and contrition, we see half-hearted excuses, poorly constructed tweets and lots of vitriol from media members other than Katie Nolan.
ESPN's Jemele Hill and Michelle Beadle both made comments about Hardy and his "redemption tour" starting with the interview with Schefter. Like Nolan, they were critical about his lack s of remorse. Most of all, they were baffled at his behavior as a whole.
"He hasn't said he did anything wrong," Beadle said, "so how is a man supposed to convince anybody he's changed and yet not admit to actually doing anything?"
Hill had just as biting words about Hardy.
"To have shown remorse and contrition and at least accountability is an important part of the forgiveness process or, for that matter, showing people that maybe you're not what we think that you are," she said. "Greg Hardy time and time again shows us exactly who we all think him to be."
The unfortunate fact of the matter in this whole mess as that what we're seeing play out in the media is a more public display of what happens with domestic assault cases in typical discourse. Denial from the perpetrator. Anger from everyone involved. And lots and lots of (non) apologies. So what do we do as a society?
Definitely not what the NFL has been doing.
We speak up when cases of domestic assault happen. We teach our younger generations about basic respect for human beings and their personal autonomy.
We realize that assault is a serious matter that deserves serious treatment. Most of all, we hold people accountable.
Otherwise, the answer to the question of how much has changed will still be a resounding "very little."
If you or someone you know have experienced or are experiencing domestic violence, call the NCADV helpline at 1-800-799-SAFE (7233).
All calls are anonymous and confidential, and lines are open 24/7.
You may also like...