Tennis tames Drury in Close Sets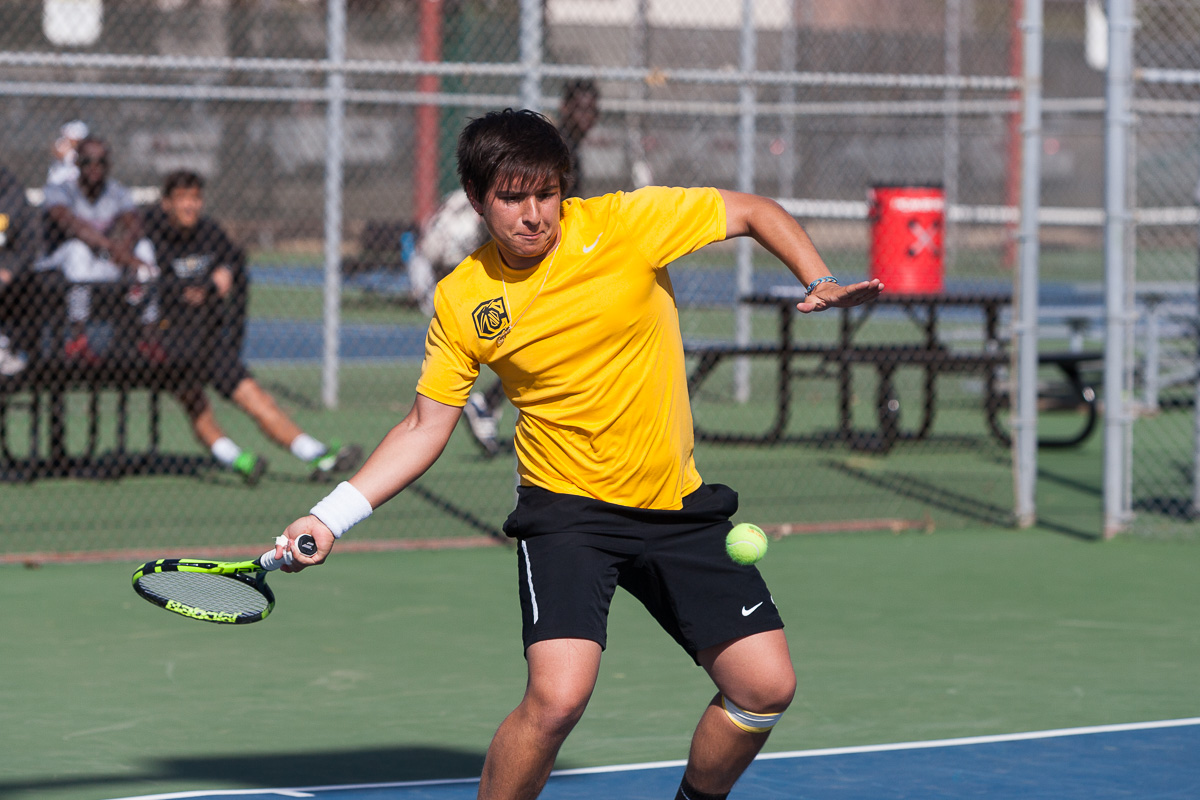 Jacob Jardel
Sports Editor
@JJardel_Writing
Cameron tennis won two tight matchups against Drury University, with both men's and women's teams winning 5-4 on March 31 in Springfield, Mo.
The wins snapped two different Panther streaks while both CU teams built upon their top-20 ranks in the polls.
Women's Matches
Despite losing all three doubles matches, the No. 17 Aggies rallied to take the set against a No. 33 Drury squad.
The Cameron win snapped a nine-game winning streak to start the season for the Panthers.
In doubles matches, Zhenia Shviadok and Alina Gorina lost their matchup against Samanta Zambrano and Lara Muller 8-5. The team of Samantha Wood and Mathilde Thibaudat lost by the same score to their Drury opponents. Angie Torres and Paula Gutierrez lost with a similar score, falling 8-4 to their Panther counterparts.
The Black and Gold nearly swept the singles portion of the matchup, with the only loss coming when No. 19 Gutierrez lost her match 7-6 (5), 6-1.
Shviadok (6-4, 6-3), Wood (6-2, 6-3) and Thibaudat (6-1, 6-4) all won their singles matches in straight sets. Torres lost her opening set against Larissa Karl but came back to win 3-6, 6-4, 6-2. Gorina also went three sets with Lara Muller, winning 6-4, 2-6, 6-2.
The win puts CU at 10-2 on the season entering a matchup against Northwest Missouri State.
Men's Matches
The back half of the men's team propelled the No. 12 Aggies to the win against the No. 40 Panthers.
The victory snapped a six-game losing streak to Drury dating back to 1998.
The Aggies took two of the three doubles matches on the day. Felipe Oyarzun and Vinicius Santos outlasted their Panther opponents to gain the 8-6 win. Daniel Ferl and Joao Fazendeiro earned an 8-3 victory over their Drury counterparts. CU's lone doubles loss came when Dennis Merdan and Mateo Velasco fell 8-4 in their matchup.
Cameron split the singles competition, with the five and six players proving the difference. Merdan (6-1, 6-4) and Oyarzun (6-3, 6-2) lost their matches in straight sets. Meanwhile, Santos pushed his match to three sets, losing 0-6, 6-3, 7-5.
Fazendeiro pulled off the straight-set victory, winning 6-2, 6-4 in his two-slot match. Velasco also won in straight sets 6-2, 6-1 coming out of the fifth spot. Bruno Babic clinched the match for the Black and Gold with a 6-0, 6-2 win from the six.
The Aggie men climbed to 12-3 heading into a duel with Northwest Missouri.
You may also like...