'So You Wanna Win Something' joins CUTV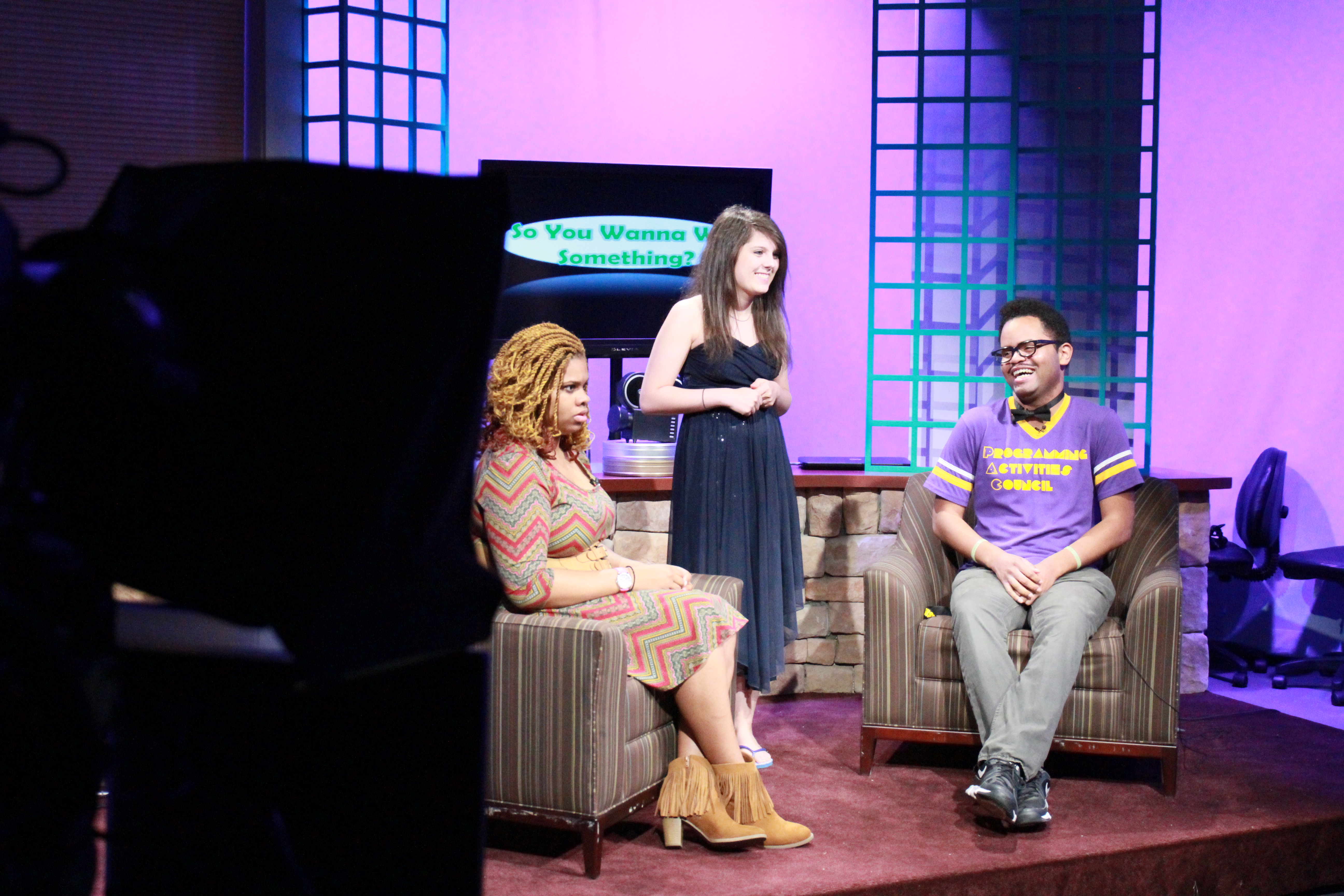 Jacob Jardel
Sports Editor
@JJardel_Writing
In the world of campus television, hosts ask guests hard-hitting questions. Senior multimedia major and CU News host Katy Dayhoff is no different. In fact, she asks the toughest question of them all in the title of her show.
"So You Wanna Win Something?"
The CU News game show recently ended its four-episode run. Despite its short time on air, Dayhoff said she already learned some valuable lessons for the future.
"This has been a very good experience for me," she said. "I've learned so much about being on camera that I feel like I need for my future career, whatever that may be."
The inspiration for "So You Wanna Win Something" came after Professor of Communication Dr. Matt Jenkins saw one of her class assignments and asked if she would be interested in doing a news show. While interested, Dayhoff wanted to change things up a bit.
"I decided I didn't want to do a generic news show," she said. "I wanted to do something kind of fun and unexpected where I could be creative in new ways every single week. So I decided to do a game show."
Production Manager Jeff Larson said that this approach to the game show has made working on it a fun time.
"I'm trying to anticipate what type of show she wants to do because she's mixing it up every week," he said. "It's interesting to see how creative she is in order to put all these game shows together."
According to Dayhoff, the inspiration for the show comes from two sources that both hit home for her.
"I'm a big fan of Rooster Teeth, and I like their game show 'On the Spot,'" she said. "So I drew some inspiration between that and the game show channel I used to watch in Alabama all the time."
This formula yielded a show that featured guest appearances from Cameron students who vie for glory and the titular prize.
Contestants answer trivia questions in various categories in the first round, sit in the hot seat as they fire off quick-witted responses in the second round, and make a drawing in thirty seconds in the third round.
For Dayhoff, all this activity in front of the camera makes for a good time for the people in the show that week.
"I love how the contestants are so zany and interactive," she said. "It's really fun. My contestants have a good time, and I get to give them prizes."
Larson said the fun extends to those working behind the scenes. However, he mentioned that there is also an element of work not seen in some other CU News shows.
"It's more up-tempo, more fast-paced," he said. "She has a lot of things that she wants to put into her show. You have to pay a lot of attention throughout the whole show – what she says, what's in her script."
This attention to detail proved to be a challenge not only for those in the control room but also for the host of the show.
"I'm used to having things at precise seconds because I've been working with animation," Dayhoff said. "I'm used to doing things to the frame. So if something's off or if I mess up, I automatically want to do it again, but I know I can't.
"So I have to just keep going and be confident about it. That's kind of a challenge in a new kind of way."
According to her, though, with new challenges came new opportunities that she felt were unique to working with CU News.
"Other departments have said to do what I'm told, do it well, make it mine and publish it," Dayhoff said. "Here, it's like you have to make it up and be creative about it – more so because it's more visual. It's like a picture versus a thousand pictures of video."
This attitude was one of the many reasons Dayhoff said she enjoyed her time working on the show and within the communication department. From the guests to the instructors to the crew, Dayhoff said she was grateful for the people she worked with on "So You Wanna Win Something."
"I like how they're just so willing to do stuff to help my show," she said. "Thanks to everybody who helped work on the show. I want them all to have credit. I'm glad that they show up every week or just once to help."
Now that the show has ended, she said she will graduate in May and has a number of different plans for what comes after that, but her time on the show was a highlight of her time at Cameron.
"I'm just going to remember the show in general, especially if it's the first foothold to me getting somewhere five years from now," Dayhoff said. "I'm going to probably be embarrassed about it, but I'm going to watch it anyway and laugh along because it was hilarious when it happened.
"I like being able to have that opportunity to do that."
You may also like...