Sexual Assault in College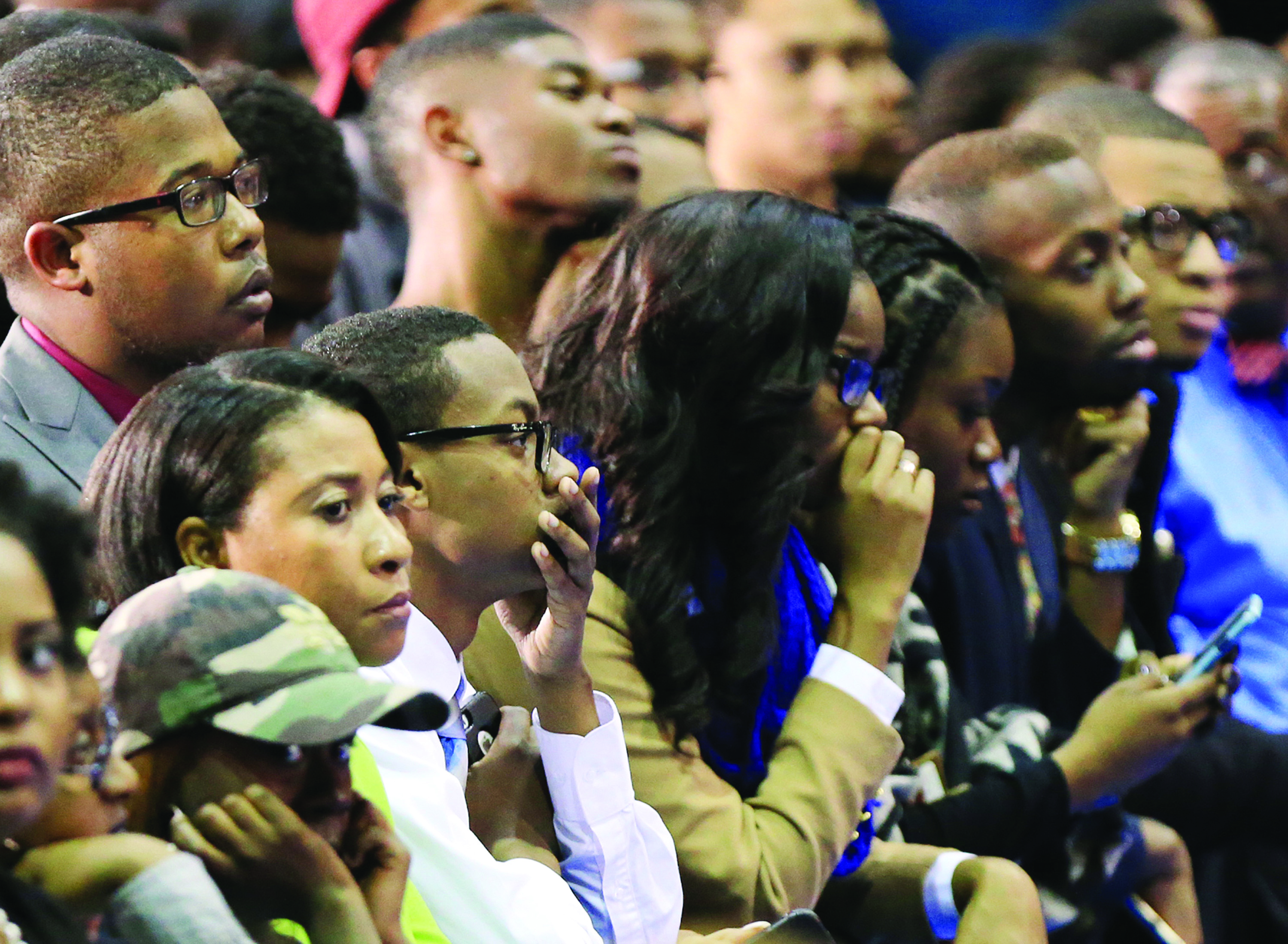 Taking Action: Students listen as Vice President Joe Biden delivers his message at Morehouse College during a three-college tour to mobilize students to take action to prevent sexual assault on campuses on Tuesday, Nov. 10, 2015, in Atlanta.
Vicky Smith
Managing Editor
@pinkwritinglady
Throughout the month of April, organizations and individuals strive to raise awareness of sexual assaults in the United States.
According to the National Sexual Violence Resource Center, the purpose of Sexual Assault Awareness Month (SAAM) is "to raise public awareness about sexual violence and to educate communities on how to prevent it. … Sexual violence is a major public health, human rights and social justice issue."
The U.S. Department of Justice defines sexual assault as "any type of sexual contact or behavior that occurs without the explicit consent of the recipient. Falling under the definition of sexual assault are sexual activities such as forced sexual intercourse, forcible sodomy, child molestation, incest, fondling and attempted rape."
Cameron Department of Criminal Justice and Sociology Instructor Rick Lowe said the Association of American Universities conducted a survey regarding the prevalence of sexual assault on college campuses. The survey included the feedback of 150,000 students at 27 schools.
"The results, which were released in September 2015, found that more than 27 percent of female college seniors reported having experienced some form of unwanted sexual contact since entering college," he said.
According to Lowe, studies show that undergraduate females are four times more likely than males to be a victim of sexual assault. Lowe also said most of the time, a victim knows his or her offender.
"The idea of a stranger abducting somebody, while that does happen, it's very rare," he said. "Most of the time it's going to be someone you know, and usually it'll be a situation that occurs off campus, although they do happen on campus as well."
Alcohol plays a major role in a person's decision to sexually assault another person.
"It lower inhibitions and impairs judgment," he said. "Those are some things that can certainly elevate the risk of someone being victimized."
However, Lowe said the majority of sexual assaults on college campuses are not reported.
"The Bureau of Justice Statistics in 2015 said only about 20 percent of campus sexual assaults get reported to law enforcement," Lowe said. "Two thirds of the people who are victims tend to tell a friend or someone they confide in, but it doesn't necessarily get reported to law enforcement."
According to Lowe, there are multiple reasons why a victim may choose to not report the offense.
"I think a lot of people are afraid," he said. "They're concerned of, 'What will they think of me?'
"I think there's a concern that they'll be embarrassed that the legal process is going to judge them. There may be some fear of retaliation from the person."
Lowe said bystanders of a sexual assault are oftentimes hesitant to intervene.
"Association of American Universities' study reported that 44 percent of respondents had witnessed a drunk person heading for a sexual encounter," he said, "but only a quarter of them intervened."
Lowe said there are two major problems when a sexual assault remains unreported.
"I think the biggest problem is one, the person who was abused doesn't get any help," he said. "The second one is the person who did the abusing isn't going to be held accountable for it and is likely to repeat it."
Victims of sexual assault may undergo a variety of physical, psychological and emotional issues.
"Victims tend to blame themselves," Lowe said. "Just the trauma of that [encounter] not being addressed is going to be something that is going to continue to trouble them."
According to Lowe, if a person is sexually assaulted, the first thing he or she should do is get help.
"There may be a reluctance to call the police," he said, "[but] I would suggest going to the nearest emergency room. Call somebody you trust to go with you. Once you're at the emergency room, they're trained to know how to work with a victim of assault.
"Law enforcement will be called, but you don't have to press charges. It's up to the victim to do that."
Lowe said victims of sexual assault should preserve the evidence of the occurrence.
"Anything that may have DNA on it – keep it. Preserve that. It will help law enforcement to build a case to help prosecute that person."
If no evidence is available, Lowe said the case may be the victim's word against the offender's.
"The criminal justice system may struggle to be able to hold that person accountable," he said, "but I think you still have to take care of yourself and get some support around you.
"There are a lot of resources to come alongside the victims and help them."
For more information about Sexual Assault Awareness Month, visit www.nsvrc.org/saam. To report an instance of sexual assault or to receive support, contact the National Sexual Assault Hotline at 1-800-656-HOPE (4673), or call the National Sexual Violence Resource Center at 1-877-739-3895.
You may also like...