Rockin' with East Cache Creek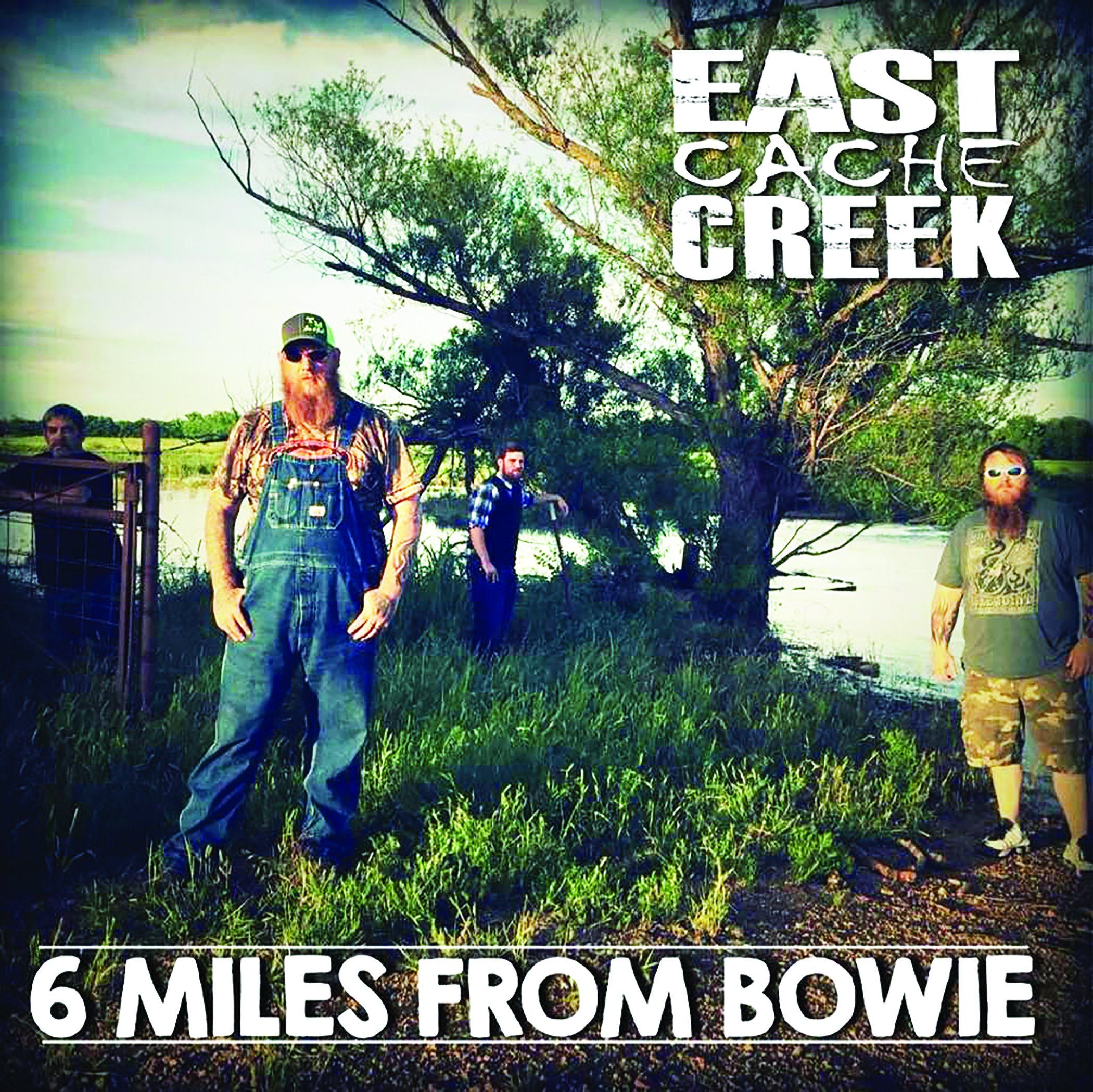 Vicky Smith
Managing Editor
@pinkwritinglady
Taking center stage again this summer is the local band East Cache Creek, whose first album "6 Miles from Bowie" debuted last fall.
The band members include Cody Newby on lead vocals and rhythm guitar, Dillon Newby on bass and harmony vocals, Lynn Moon on lead guitar and Shelby Moon on drums.
Dillon Newby said he and the other members are like brothers, with Cody Newby being his actual brother.
"We all came from the same area originally; [we] grew up on East Cache Creek, which is where we got our name," Dillon Newby said. "I would say our friendship is pretty solid."
Newby said they composed the music together, which he classifies as "red dirt country mixed in with a little southern rock."
"I actually wrote 'She Never Knew,'" Newby said. "Cody has written the majority of them, but we've all put some [lyrics] in a few of them [songs]."
According to Newby, the band became an official group six years ago.
"It started with my brother and Lynn and one of the songs off the album called 'He Never Wore the Hat,'" Newby said. "My brother wrote it about my grandpa, and Lynn heard it and really liked it.
"So, they got together and started playing. Then one day, Cody was like, 'What do you think about playing bass?' … Two weeks later we played our first show."
When Newby was a teenager, he played the electric guitar and drums.
"I had never played bass before until he asked me if I could play bass in this band," he said.
"[Now,] I've been playing for 16, 17 years about every instrument you can think of."
Newby said his grandparents were the biggest inspiration to start the band, and the idea of other people listening to their music motivated them to make the band official.
"It's always nice to be able to put something out there that people can relate to," he said, "whether it's you've loved and lost or were too scared to say anything. The song I wrote is … [about a guy who] never got the guts up to a talk to a girl, and now she's gone."
Newby's favorite performances are those when he can see the audience connecting with the music emotionally.
"I feel good because you can just look at them and be like, 'That is what I was shooting for – that is how I felt writing it," he said. "We've had [people] up at the front of the stage, just bawling."
According to Newby, he also cherishes the performances in which the crowd is loud and genuinely enjoys the music.
"It makes it all worth it for those shows that you get done, and people are just screaming and going crazy," he said. "You definitely play off one another, so the more hyped up they get, they more hyped up we get."
Newby's favorite song is "Muddin'" which is the first song on the album.
"The idea [for the song] was sent to us by a friend," he said. "He gave it to us and was like, 'Look, I've been playing with this for a while. … I was just thinking that maybe y'all could do something with it.'
"We took that idea off of a 45-second video on a phone, and in two hours, turned it into the song you hear on the album. That's one of those moments, as a band, that are few and far between. There's normally not a song that falls into place so quickly."
Newby said his family has been the band's greatest support since the beginning, as well as a man named Kenny Burns, who helps run sound.
For aspiring musicians who are nervous about starting a band, Newby's advice is to just get out there and do it.
"I was nervous, too, man," he said. "I had two weeks of practice on the bass before I played my first show.
"It is nerve-racking, especially to get up in front of people sometimes, but … if you're feeling it, and it's coming from your heart, then put it out there.
"There's people out there that are going to feel it, too."
Newby said East Cache Creek will be playing on the weekends this summer. In past years, the band has played at Guitar Bar, as well as Red Dirt Bar and Grill in Lawton. Outside Lawton, they have played at Riley's in Marlow, the Hog Fest in Temple, the Red Dirt Festival in Medicine Park and at different locations in Oklahoma City and Wichita Falls.
For more information about concert dates or to purchase the album "6 Miles from Bowie," visit the East Cache Creek Facebook page.
You may also like...