CU Welcomes Students, Visitors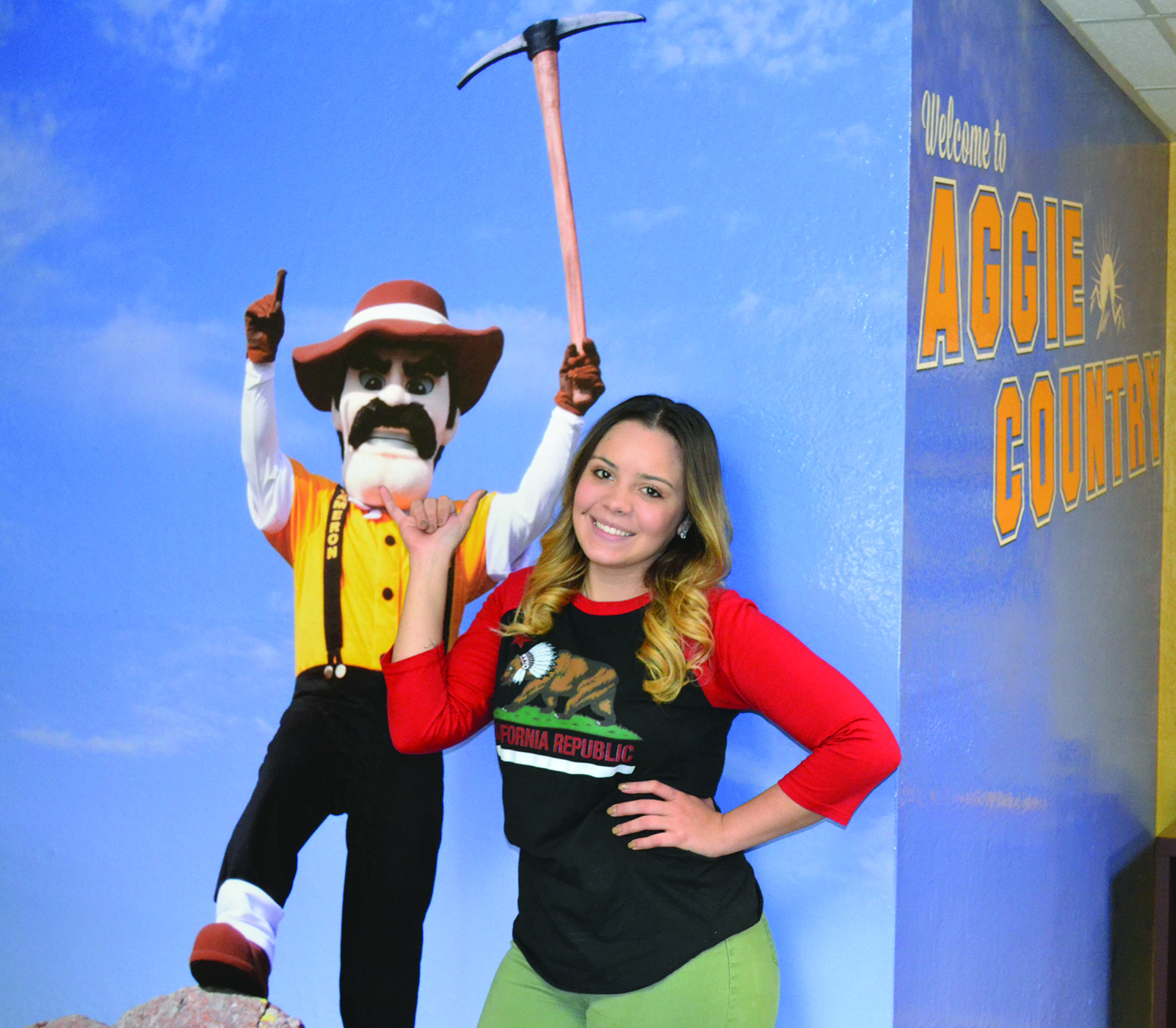 Stopping by the Welcome Center: Sports and Exercise Science Major Jesslyan Ortiz poses with life-size Ole Kim at the Welcome Center, which is located in Shepler. Students can stop by and ask questions at the center.
Zayna Haliburton
Staff Writer
The first stop for all prospective Cameron students, parents and visitors is the Welcome Center in the Shepler Mezzanine, a place where anyone can stop by and ask questions.
Jon Horinek, Vice President for Enrollment and Student Success, created the Welcome Center as one of his first projects in his new position.
Horinek presented the idea to President McArthur, and within months, the new center opened. Groundbreaking for the Welcome Center began in July 2015, and it had its grand opening in December 2015.
Before the Welcome Center, many students went to other places on campus, such as One Stop in the McMahon Centennial Complex or the Administration Building to gather information about the university and university life.
Horinek said the Welcome Center's intention is to prevent confusion for prospective students, current students and visitors.
"We wanted to create a space that was welcoming, inviting and clearly identified," he said, "and we have done that through signs around campus directing students to the Welcome Center."
Horinek said the Welcome Center's location is convenient for students and visitors because Shepler has nearby offices and parking spaces, some of which are specifically designated for Welcome Center visitors.
The Shepler Center offers other offices such as Admissions, Prospective Student Services, the Testing Center and Financial Aid, which helped pick the location of the Welcome Center so students have access to these services as well.
Concierge Karina Ramirez Braun greets students at the door and said she directs each student according to his or her needs.
"The creation of [the Welcome Center] was to have a central location for first time for prospective students to Cameron University – to have one place to go to instead of having to figure it out on their own," Braun said.
Students can come and fill out admission applications, FAFSAs or sign up for their very own Aggie Experience campus tour.
After completing the Aggie Experience Tour, students can take pictures with a life-size Ole Kim on the wall to let friends know Cameron University is their university of choice.
However, Horinek said the Welcome Center is designed for both prospective and current students.
"If [students] need direction or they can't find a classroom or if they just need a phone number for an office on campus, they can stop in and ask any question they want," Horinek said. "That really is the goal. It's designed for everybody."
The Welcome Center's office hours are 8 a.m. to 5 p.m. To schedule an Aggie Experience Tour, sign up online at http://www.cameron.edu/visit or call 580-581-2987 for more information.
You may also like...