Crossover: Balancing Success and Scrutiny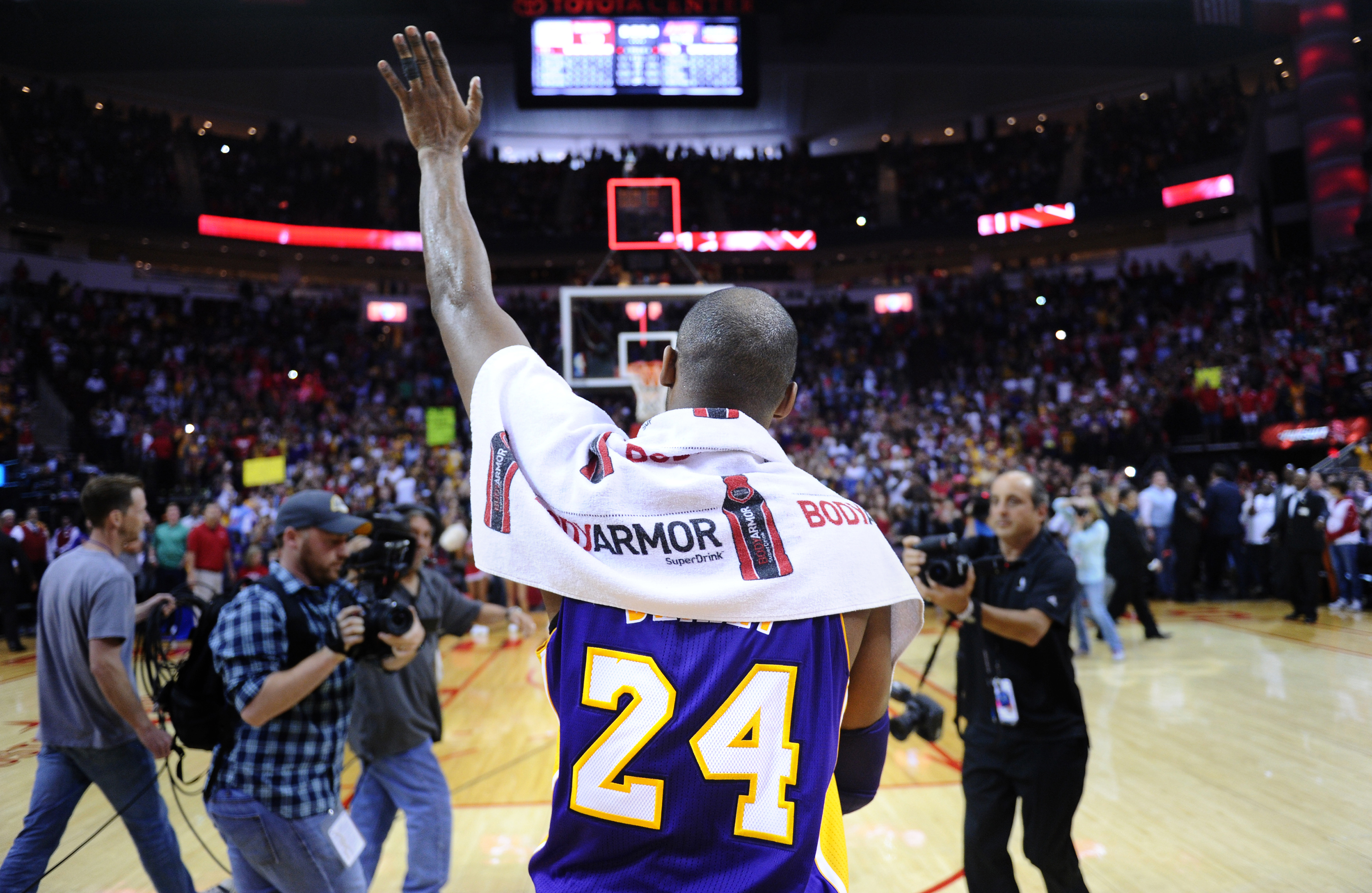 Los Angeles Lakers' Kobe Bryant waves goodbye to fans after a game against the Houston Rockets in Houston on Sunday, April 10, 2016.
Jacob Jardel
Sports Editor
@JJardel_Writing
If there is one thing that Kobe Bryant's career can teach us, it's that what happens outside the lines can have as much of an impact as the on-court achievements.
Kobe's career was one of nearly mythic proportion. The son of former NBA player Joe Bryant, he came into the NBA out of high school in 1996. The Charlotte Hornets traded his draft rights to the Lakers for center Vlade Divac, and the rest was history.
Bryant helped Shaquille O'Neal lead the Lakers to three straight NBA Championships from 2000-2002 before taking the reigns for another two in 2009 and 2010. He has also been a part of gold medal teams in the 2008 and 2012 Olympics.
To list off all Kobe's career awards and accolades would take up entirely too much time. Basketball experts, sports analysts and fellow players compared him to the next Michael Jordan. Some even referred to him as one of the best of all time, which is not far from the truth.
But his basketball prowess was not the only thing about Kobe's career that seemed larger than life.
In 2003, the sheriff's office in Eagle, Colorado arrested Bryant in connection with an investigation of sexual assault complaint from a hotel employee in the area. The staff member accused Kobe of raping her in his room before the player's surgery in July.
The next year-plus of Kobe's life – and, by proxy, his career – came under media and public scrutiny.
He denied raping the woman but confessed to having an adulterous sexual encounter with her, insisting that the acts were consensual. Bryant's defense team attacked the accuser's credibility. Kobe's clothing choices and descriptions of sexual acts became court-ordered knowledge. The woman was unwilling to testify. A district judge dismissed the case.
The accuser eventually filed a civil suit, which she and Bryant settled out of court to undisclosed terms. But both Bryant and the accuser still feel aftereffects to this day.
Kobe just happened to feel them in the limelight.
He suffered the expected backlash from sponsors dropping out of endorsement deals. He and his wife went through the motions of divorce until they reconciled in 2013. His brash-but-clean image took a major hit.
But he still played. He apologized to the young woman, saying he didn't question her motives and clarifying everything. After a while, it just swept under the rug as the rest of his playing career took off.
However, the epic of Kobe Bryant's career cannot be complete without mention of this case. It shows how intertwined sports can be with life outside the lines.
After all, this incident is very similar to how sexual assault cases occur outside of the limelight.
According to the Rape, Abuse & Incest National Network (RAINN), out of every 100 rapes, about two percent of rapists will ever see prison time. And, in many cases, few victims will ever report the assault itself.
Part of the reason could be because the victims sometimes face even harder scrutiny than the perpetrators.
The prime example of this phenomenon occurred in the Duke lacrosse rape case from 2006.
Three members came under scrutiny from a student who falsely accused them of raping her. Throughout the case and in its aftermath, much of the public's ire focused on the players.
However, there was still a vocal outrage directed toward the accuser in the case for ruining the players' careers with these accusations. Many labeled her with various unsavory terms that scapegoated her for everything that happened in the case in yet another case of victim blaming.
And the players faded into relative obscurity.
There was no proven assault in either case, but the same arguments happen even in definite cases of assault. Take the Steubenville High School rape case, in which two high school football players documented their sexual assault of an intoxicated female college student.
Both players served time for the incidents, but much of the public and media backlash came against the girl for besmirching the boys' otherwise clean records as athletes and ruining their careers.
Yet, if the consistent "redemption" stories of professional athletes coming back from sexual assault or domestic assault charges is any indication, their careers are less ruined and more derailed. Give it a few years and some success, and these athletes will be headliners gaining praise once again.
Just ask Mike Tyson. And Greg Hardy. And Ben Roethlisberger. And a number of others who add on to the already long list of athletes with a history of sexual assault.
For some reason, there is some sort of permeating correlation between athletes and sexual assault. Nobody knows if there's a direct relation or what could cause it.
Regardless, the fact of the matter is that something needs to change to get rid of this culture of victim blaming.
Whether Kobe did or did not rape that young woman is still in the air. His character may or may not be in question. But the way he publicly reacted to his accuser is almost an anomaly when it comes to reacting to those who press charges of assault or rape.
He apologized for what she had gone through. He did not question her intentions. He addressed her the way that anybody would want to be addressed – as a human being.
It may not be the perfect answer, but it's a start. It eschews victim blaming and puts no stigma on the victim for speaking out. It opens up dialogue for how we can better report and confront sexual assaults.
And really, that's what the process needs right now – a start. Whether it happens in the form of a court case or a career, anything that makes the environment for victims safer is the goal for which we're aiming.
Kobe's career may have been mythic, but it can help us learn about reality.
If you or someone you know has been the victim of sexual assault, call 1-800-656-HOPE (4673) or visit ohl.rainn.org/online. All calls are free, secure and confidential.
You may also like...