Cameron's new King and Queen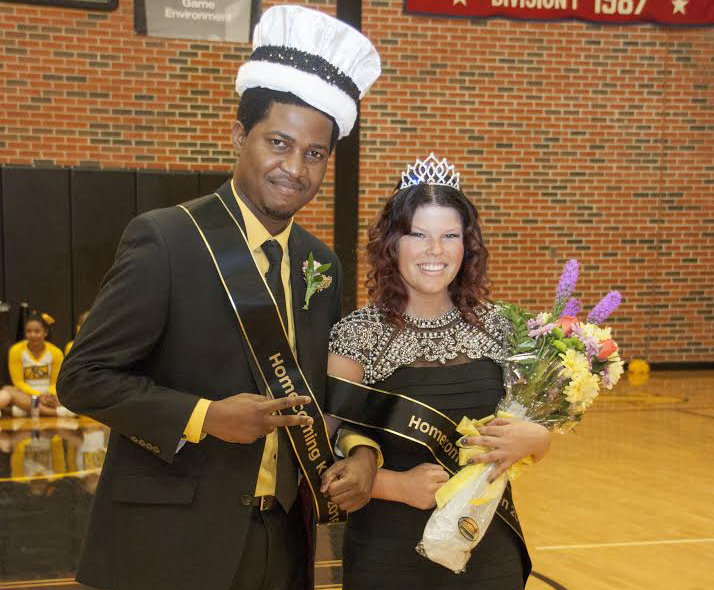 Homecoming Court: Akinola Akinlowan and Katelyn Roberson became Cameron University's new Homecoming King and Queen for the academic year.
Erin Owens
Staff Writer
During halftime of the men's basketball game on Feb. 20 Cameron University crowned Akinola Akinlowan and Katelyn Roberson as 2016 Homecoming King and Queen.
Akinlowan is an international student originally from Nigeria. He said homecoming isn't something he had heard of before relocating to Cameron in 2012.
"I can tell you for most international students, especially from Nigeria, homecoming is completely new for us, completely new," he said.
"I really think it's a good tradition that I would like to bring over to Nigeria… but it's just not something that we do."
For Akinlowan this was his second year participating in homecoming court. He said going through the process before helped him.
"I had a little bit of a head start because … I have been in homecoming court more than once so I did understand the tools of the trade," he said. "I already knew the drill on how the walking should go and how it should be, so … I think more of the fact that my personality being a very open person and the fact that I do a little bit okay with public speaking was all the preparation I needed."
Akinlowan said he will always remember so many people voted in support of him.
"[In] the back before the announcements came in, I was talking with Casey, and I was like you know seven hundred people actually voted for this thing," he said, "so that means that seven hundred people had somebody in mind that they felt should be king and should be queen."
"So whoever is going to win it, … people actually did take the time to think about you and vote [for] you, so whoever wins must be very important to a number of people on campus."
Roberson, a representative of Alpha Phi, had no prior homecoming experience and said that being nominated was a surprise to her.
"I was really shocked," she said. "I was really surprised and so excited at the same time because I had never done this in high school and then being in college, and a bigger setting, it was really cool."
Roberson was even more surprised to make it as a finalist on the homecoming court.
"Our [vice president] got the email the next day that said I had made it through to the next round," she said. "I was really excited because it really made me feel like I did fine in the interview and it was kind of reassuring"
Roberson was humbled by the support shown to her by strangers. Even though she had her Alpha Phi sisters and their brother fraternity campaigning for her, she didn't think she had a chance at winning.
"Megan [Canfield] was talking about how over seven hundred people voted and I was like, 'I barely even know a hundred people,'" she said. "I was hoping to at least get in the top three but I was fully satisfied with just being a nominee."
Roberson said she will remember everything about the experience but the moment she was crowned queen sticks out to her.
"I waited for a whole two minutes before I walked up there because I was still shocked that it was me and that they called my name because I wasn't expecting it at all," she said.
Akinlowan and Roberson both were humbled by the experience of running on homecoming court and found the amount of support they received overwhelming.
You may also like...