Cadaver Lab to Open this Summer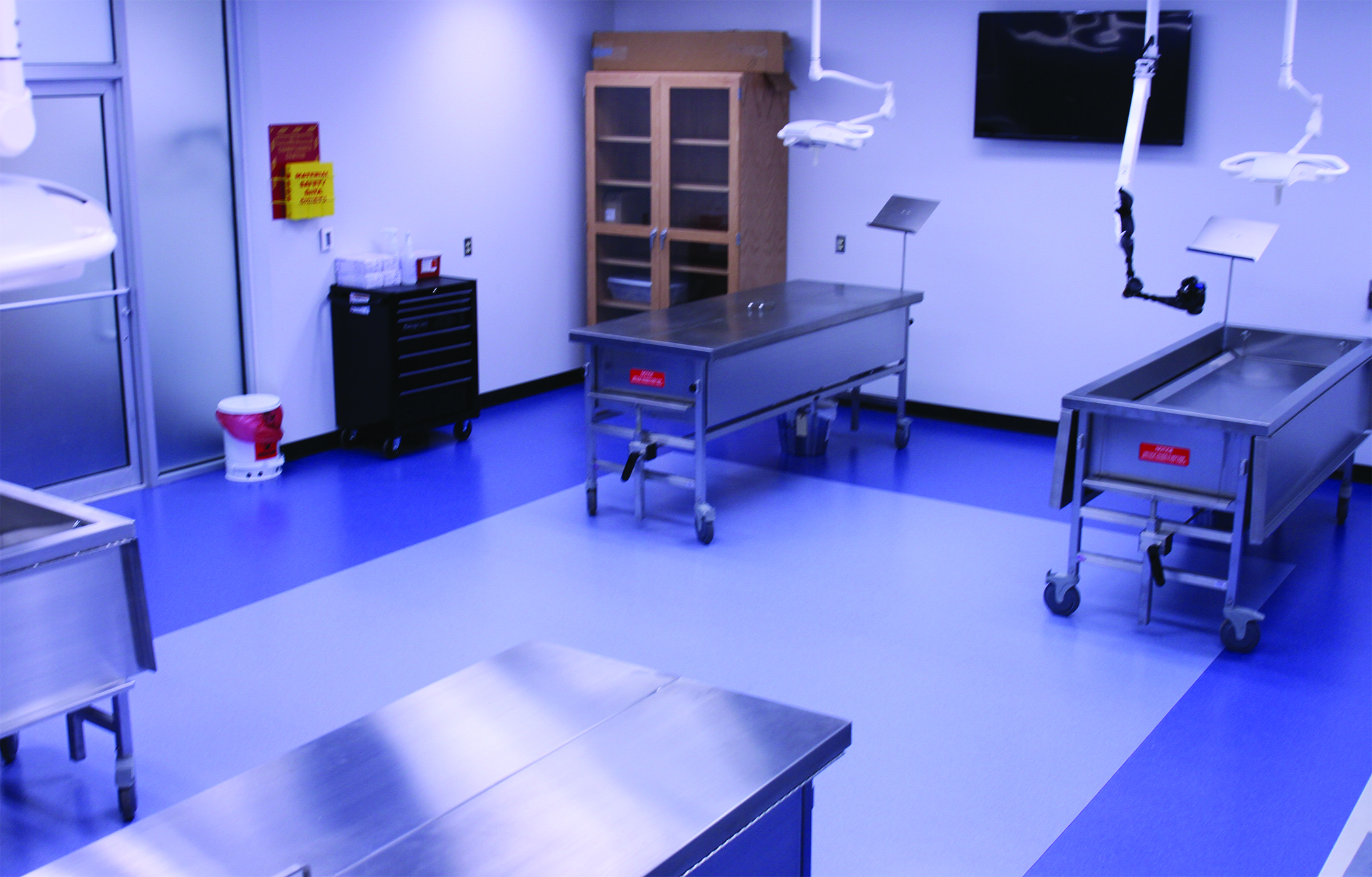 Hands-on Learning: The new gross anatomy lab, which opens this summer, will provide Cameron students the opportunity to dissect cadavers. Cameron is one of only two regional universities in the state to have a cadaver lab.
Joel Frambes
Copy Editor
@JoelPolel2
Opening up this summer, a new gross anatomy lab will provide Cameron University students the opportunity to dissect cadavers.
The summer 2016 semester will host the first anatomy class composed of living and dead bodies as Aggies explore the structure of the human body.
This new lab makes Cameron University unique in that only one other regional university has a cadaver lab, but CU is the only lab to allow undergraduate students at a sophomore level to dissect the bodies.
Assistant Professor of Biology Ron Gaines will teach the revised anatomy course. He said this will be a great improvement over the old, plastinated organs and limbs currently used in the anatomy lab.
"We've been fortunate that we've had plastinated human organs that have been donated through the University Of Michigan Medical School, but they still have all the external skin and external extra fat and connective tissues removed, and they're stiff," Gaines said.
"They've been turned into plastic, so you don't appreciate the textures of your connective tissues as well, and the students don't get the experience of actually having to remove things."
Because students will have such a unique and valuable experience in the gross anatomy lab, Gaines said they'll be better prepared for their future professions.
"Those that are going on to graduate programs like medicine, dentistry, physical therapy – most of those are still doing cadaver dissection," he said.
"The ones that are heading for bachelor programs like nursing, physical therapy assistant, and any associate degree programs they will have a greater appreciation for the structures of the human body, which they will then hopefully be able to relate to their patients and clinical work as they go on into their individual specialties."
Under the shadow of the state higher ed budget shortfall, the cadaver may seem like an unnecessary expense, but the money is coming from a $250,000 grant from the McMahon Foundation. Eighty percent of those funds was used to construct the facility, and the remaining $50,000 will be used for small wares, supplies and equipment.
Gaines said after the new program is instated, it should cost students less money to take than the current program.
"Right now, students are paying $50 for a virtual dissection program, 'Anatomy and Physiology Revealed,'" he said. "They're not going to have to buy that $50 program, and the fees we're going to have to add cover what is probably going to be only about $30, so it is actually going to cost students a little bit less to take the course in the future than it is right now."
Two cadavers, which are $2,500 each supplied through the World Donor Program, will be brought in each semester for new dissections while the bodies from the preceding semester will remain in the lab for another section of the anatomy class to study.
Senior biology student Victoria Meador said the anatomy lab will be a great way to tackle a difficult course from a new angle.
"Before, you just had the plastinated limbs and they were falling apart," she said. "You could not tell where everything was, and with actual people [cadavers] in front of you, looking at the actual parts will be a lot better."
Gaines said he is thankful for the opportunity the McMahon Foundation has provided Cameron students.
"We're just very thankful for the generosity of the McMahon Foundation," he said. "This is almost a unique experience for a sophomore level course."
You may also like...