20 Years of Sigma Tau Gamma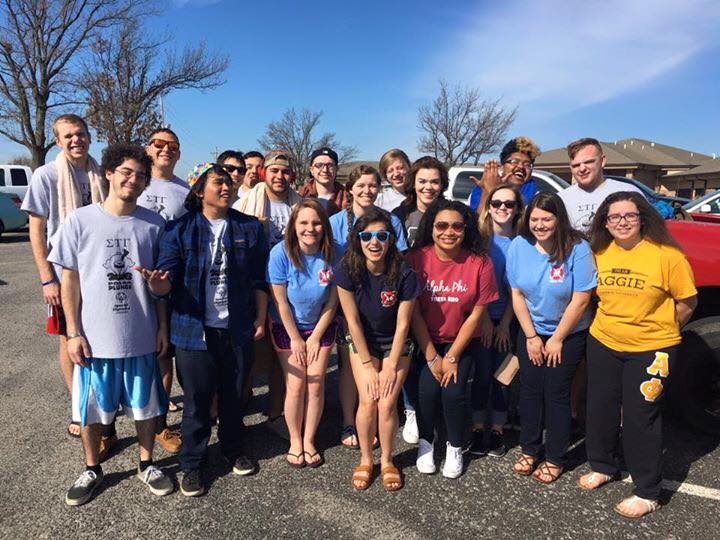 Polar Plunge: Sigma Tau Gamma recently attended the Polar Plunge where they raised $801.00 for local charities. The Gamma Rho Chapter of Sigma Tau Gamma is the oldest fraternity at Cameron University.
Vicky Smith
Managing Editor
@pinkwritinglady
On April 16 at the White Rose Formal, the Cameron University social fraternity Sigma Tau Gamma will celebrate its 20th charter anniversary.
Sophomore business management major Robert Champ, who is the chapter's advisor for safety and standards, said he and other Sig Tau members will invite alumni to the formal.
"We're looking forward to bringing the guys back from 1991 and prior to that who brought our colonization to the campus, which was 25 plus years ago now," he said. "When they first did the chartering back in '96, it was a large event."
Champ said they will establish an alumni association at the formal.
"We just want to celebrate the guys that have come before us and show them that we appreciate them," he said, "and we will have something even bigger for the guys to be a part of when they graduate."
Champ said in past years, about 40 people have attended the formal annually, but this year, they are expecting 100-150 attendees.
"We're looking at bringing some of the faculty and administration in to view this," he said. "Our alumni that we speak to a lot are really interested in coming in from all over Oklahoma. There's lots of guys in Texas … so hopefully we get lots of guys back."
According to cameron.edu, "The purpose of the fraternity is to help each member improve his skills in the areas of leadership, scholarship and brotherhood."
Champ said the main goal of the chapter is to build a better breed of gentlemen.
"That's something that's kind of fallen away," he said. "The national chapter, including our local chapter, is really looking for guys to build up and instill good values in them."
According to Champ, a gentleman is someone who puts the chapter's six principles to action in his life.
"Our principals are value, learning, leadership, excellence, benefit and integrity," he said. "We teach our guys etiquette. … We still stand until all the ladies are seated when we eat. We pass the salt and the pepper to the left.
"We hold the door open for people. We do things that are selfless and help build each other up and others in the community, too."
Champ said another goal of the chapter is to encourage young men to engage in community service and philanthropy. They recently volunteered to help at the Polar Plunge.
"The founders, back in '91, started working with local charities," he said, "so we teach these guys how to get involved and give back to the community and be part of something more than themselves."
Sig Tau Chapter President Jeff Soriano, a sophomore mechanical engineering major, said he and the members also have strived to involve the group more in campus life.
"We're trying to expand our chapter," Soriano said. "It's been a really good learning experience."
For more information about the chapter at Cameron, visit the Sigma Tau Gamma Facebook page. For information about the purpose of the fraternity, visit http://sigmataugamma.org/.
You may also like...