Ray scores 31 in Aggie Loss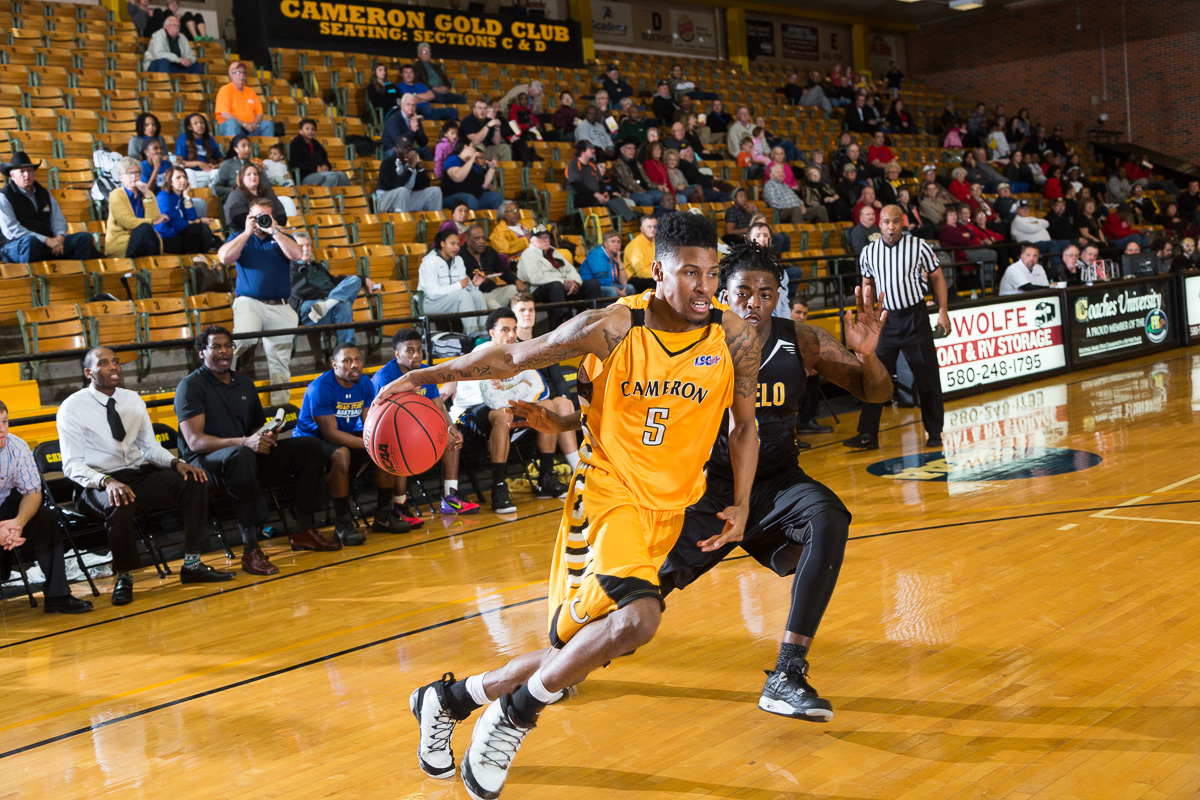 Take it the House: Senior Deondre Ray drives the lane against a defender during a game against Angelo State. The Black and Gold lost to the Rams 82-75 on Feb. 17., despite Ray's career night scoring 31 points. The loss drops the Aggies to an 8-4 conference record and a four-way tie in the Lone Star Conference standings with two games left to play.
Jacob Jardel
Sports Editor
@JJardel_Writing
Cameron's men's basketball team lost their final game on the road despite a career night from senior guard Deondre Ray.
The Aggies and Rams were close in almost every category, but the Angelo State took advantage of CU fouls to pull ahead with the 82-75 win on Feb. 17 in San Angelo, Texas.
Ray led the Aggies with 31 points on 12-for-19 shooting in 39 miutes on the court. This total was the highest for a CU player since Craig Foster's 32 points against Texas A&M-Commerce on Feb. 5, 2014.
Seniors Cameron Lee and Jamaal Brantley also finished in double figures, scoring 15 and 14 respectively.
The teams had comparable individual statistics, with each team coming within four of each other in all but one category: free throws.
While the Black and Gold went 10 of 15 from the charity stripe, ASU finished 22 for 27 from the line, chalking up an 81.5 percent mark compared to Cameron's 66.7 percent.
Angelo came out of the gates on a 9-0 run as the Aggies went scoreless for four minutes as they tried to get on the board. Ray later hit a three to cut the Ram lead to 14-12 with just under 14 minutes left in the first half. But ASU held on to the wire-to-wire lead for the half, closing with a last-second jumper to go into the break 32-26.
The second half saw more of the same, with the Rams leading by as many as 15 points. The Aggies were able to cut the deficit to within five in the final 12 seconds after Lee drained consecutive three pointers.
However, two more late points from Angelo sealed the fate for the Black and Gold.
Tre Bennett led ASU with 19 points, while Stedman Allen contributed 18 to the Angelo win.
Cameron is now 15-9 on the season, 8-4 in the Lone Star Conference. The loss drops them into a four-way tie for the conference lead with one game to go.
The Aggies will follow up their homecoming game with the season finale against Midwestern State on Feb. 27 in the Aggie Gym. The game will broadcast live on the ESPN 3 streaming service.
You may also like...