Press Start on Homecoming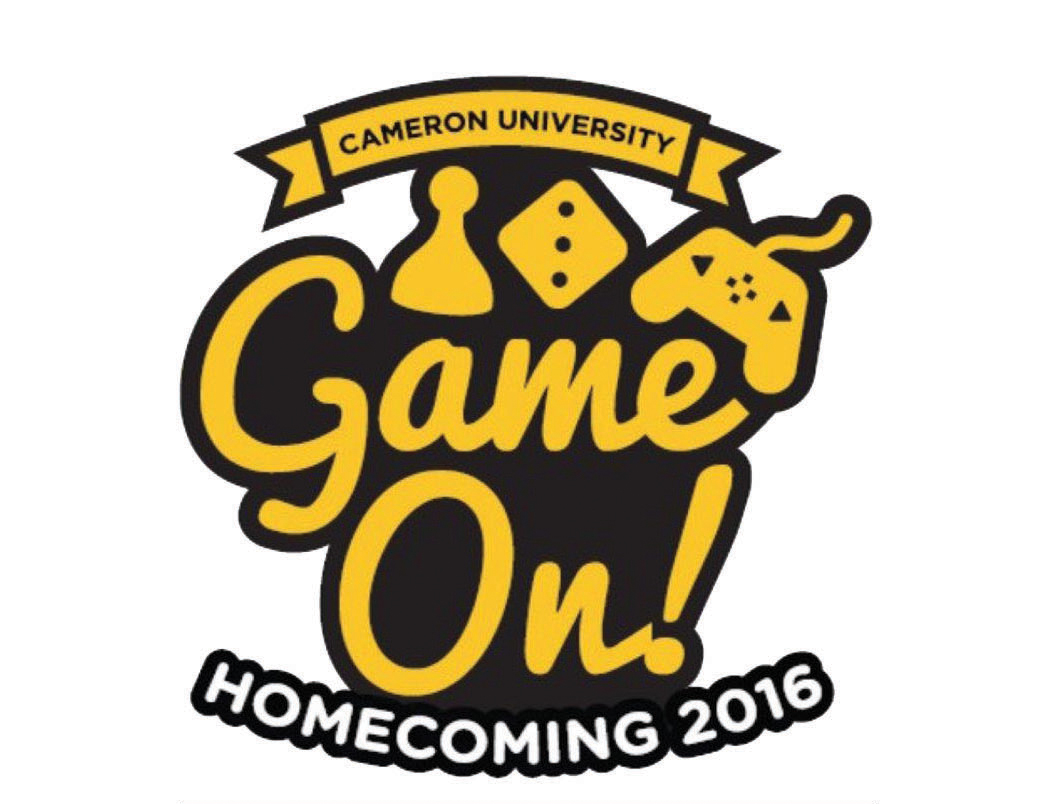 Vicky Smith
Managing Editor
@pinkwritinglady
Cameron University student organizations and departments are gearing up for an event-filled homecoming week, themed "Game On." The events begin Monday, Feb. 15, and end with the women's and men's basketball games on Saturday evening, Feb. 20.
Megan Canfield, the coordinator of campus life and new student programs, said the purpose of celebrating homecoming is two-fold.
"Monday through Saturday, we really work for on-campus students," Canfield said, "– to get them excited about Cameron and to help build their relationship to the university as a whole.
"The other purpose of homecoming is to really celebrate our alumni and welcome them back to the university and to show not only our appreciation for them but to give them the opportunity to reconnect with the university."
According to Canfield, homecoming is a special time for students to show their Aggie spirit.
"It's important to really bloom where you're planted," she said. "I think it's really important for students to celebrate the university and show pride in it. This is where you are, [so it's] making the best of your situation and really showing the love for the university where you're choosing to spend your time."
Canfield said the week will open many opportunities for students to show their Black and Gold pride.
"I highly encourage students who are a part of a student organization to do what they can to help their student organization," she said. "It's part of what makes college such a great, interesting and unique time."
Canfield said homecoming week events will kick off with comedian Eric O'Shea at 9 p.m. in the MCC Ballroom.
"On Tuesday," she said, "[Circle K International] CUCKI is partnering with the Oklahoma Blood Institute, and they're offering a blood drive on campus for students in the MCC Ballroom.
"That night, PAC is working with the club Gamers Anonymous to offer a game night for students where we'll have video game tournaments. … We're going to be giving away some gift card prizes and some free food."
She said on Wednesday, student, faculty and staff can help themselves to free pizza from 11 a.m.-1 p.m. in the MCC Ballroom.
"[On] Thursday," Canfield said, "we're having the Homecoming Dance [at 9 p.m.] in the MCC Ballroom. We're trying a new dance format this year, which we're really excited to test in front of our students, and we'll have our photo booth there as well."
She said the third annual Golf Cart Parade is at 5:30 p.m. on Friday, and Family Fun starts at 6 p.m. in the Aggie Rec Center.
"A new event we're hosting this year is Family Fun in the Aggie [Rec Center]," she said, "which is a great opportunity for our faculty and staff who maybe have kids or students who have kids.
"We'll have some corn dogs. They'll be able to swim if they want or play on scooters. … We're doing a sidewalk chalk contest."
Canfield said at 8:30 p.m. on Friday is the bonfire pep rally.
"PAC is working again with athletics to really celebrate all our student-athletes and get excited for the big game," she said. "The pep band will be there to play the Fight Song. … Our cheer and dance team will be there to get the crowd excited."
Canfield said the Aggie Family Fun Run, which is open to the public, is at 9 a.m. on Saturday in the MCC Lobby.
"It's not necessarily a run," she said. "It's a walk as well. People can opt to go whatever distance they feel comfortable doing, and right afterwards, we'll have an oatmeal bar, which is being provided by the alumni association this year."
According to Canfield, Tailgate and Chuck Wagon Cook-Off, hosted by the agricultural department, is at 2:30 p.m. on the Gym Lawn.
Canfield said the homecoming basketball games begin at 4 p.m. on Saturday in the Aggie Gym.
"The women will play first," she said. "During half time of that game, we will announce all the student organizations who have won our various competitions throughout the week, and then during the halftime of the men's basketball game, we will have our coronation ceremony for our king and queen candidates."
Canfield said she encourages students to attend the homecoming festivities and invite their friends and family.
"They're really open to the public," she said, "and we want everyone in the Lawton-Fort Sill community to come out, as well as our Cameron University family to enjoy these events and enjoy the experience."
She said Ole Kim will certainly be in attendance.
"Ole Kim is the proudest Aggie that I know," she said. "He'll definitely be at the pep rally this year, right there cheering on our teams with everybody else. It's not a basketball game unless Ole Kim is there, throwing out shirts and interacting with the crowd."
For more information about homecoming week 2016, visit https://www.cameron.edu/homecoming/homecoming-for-students.
Player Select: 2016 Homecoming Court
Homecoming court photos courtesy of Office of Campus Life
King: (Row 1 – left to right)
Akinola Akinlawon – International Club
Andres Berber – Sports & Exercise Science Club
Casey Curtsinger – Aggie Club
Ethan Estep – Alpha Phi Sorority
Robert McCoy – Psi Chi
Queen: (Row 2 – left to right)
Chidinma Chykugwu – CU Nigerian Student Association
Jessica Limbocker – Sports & Exercise Science Club
Kariel Ming – American Chemical Society
Sijalu Paudel – International Club
Katelyn Roberson – Alpha Phi Sorority
You may also like...