Preparing for 8th Annual Camp of Champs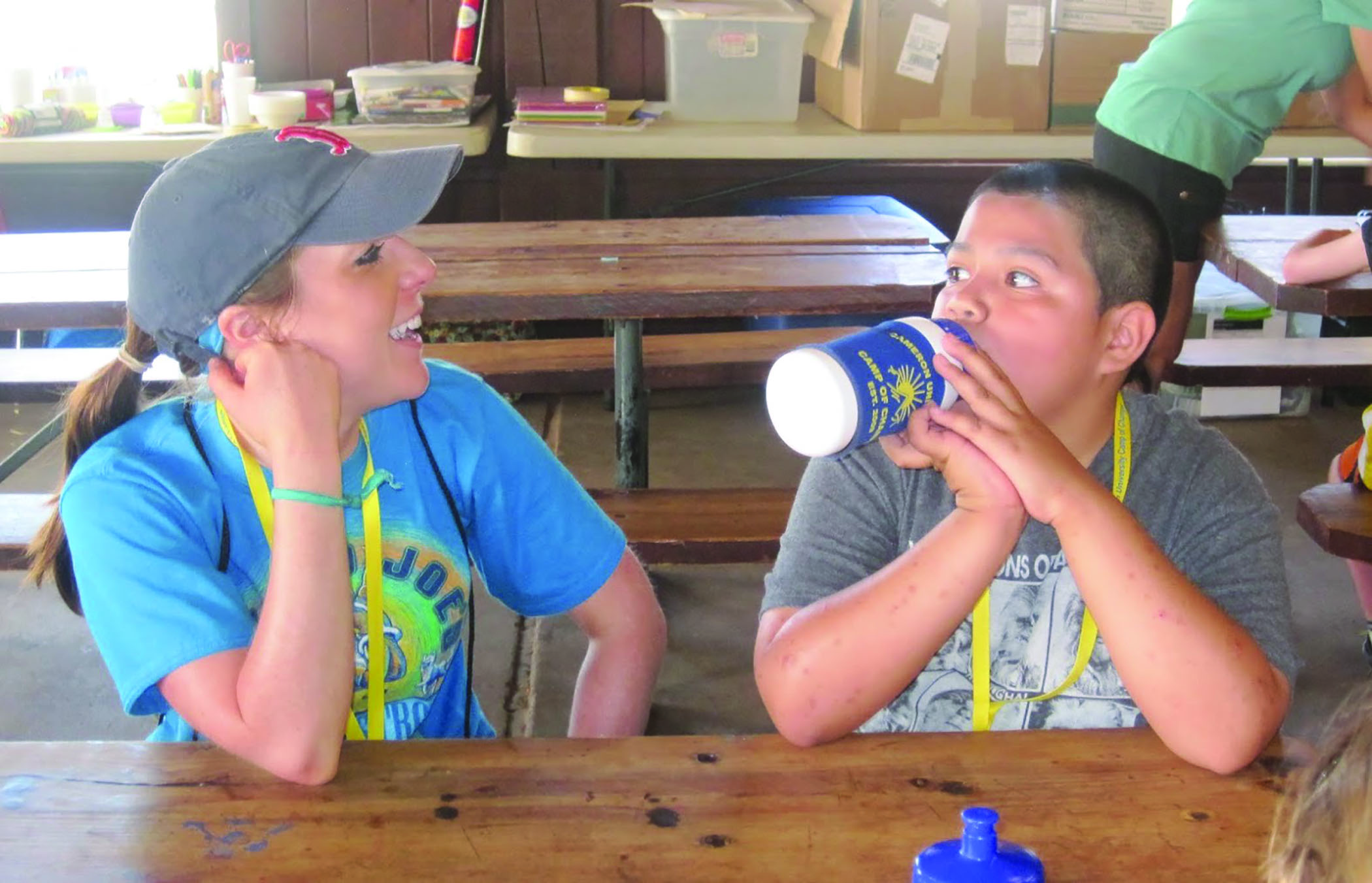 Making Friends: Cameron alumna Anna Pollard served as a counselor at Cameron's 7th Annual Camp of Champs. This year's Camp of Champs is May 30-June 2.
Jacob Jardel
Sports Editor
@JJardel_Writing
For students who want to do more than relax at home this summer, there is one opportunity to get out and to give back.
Cameron's 8th Annual Camp of Champs will take place from May 30 until June 2 at Quartz Mountain. The camp is designed for children ages 6-13 with special needs. Campers come from elementary schools in six different surrounding counties.
Vice President of Academic Affairs Dr. Ronna Vanderslice has served as the director for Camp of Champs since its establishment, having already run a similar camp before coming to Cameron. She said that, in terms of activities, this camp provides similar experiences to more typical ones.
"Our focus is on doing every kind of activity that any other camper would want to do," she said, "but providing the accommodations or support to let the camper do it with success."
For her, though, the most vital aspect of this camp is to provide this particular group of campers with an opportunity they might not get otherwise.
"Most children go to some sort of a camp as they're growing up," Vanderslice said. "Oftentimes, there aren't as many opportunities for children with special needs to have the supervision and safety they need to attend another camp.
"That's the opportunity we want to provide for other kids."
She emphasized the biggest differences come with the oversight and support that comes with a small counselor-camper ratio.
"Our counselors are really like surrogate parents for our campers during the week," Vanderslice said. "They accompany them to every activity, participate with them, eat with them – we really provide just really good oversight to keep our campers safe that might be a little different than another camp might provide."
These counselors are all Cameron students. However, Vanderslice said that there is no major or experience requirement. She said there was only one thing counselors needed for the job at hand.
"You do have to have an attitude of wanting to help," she said, "and an understanding that it's going to be a lot of work."
Junior criminal justice major Braydon Williams served as a counselor for Camp of Champs. He said that the experience, though challenging, was rewarding.
"My first year being a counselor I was worried that I didn't have the knowledge to supervise special needs children," he said. "But with the help of the staff and the other counselors, that weight was taken off my shoulders, and I learned a great deal about interacting and handling the needs of the campers."
Other counselors have had similar experiences, with many counselors returning to help out in subsequent camps. According to Vanderslice, these students help with Camp of Champs even post-graduation.
"It's been so good, even after some of our students graduate and have been out working, they take vacation from their job to help out at the camp," she said.
Williams said that he plans to work as a counselor again because of how much he learned from the camp.
"The children make a huge impact on your life," he said. "Growing up I just saw special needs children in a school setting, and they were always the odd ones out. At this camp you see them for what they are, and that's a child."
However, according to Vanderslice, counselors are not the only ones who want to come back after their first Camp.
"Most of our campers are returners," she said, "so once they come, no matter what age, they come back year after year. The camp is a very important part of their lives. They look forward to it every summer."
She thinks that this positive response is one of the main reasons that the camp has gone on for so long.
"I think there is a need for camps for children with special needs," she said. "I think that they want to have the same experiences as everyone else does."
However, Vanderslice said that there is one other major reason this camp has been a success for eight years, and that is the support from the Cameron community.
"They allow me to take time away from my job to work on camp," she said. "I'm thankful that I've always had support from President McArthur now and President Ross before to allow us to use the campus as a support system."
She also said that the camp would not be what it is without the counselors who volunteer. Counselors like Williams feel equally privileged to have the chance to give their time to the cause.
"It is very heartwarming to see everyone afforded the same opportunities without any discrimination," he said. "These campers look forward to this camp all year and I'm glad to be a part of it."
You may also like...