Looking ahead: Great Plains Incubator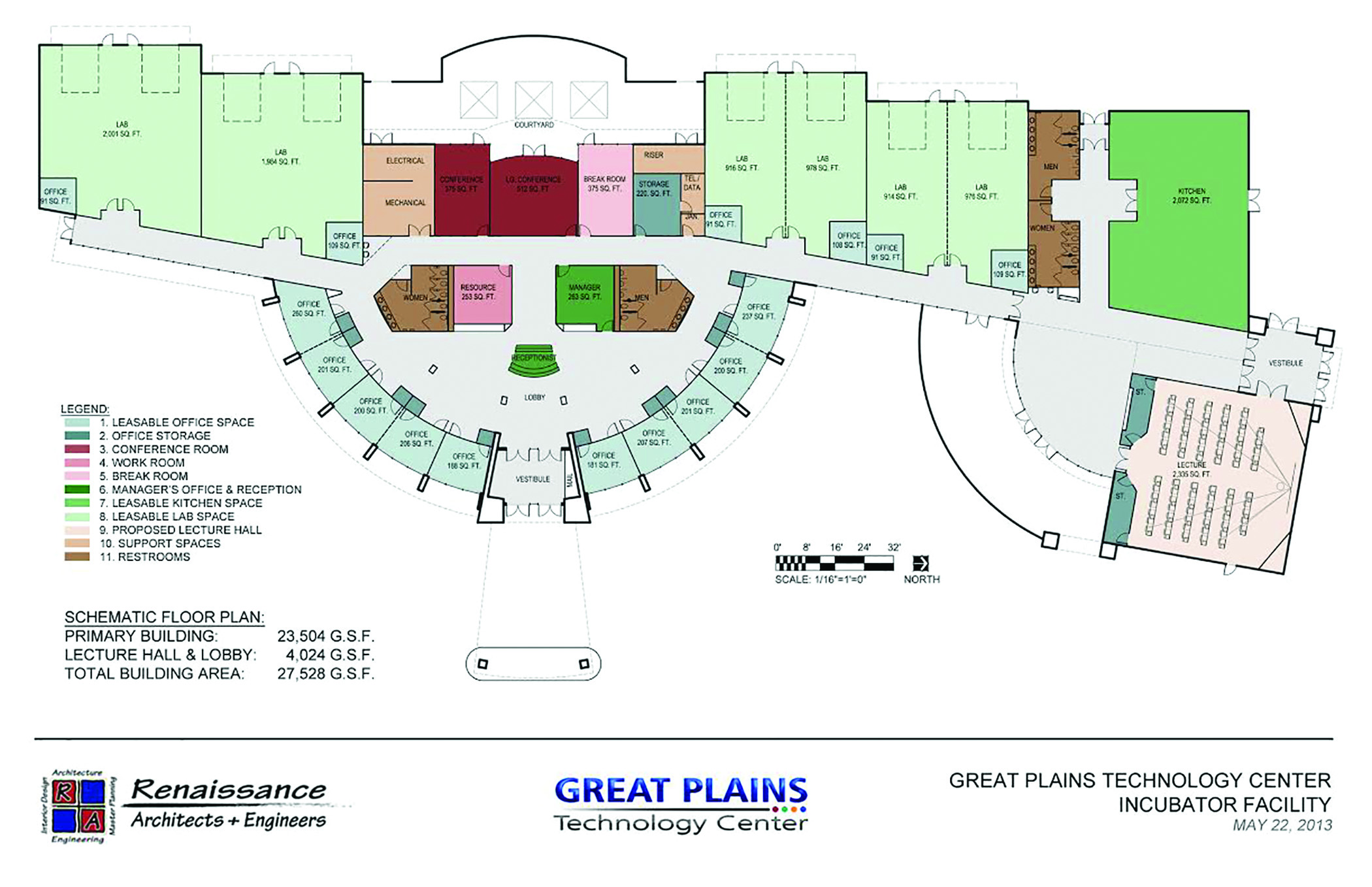 Opening Soon: The Great Plains Technology Center Business Incubator, which is 28,000 square feet, is scheduled to open to the public by August. Pack Beck, the incubator manager, said the incubator will be a place for entrepreneurs to develop their ideas.
Erin Owens
Staff Writer
Great Plains Technology Center is now seeking tenants for their new business incubator, targeted to be up and running by August.
The incubator is a total of 28,000 square feet and will house 10 business offices, a licensed and certified commercial kitchen, seven manufacturing spaces and an art studio that can accommodate up to 12 artists.
Pat Beck, manager of the business incubator, said it is a community.
"It's a place for entrepreneurs to develop their ideas and be able to succeed with bringing their dreams to success," she said.
The incubator offers entrepreneurs the opportunity to start a business softly and under the guidance of experienced mentors. The mentors will share their knowledge and network with the business owners and coach them on growing their businesses.
Before business owners will move into the incubator they must first meet a few prerequisites.
They will need to have a business plan in place, secure financing and pitch the idea of their business to an advisory committee made up of bankers and businessmen from the community.
Upon entry to the incubator, business owners will have access to an economic team who will advise them in areas such as accounting, marketing and agriculture. Beck said the plan is to be available for the business owners and help them succeed.
"We're going to be talking about all the things it takes to be successful," she said. "[If] we can see the trend here and this isn't going to work, we need to pivot somehow; maybe you need to change your market or product."
The Small Business Association credits lack of capital, lack of experience and poor location as the three main reasons for failure among small businesses each year. While planning the business incubator, these were three of the factors taken into consideration. For Beck, giving businesses a greater chance to grow is a passion.
"We are a small community in Lawton," she said. "We can't afford to hope that another Goodyear will move here to boost our economy. We have to grow our own, and with an 80 percent failure rate of new businesses, you can't afford that.
"That ripple effect of the failure is not good for our economy at all."
The small business association agrees that incubators are influential in business success rates and encourages all entrepreneurs secure a support system prior to starting operations. Beck emphasized how important this network can be.
"You'll be forced to make many important decisions, especially in the first months of opening your business," Beck said. "If you do not have a support network of people to help you, consider finding a business mentor."
Construction of the incubator is under way, and the building is scheduled to open later this year. Business plans are already being reviewed and the office spaces are on a first-come, first-serve basis.
Entrepreneurs interested in applying can contact Pat Beck at pbeck@greatplains.edu.
Tags CU NewsErin Owens
You may also like...