Introducing Miss Black CU: Sarae Simpson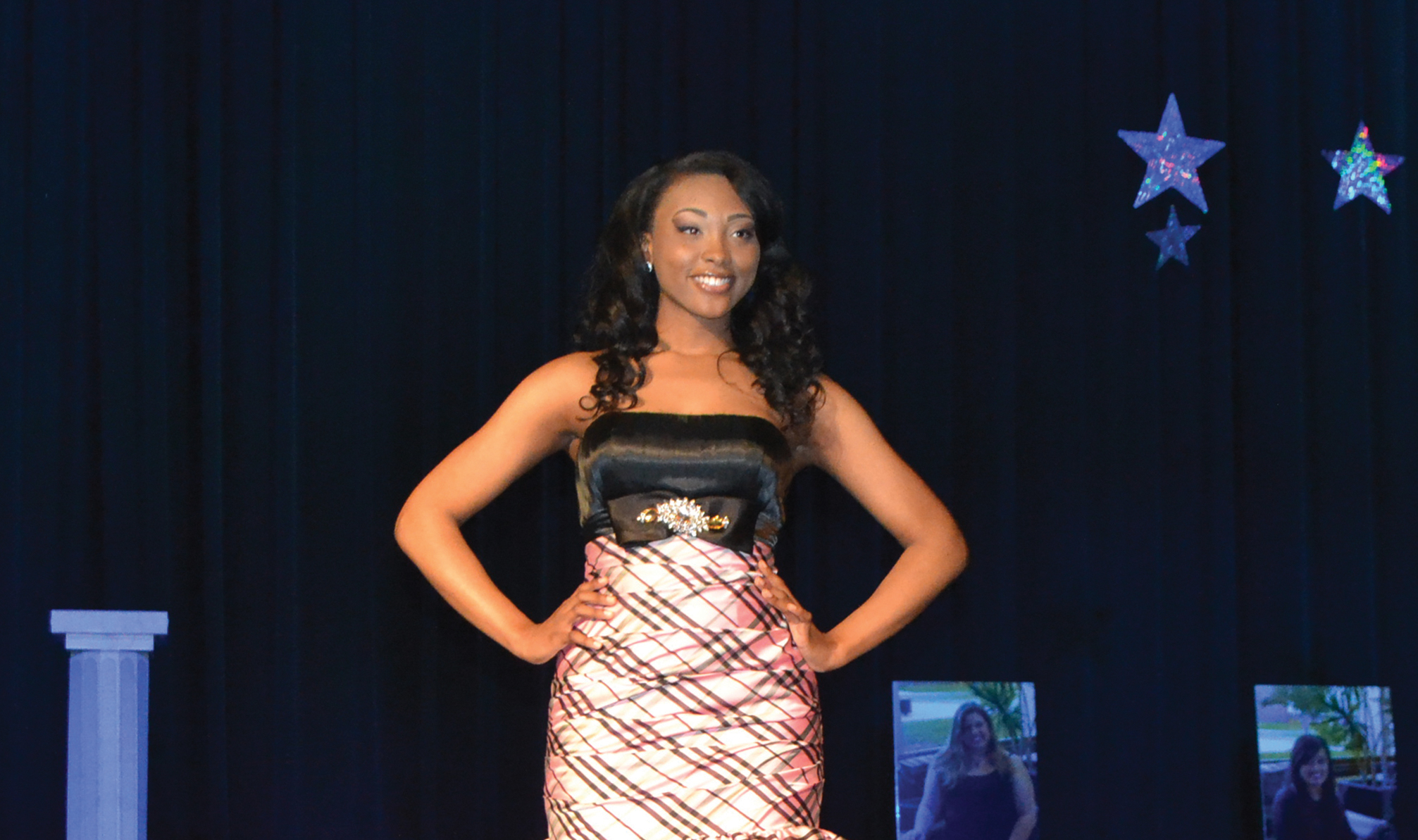 Chidy Chyk
Staff Writer
At 6 p.m. Feb. 6 in the University Theatre, the Black Student Association (BSA) hosted the 37th annual Dr. Valree Wynn Miss Black CU Pageant and crowned Sarae Simpson 2016 Miss Black CU.
The event started with an opening number by the contestants, who danced to "New Day" by Alicia Keys, followed by a welcome speech by president of BSA Ja'lyn Yarbrough.
Ciera James, mistress of ceremonies, led the audience in singing the "Black National Anthem" – "Lift Every Voice and Sing." Next, guest performer Wanda Thompson led the audience in prayer.
Master of the ceremonies Eugene Patterson and James introduced themselves and also introduced the first featured contestant, Jamie Hatcher, to come sing.
Taylor Thompson, coordinator of Diversity Affairs and director of the Miss Black CU Pageant said she was thrilled to watch the contestants compete.
"I am truly ecstatic," she said. "We had another successful show, [and] the girls really showed their courage. They came out here and they gave it their all, so I'm extremely proud of all of our contestants."
She also said there was a substantial audience turnout.
"I think we did have a lot of support from the community, our Greek organizations and also our students too," she said, "so I think the turnout was great. I think you could hear the cheers from the audience."
Contestants gave different monologues about an actor they each found inspiring, which included the likes of Beyonce and Gabrielle Union.
Outgoing Miss Black CU Marissa Williams gave her last performance on the Miss Black CU stage with a poem.
Later on, the contestants came out in sportswear to demonstrate different sports, but they were not judged based on this.
Contestant 3, Reagan Williams, said one thing she learned throughout her journey is that pageants are hard, but she would still like to complete again in the future.
"My feet are killing me," Williams said, "but these shoes are on point."
There were five judges, two of whom were winners of the same crown, and also a presently crowned Queen from Texas.
Byron Phillips, a Cameron alumnus, said the event was classy and everyone was welcoming.
"I thought the event was great," Phillips said. "Everyone was welcoming and really accepting – excellent performances. I really enjoy all the dancing, all the songs – just a really classy event and all."
The contestants displayed their various talents by singing, playing the keyboard and dancing. Guest performer Shaebreon Cade danced to John Legend and Common's song "Glory."
Taylor said every year, there is controversy about the pageant's name and open enrollment.
"We prepare our contestants from day one to handle that," she said, "but one of the things that we stress is that we don't discriminate. That is not the basics of what our pageant was founded on.
"It's really about celebrating women, celebrating yourself and being self confident, so we don't discriminate based on race or any other factor for that matter. We want students to come and participate every year."
Finally, the contestants came out in their eveningwear which followed with the question-and-answer segment, and the last guest was Wanda, who performed an original piece titled "When the Enemy is Me."
The outgoing Queen bade her farewell and it was time for awards and the coronation.
The first recipient was Reagan Williams for Miss Congeniality, Sujana Rupakheti for Business Woman Award, Toluwalope Adeyemi for 2nd Runner Up, Sujana Rupakheti for 1st Runner Up, and the Winner of the 2016 Miss Black CU Pageant, Sarae Simpson.
Simpson said she felt amazing and that she gave all the glory to God.
"I've being praying for a long time for this," she said. "I've being working hard for a long time for this, so it's definitely worth it."
Simpson said one thing she learned through the journey was to be herself.
"It's okay to be different from other people," she said, "and it's okay to like other things and think other things".
Lastly, Thompson hoped and encouraged other student organizations to see BSA as an example and put on pageants of their own.
For more information about the Miss Black Miss CU Pageant, contact the office of Diversity Affairs at (580) 581-2209.
You may also like...