Cheer grabs Third at National Competition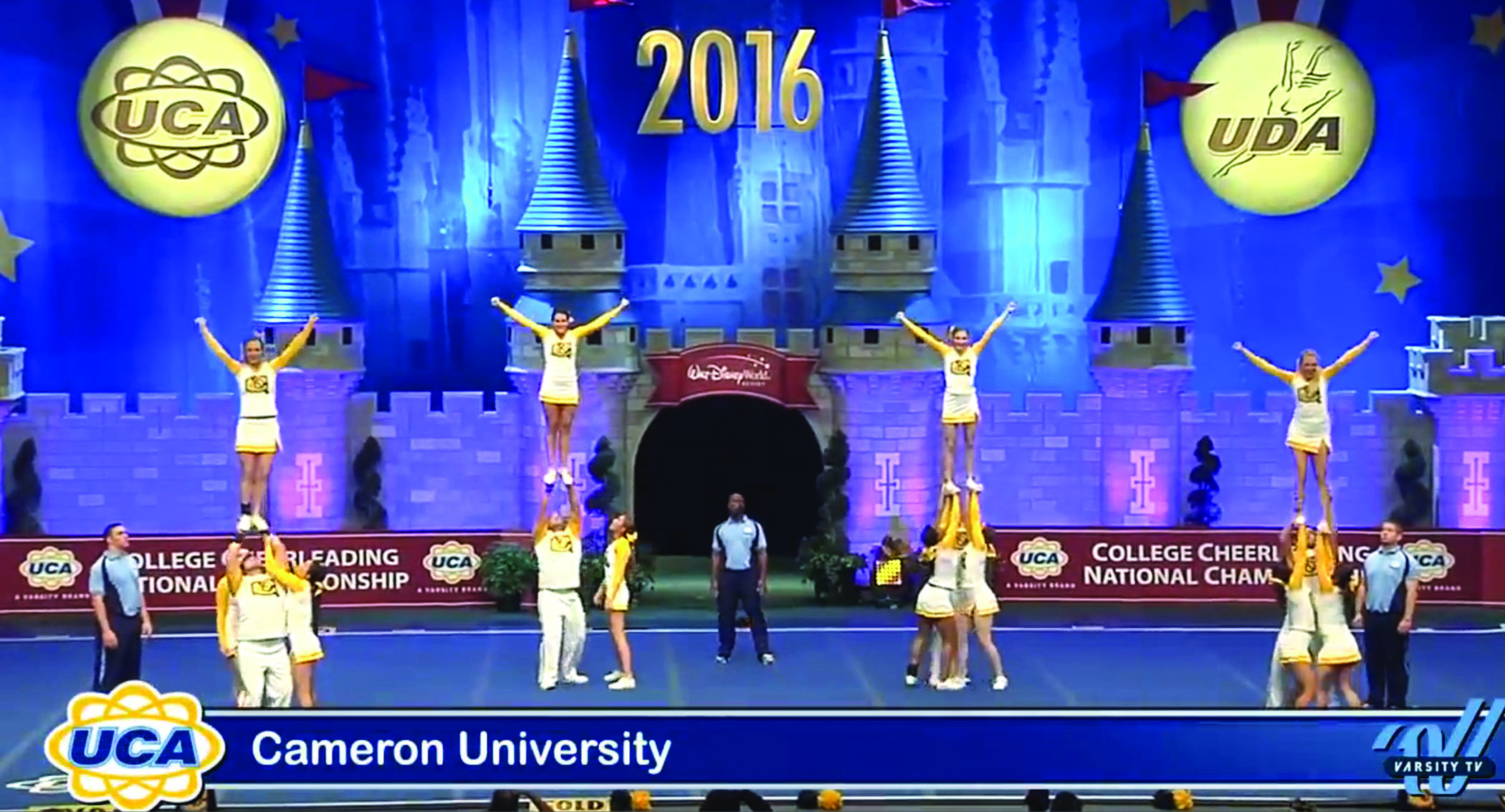 Vicky Smith
Managing Editor
@pinkwritinglady
On Jan. 16, the Cameron University Spirit Team received third place with a score of 73.45 in the Universal Cheerleading Association (UCA) Small Coed Division II at the College Cheerleading and Dance Team National Championship, held at the Walt Disney World Resort in Orlando, Fla.
This year marks the first time in 15 years since the team competed for this particular title.
Head Spirit Team Coach Ryan Flood, who is also the strength and conditioning coach, said when he took position as coach three years ago, his first goal was to make the team game ready.
"I knew we didn't have the numbers or the experience yet to really get to a point where we were ready to compete," Flood said. "This year, in the third year, I feel like we've had the numbers, had the people who are ready to compete, and we've had the skill level to do that."
Flood said on Jan. 15th, their first day in Orlando, they checked out the performance venue.
"None of my athletes had been to this venue," Flood said, "so they were able to go and see where you would warm up. … I think it also calmed their nerves to see what was going on and be as a prepared as possible."
On the morning of Jan. the 16th, the team practiced, then prepared for the competition.
"[We] got dressed, ready to roll, then went and competed," Flood said. "We had awards right after that, and we had a nice dinner out at Disney Springs, which used to be Downtown Disney."
The team spent their last day in Orlando at Disney World.
"Because we were done competing, we had a free day around the parks," Flood said. "A lot of people hadn't been to Disney World yet. … [That] night, a few of us went and watched Division IA, major teams – like the really best teams in the country – which was exciting."
According to Flood, at the actual competition, the grading scale is 100, and the points are divided into three categories.
"Fifteen points comes from your crowd tape," Flood said. "It shows that you're actually a spirit squad that's involved in your campus and in your community. … The cheer portion is broken up into 35 points of your score. … The other fifty points is basically your skills, so tumbling, stunting, baskets, and pyramids. Then, based on your difficulty level and your execution is what you get points off of."
Flood said he would like for the Spirit Team to compete annually, and they are already preparing their skills for next year.
"You prepare almost the whole year," he said. "I think the mental aspect of understanding how it's going to be when you get down there … is just as important as all your other preparatory stuff."
To Flood, the most rewarding part of the experience was watching the team come together.
"Even before we competed, our kids talked and said, 'Hey, we're proud of each other, and we're excited to be here regardless of how we do.'
"We're very excited to get third, but the fact that we hit our routine, and they were all excited to be with each other, I was the happiest about. That meant we'd built a team."
Cheerleader freshman psychology major Sydney Evans, said her teammates made all the hard work worth it.
"Honestly," Evans said, "the most rewarding part of the competition for me was getting to step onto that competition mat with some of my absolute favorite people in the world."
Evans said she and her teammates are like a big, happy family.
"I love my team," she said. "We're all so different and unique, but we seem to fit together perfectly. It's such an amazing team to get to be a part of. I am beyond blessed. God is so good."
This trip marked Evan's first time to go to Disney World.
"My favorite part of Disney was getting to walk around the parks with some of my teammates and just getting to enjoy the experience of Disney for the first time with a few people that mean a lot to me," she said.
"I also loved looking in all of the stores to buy souvenirs for my loved ones back at home."
To view photos of the Spirit Team at the competition, visit https://www.universaleventphoto.com/ShoppingCart/SelectThumbs.aspx.
You may also like...