Baseball at 11-0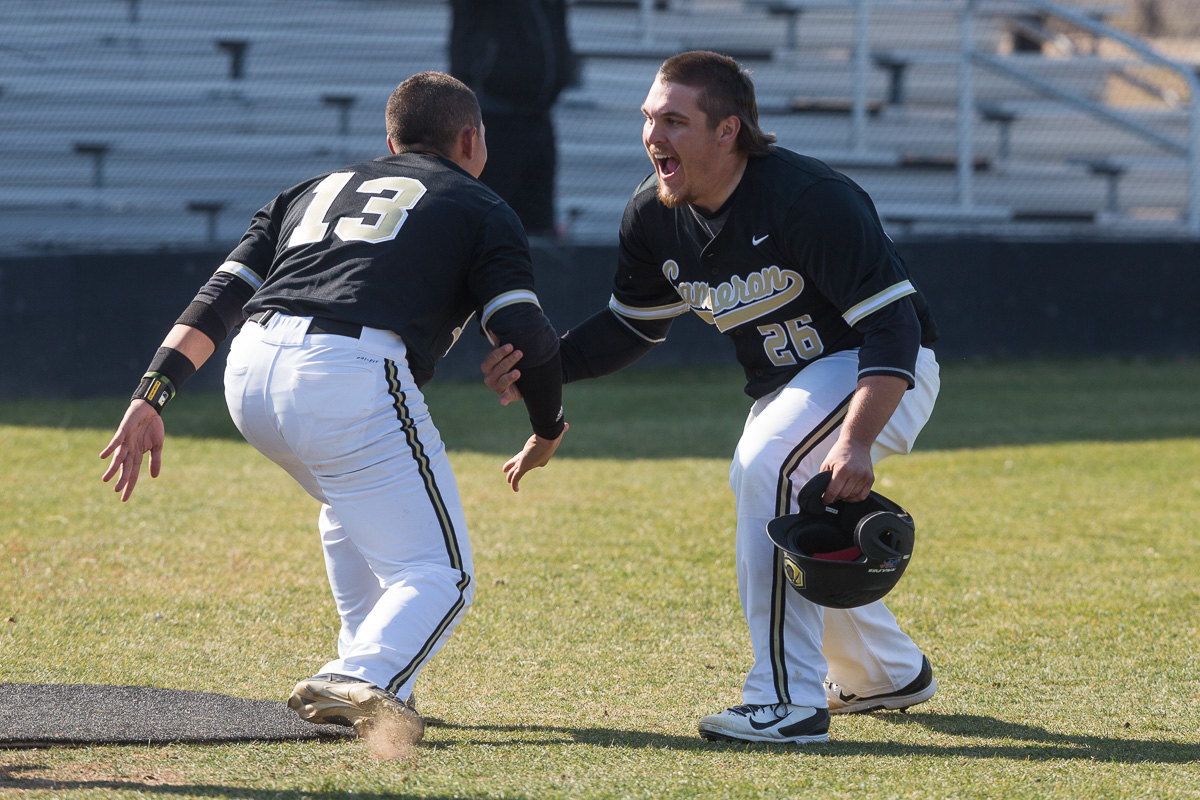 Vicky Smith
Managing Editor
@pinkwritinglady
The Cameron University baseball team stayed undefeated after a four-game series sweep of William Jewell, bringing their record to 11-0 on the season.
The Aggies have also earned a number 22 national ranking in the National Collegiate Baseball Writers Association Poll, their first ranking since Mar. 5, 2011.
Head Coach Brady Huston said he and the players are excited about the start of their season.
"I'm just so proud of the way that they're playing," Huston said. "We've had some success playing some good teams, and we're just trying to keep it rolling."
Huston said the players worked hard during the fall semester in preparation for the new season.
"I think they've really grown," he said. "Our senior class is unbelievable. … When we have adversity, they're resilient because they're prepared.
"They're on time. They do the little things, and when you do those things consistently, you have success."
Huston said one of the biggest contributors to the team's success has been the upperclassmen's advisement to the lowerclassmen at every practice.
"There's only three us of coaches," he said, "and there's 38 players, so when there's little things that we don't see, the older guys are really trying to step in and help lead."
According to Huston, giving every player the opportunity to play has been a challenge.
"We had several good arms in our bullpen that didn't throw this weekend," he said. "They're very good players, so you're just trying to play the match-ups and doing the best you can."
Huston said the most rewarding part of the season has been seeing the smiles on the guys' faces after every game.
"We want to continue to keep winning," he said. "We're playing it one game at a time. We're naming our game-one starter every week, and we don't name the next guy until the next game's over.
"We're going to continue to grind and play one game at a time and see what happens at the end."
Redshirt junior third baseman Haydon Bogard said last year was tough, but this season has welcomed many returners.
"We have a lot of guys that can play—a lot of guys that can play different positions," he said, "so if a guy's struggling or if a guy's doing well, we can just plug different people in.
"Everybody's been coming through so far, which is good for the team."
Bogard said the team's goal, like Huston's, is to keep winning.
"We want to win the last game of the year," he said, "so we're just going to keep working hard, keep playing well, and hopefully we will end up on top."
You may also like...