Army Strong: ROTC turns 100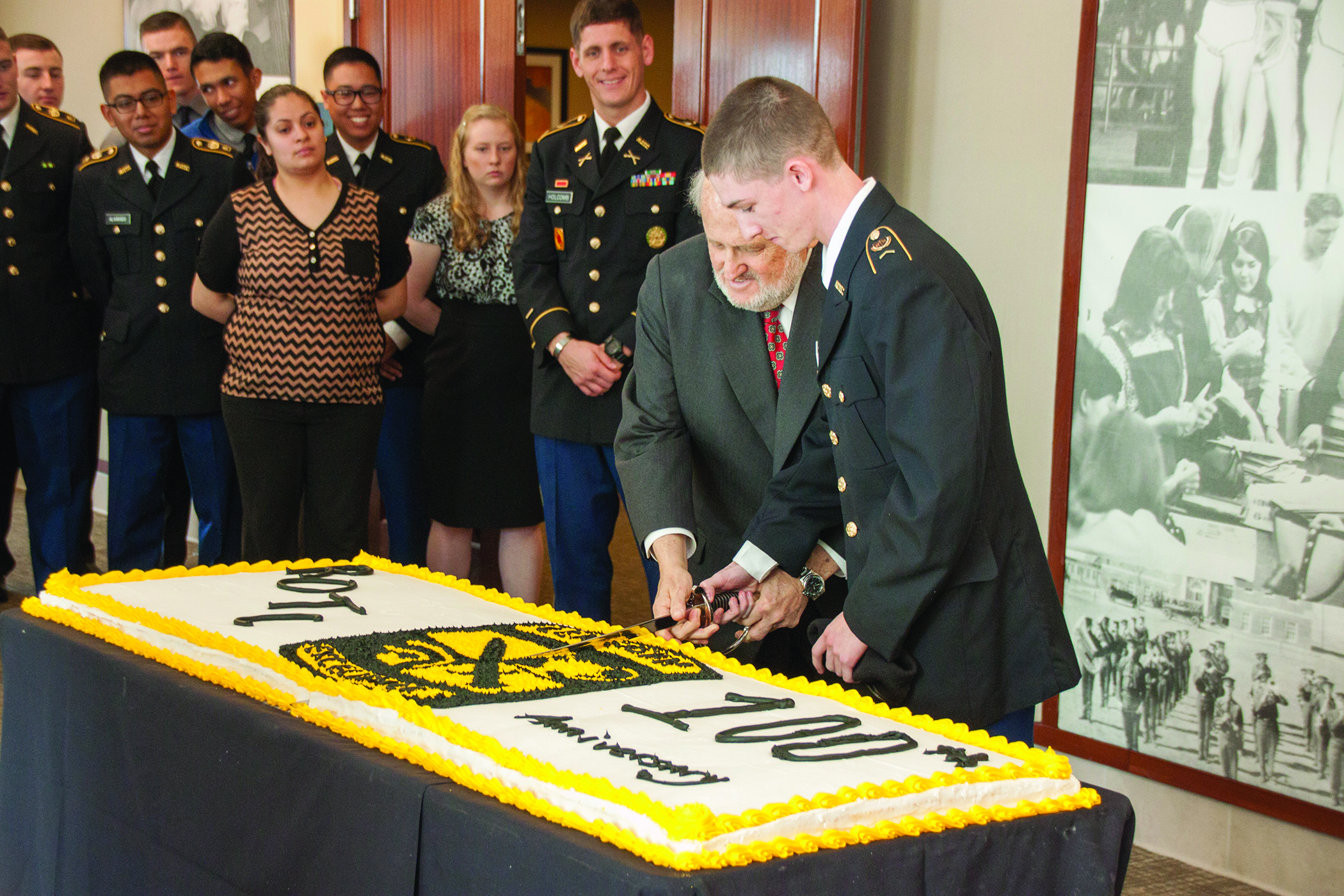 Cutting the Cake: Cameron ROTC held a ceremony at 11 a.m. on Feb. 19 in CETES to celebrate ROTC's 100th anniversary. Today, it is the largest officer-producing organization in the US military.
Vicky Smith
Managing Editor
@pinkwritinglady
This year, Cameron University's military community is commemorating the 100th anniversary of the Army Reserve Officers' Training Corps (ROTC).
According to the Official Home of Army ROTC website, the program "began with President Wilson signing the National Defense Act of 1916. … The signing of the National Defense Act brought this training under single, federally-controlled entity.
"[It] is the largest officer-producing organization with the American military, having commissioned more than half a million second lieutenants since its inception."
MS IV Miguel Hernandez, Jr., a criminal justice major, said the Cameron ROTC program has a prominent history.
"Since its inception in 1970," he said, "it's been nearly 46 years, and over 750 cadets have been commissioned here at Cameron alone."
Hernandez said before he joined Cameron ROTC, he was stationed at Fort Sill.
"I was prior service," he said. "My senior NCOs and other officers that were active duty kept on pushing me to go the officer route, and I went ahead and did the Green to Gold program."
Hernandez said his experience as a cadet has been very unique with the camaraderie of brotherhood and sisterhood.
"It's all encompassing – being about to trust yourself [and] being able to trust those that you work with," he said. "A positive attitude is contagious around here."
According to Hernandez, he and the other cadets train as a group throughout the semester, as well as during the summertime.
"You're working together," he said. "You're developing the freshmen and sophomores. Seeing them develop, lead, take it by the reins and accomplish their mission and their goals is also very rewarding.
"We focus a lot on teamwork and leadership skills and traits that you can use not only in the military but also in the civilian sector."
Chair of the Cameron ROTC Lieutenant Colonel Eric Treschl, a professor of military science and MS IV instructor, said the mission of ROTC is to develop leaders.
"You can lead in the military as well as civilian organizations," Treschl said. "ROTC focuses their education on leadership and discipline, management techniques, learning about culture in other parts of the world and teach[ing] young people how to solve problems."
Treschl said he is a believer that the skills that make military leaders successful are the same skills that can make other people successful as well.
"I'm really trying to [cast] my net wide and think outside of the uniform," he said. We do focus on military leadership, but I'm trying to broaden that discussion of leadership."
Treschl said there are specific traits present in a person who leads others well.
"Being physically fit is part of being a good leader," he said. "Being able to lead from the front is a part of being a good leader, and being competent in your skill set is part of being a good leader."
According to Treschl, the Cameron ROTC program is comprised of 60 students. He said he enjoys working with them and leaves work smiling nearly every day.
"The students are willing to learn, eager to learn [and] eager for a challenge," he said. "It doesn't matter how hard I make stuff, they want more. It keeps me on my toes, so it's really good.
"It's really rewarding for me to have that type of interaction."
Upcoming events for the ROTC department include the Bataan Memorial Death March at the White Sands Missile Range in New Mexico on March 20, an awards ceremony on March 25, a Joint Leaders Training exercise with UCO, OU and OSU on April 8-9 and the climbing of Treadwell Tower on April 29.
For more information about CU ROTC, visit www.cameron.edu/militaryscience.
You may also like...