Cooperstown Kid: Griffey by the Numbers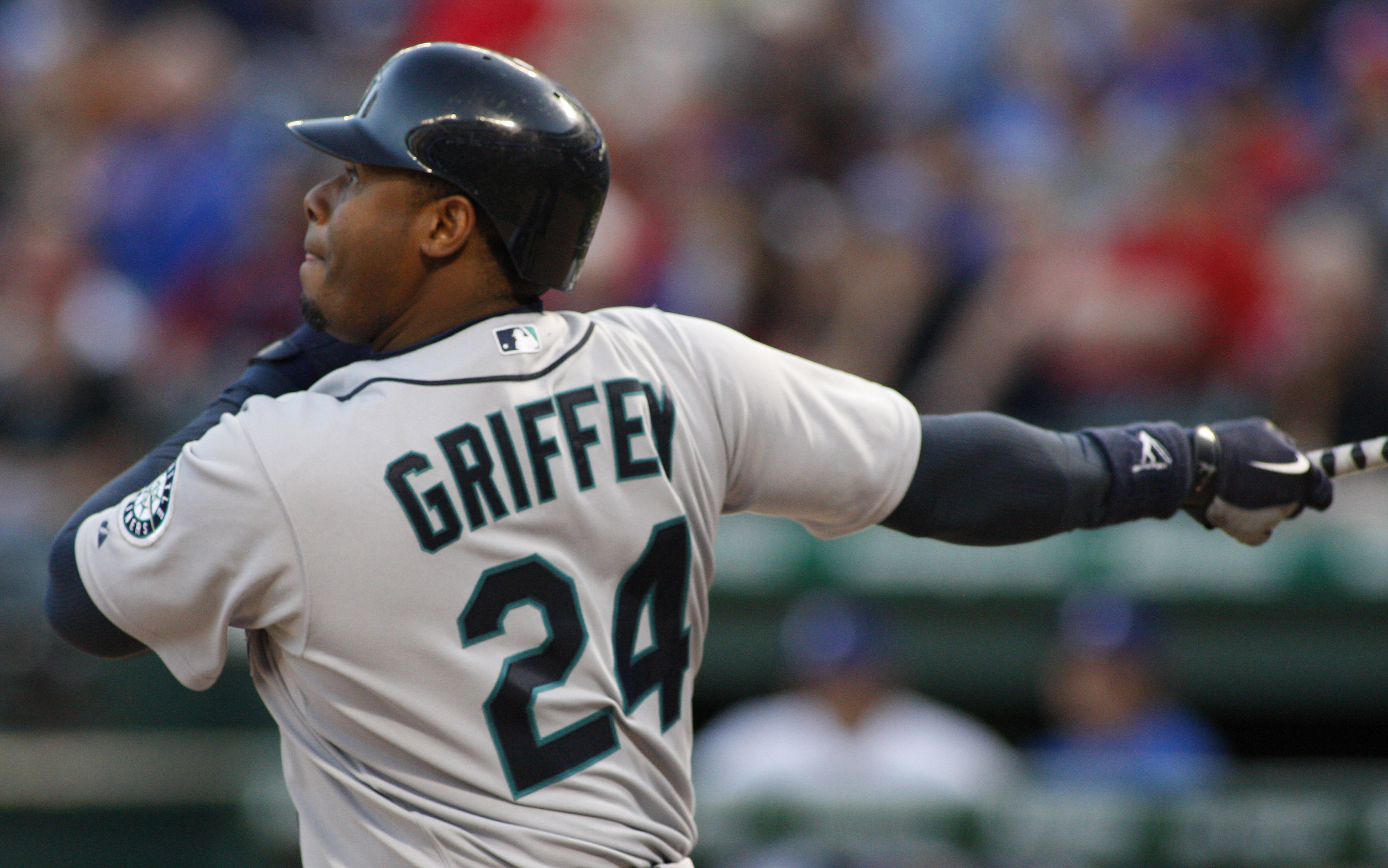 The Seattle Mariners' Ken Griffey, Jr. offers at a pitch during the Texas Rangers' 6-2 win over Seattle at Rangers Ballpark in Arlington, Texas, on Friday, April 9, 2010. (Paul Moseley/Fort Worth Star-Telegram/MCT)
Jacob Jardel
Sports Editor
@JJardel_Writing
This summer, the Baseball Hall of Fame will induct its two newest members into the fraternity of baseball greats.
Mike Piazza will enter the Hall as arguably the best offensive catcher the game has seen since an Oklahoma boy named Johnny Bench. However, there is one star who will shine a little brighter this July.
Famed outfielder Ken Griffey, Jr., will also see a plaque with his face in Cooperstown this summer. Known simply as "Junior" or "The Kid," Griffey will be the first Number One draft pick selected for enshrinement, getting in with a record 99.3 percent of the vote from the Baseball Writers' Association of America (BBWAA).
To put this number in perspective, the minimum requirement for election into the Baseball Hall of Fame is 75 percent. Only 32 of the BBWAA-elected members received 90 percent or more of the vote. Even Babe Ruth barely cracked 95 percent.
The Kid finished three ballots shy of becoming the first unanimous inductee. When asked about missing out on history, he responded in his typical humble fashion.
"No, I'm not disappointed," Griffey said. "I can't be sad or upset. It's truly an honor to be elected, and to have the highest percentage was definitely a shock."
Considering the caliber of legendary players before Junior who missed unanimity by slim margins, this achievement is truly an honor.
Recently, Cal Ripken, Jr., missed out by eight votes with 98.53 percent of the vote. Though he played 2,632 consecutive games, Ripken also played and retired in the midst of the growing Steroids Era of baseball, potentially tainting some of the ballots.
All-time strikeouts leader Nolan Ryan received 98.79 percent of the vote in 1999. Philadelphia Daily News columnist Bill Conlin was one of six voters who did not include Ryan on their ballots. His reasoning: Ryan did not win enough games.
"I just think the greatest power pitcher since Billy Graham should be more games above .500 than 324-292," Conlin wrote in 1999. "I just wish I could get rid of this annoying little voice in my head that keeps repeating: 'Winning percentage is what gets you to the World Series.'"
For 23 years, Mets great Tom Seaver previously held record with 98.84 percent of the vote, five votes shy of unanimity. David Whitley of the Orlando Sentinel broke down how those five voters left Seaver off their ballots.
Tom Terrific appeared on the ballot in 1992, the same year as Pete Rose, the hit king of Major League Baseball banned for gambling. Three writers sent in blank ballots to protest Rose's omission from the ballot. One writer inadvertently left Seaver off in his preparation for an upcoming heart surgery.
"A fifth writer was stuck in the old vortex," Whitley said. " 'If Ruth, [Ted] Williams or [Ty] Cobb weren't unanimous, nobody should be."
This reasoning is why Whitley thought The Kid would not get the coveted first unanimous vote. It is very likely that this – or the fact that Griffey never won a World Series in his career – kept him off those three ballots.
But he still deserved it.
In his stints with the Seattle Mariners, Cincinnati Reds and Chicago White Sox, the 13-time All-Star accumulated some of the best statistics in baseball history. He hit 630 home runs, sixth in Major League history. He batted in 1,836 runs, 15th all-time. His 2,781 hits are 50th all-time.
Add onto that the 28 single-season titles and a nomination onto the MLB All-Century Team in 1999, Junior had a legendary 22-year career, despite his proclivity toward injury at the turn of the millennium.
According to Sports Illustrated projections, if Junior stayed healthy enough to make around 631 plate appearances between 2001 and 2006, he would have hit 92 more home runs (722) and 353 more hits (3,134). Those totals would have been good enough to make him and Hank Aaron the only players with 700 home runs and 3,000 hits.
Maybe they would have been good enough to earn an appearance on at least one of those three ballots.
Regardless of why he missed unanimity, one thing is for certain: Ken Griffey, Jr., is a legend of Aaronian, maybe even Ruthian caliber. His voting percentage proves just that.
His induction also marks a sort of changing of the guard in the ethos of baseball greatness. Since getting called up in 1989, he played through four decades, a player's strike, the Steroids Era and a paradigm shift toward big arms on the mound and even bigger bats at the plate.
In reality, Griffey represented the bridge between the two eras. He had the approach of Aaronian legend mixed with the youthful sprezzatura of the modern era. If ever there was a player for all seasons, it was Junior.
If ever there was a unanimous Hall of Famer, it should have been Ken Griffey, Jr.
You may also like...