Cameron University presents: Dr. Gary Buckley, 29th Hackler Award recipient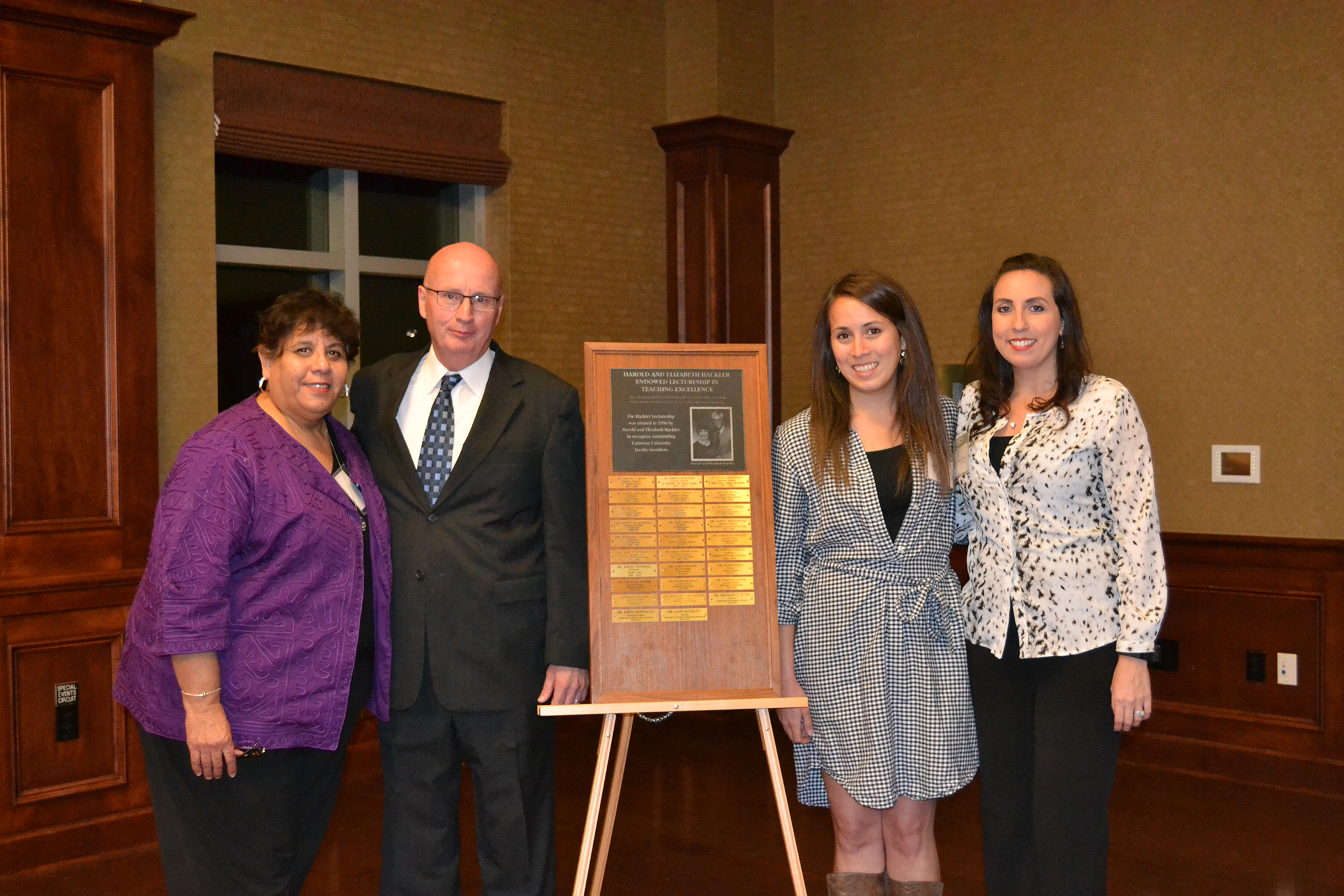 Dr. Gary Buckley with his wife and two daughters.
Vicky Smith
Managing Editor
@pinkwritinglady
At 7 p.m. on Nov. 2 in the McCasland Ballroom, President John McArthur presented the 29th Harold and Elizabeth Hackler Award for Teaching Excellence to Dr. Gary Buckley in the Department of Chemistry, Physics and Engineering.
Buckley received a plaque, a $2,000 stipend and an additional $1,500 for professional development.
The awards reception began with dinner and a welcome from McArthur, who said the Hackler Award is Cameron's highest faculty honor.
"It was established in 1996 thanks to a financial gift from the Hacklers, the Halliburton Foundation, the McCasland Foundation, and then finally from the Oklahoma State Regents for Higher Education to make the financial resources available," McArthur said.
McArthur said this year was the first time for the awards ceremony to be held in Lawton.
"The ceremony's been held in Duncan so that they [Hacklers] could attend," McArthur said. "We lost Harold Hackler in the past year. … We will miss him greatly."
According to McArthur, he learned two lessons from the Hacklers.
"First, teaching and learning are something that we do with our students and not to our students," McArthur said. "Second, we have to take care and respect the full lives of our students."
Vice President for Academic Affairs Dr. Ronna Vanderslice took the podium next to recognize past Hackler Award recipients who were present, as well as to thank Buckley for tutoring her daughter.
"Most of us want only the best for our own children," Vanderslice said, "so this year, when my daughter got behind in her classes due to a family emergency, I called on one of the best I knew – tonight's recipient.
"I'm so appreciative that he was able to tutor her for hours on Saturday afternoon in his office to help her catch up. But, what I found when talking to other students on campus was that this was a pretty common practice for him."
One such student whom Buckley has helped is Alexander Rivas, a senior chemistry major with an emphasis in health professions.
Vanderslice welcomed Rivas to the stage next, where he introduced Buckley.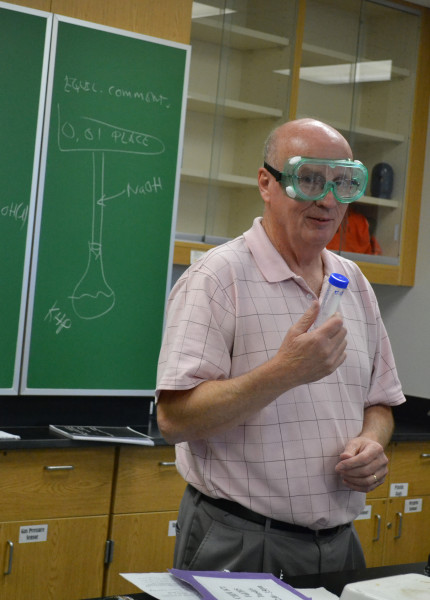 "I'm honored to represent all the Cameron students that have been influenced by Dr. Buckley," Rivas said. "Dr. Buckley is always there when you need him, and he's always there to give you great advice."
Rivas said in the spring, he was offered an internship at the National Institute of Health in Maryland, but he was scared to go because he did not know anyone.
"Dr. Buckley brought me into his office," Rivas said. "He sat me down, and he said, 'You'd be crazy not to go.' After two hours of conversation about how many opportunities I would be missing in Maryland, I decided to go.
"It was one of the best decisions I've ever made in my life, and I'm always in debt to you, Dr. Buckley, my mentor and my friend."
Buckley, who has been at Cameron continuously since 1986, said he is honored to receive the Hackler Award.
"In my previous life, I actually was involved in the awards ceremony," Buckley said. "I got to meet the Hacklers. … They put together this award to recognize what they thought was outstanding teaching at Cameron, and so I think it's important that we keep that focus."
Buckley said he can remember the first time he taught a class.
"They said, 'OK, you can teach this class,' so I walked in," Buckley said, "and I opened my mouth, and everybody started writing stuff down. I was terrified because I thought, 'Uh oh. They're going to be writing all of this stuff down all day long, and I don't know what I'm going to say at this point.'"
Although Buckley knows what he will say for each class period now, he said each semester and each day holds its own surprises.
"The classes have personalities," Buckley said. "What's kind of fun is walking into the classroom for the first time and looking out there, realizing there's a whole new crop. They're going to be different than any class you had before."
While in the classroom, Buckley enjoys interacting with students, as well as teaching them about numbers. He said it is fun to watch and help students grow overtime.
"Some of it's an academic growth," he said, "but some it's personality growth and a maturity growth. … I think one of Cameron's strengths is that we take students sometimes who don't think they even belonged in college that came and tried it out. By the time they get done, they're competitive."
He said he feels a sense of satisfaction when he watches students graduate.
"I listen to names going across the stage," Buckley said. "It's neat to have had them in class a while back [and] realize you're part of them getting graduated and going to the next step."
Buckley said he believes higher education is ultimately important because it enables students to think more broadly about topics.
"There isn't one [major] that's better than the other," he said. "No matter what you're going to be, you're going to get a little bit of math, science, English, sociology or psychology, humanities [and] diversity.
"It gives you a broader background. It gives you a better sense of how other people might think about something and helps you carry out better conversations later."
You may also like...