Bublitz writes poetry on social justice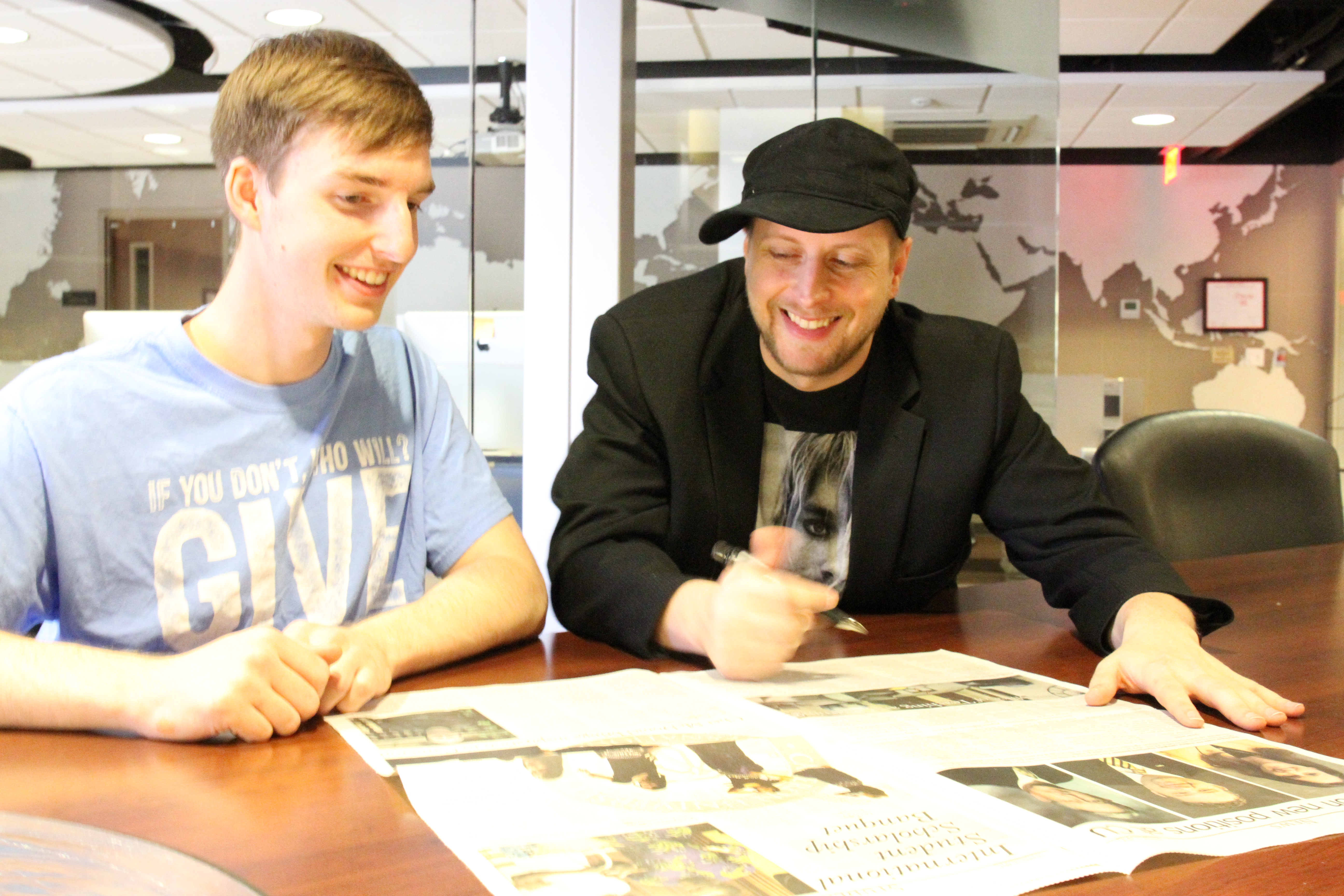 Communication instructor and Collegian adviser David Bublitz reviews an issue of the Collegian with senior biology major Joel Frambes, who is also the copy editor of The Collegian.
Vicky Smith
Managing Editor
@pinkwritinglady
Just as students must balance their course work with their creative work, instructors must balance their work in the classroom with the work in their personal professional lives.
Mr. David Bublitz is one such instructor.
Before Bublitz became an employee of Cameron University, he was a student of Cameron University. He balanced class with work, holding on-campus job positions, such as a tutor at the Center for Writers and managing editor of the Cameron Collegian.
Now, as a communication instructor and advisor of the Collegian, Bublitz commits himself to teaching students, as well as furthering his own education and creative work.
Bublitz said when he started working as the Collegian advisor in fall 2013, he was still in the process of completing his Master of Fine Arts (MFA) degree in Creative Writing from the Red Earth Low-Residency MFA Program at Oklahoma City University (OCU).
"It's really about prioritizing time," Bublitz said. "One of the things that Kerry Cohen in the Red Earth Program said during one of her lectures [is] … 'If you're going to be a writer, you have to prioritize your writing.'
"There were days when I would work in here [Collegian lab] or teach class and then immediately after that, I would have to start working on my writing even though I was tired … but that's just one of those things you do to make the writing happen."
Bublitz said he focuses on his creative work, but the students remain his priority, for he is passionate about teaching from the perspective that it is a public service.
"Students come first," he said. "The fiscal pay that I get as a teacher is only one method of compensation. I get to interact with my students and be a part of their collegiate narratives – their stories, and I get to help them. That's what I value the most."
Bublitz said as a student, he was also influenced by his professors, particularly by poet Quraysh Ali Lansana, who was his mentor in the MFA program.
"My writing is specific to issues of social justice in context of the culture of the military," Bublitz said. "Q's writing is specific to issues of social justice in terms of issues of race, so he kind of helped me come to terms with my own circumstances through his pain and through the struggles he articulates in his writing and in his craft."
At his last July residency of the MFA program, Bublitz presented his thesis, which he said was a book-length collection of poems titled "Combat Pay."
"My book deals a lot with my relationship with my father, specifically," Bublitz said, "and what it's like to be a child – a young boy growing up to be a man and the things that I learned about myself and my identity."
According to Bublitz, another poet who influenced his poetry was Tony Medina.
"Tony also addresses issues of social justice specific to race," he said. "I'm very much a proponent of writing as activism – writing especially specific to issues of social justice."
In terms of craft, Bublitz said he believes poetry should be written in such a way that anybody can read through it and get something out of it.
"When I put my book together," he said, "one of the things I wanted to do was to make sure all of the writing was accessible, but at the same time, to implement elements of the work that were layered poetically."
Bublitz also said poetry that is written honestly can have a powerful impact on readers.
"In his book The Things They Carried, [Tim 'O Brien] talks a lot about the nature of truth," Bublitz said, "especially in context of writing about war or combat … and how it's difficult sometimes to articulate to people the reality because the reality seems unbelievable. I think that that's true in a lot of ways."
Bublitz said right now, his next goal professionally in his creative work is to publish his book "Combat Pay."
"It's been all about sending out individual poems and getting my name out there before I actually publish the complete collection," he said. "I'm in that stage right before book publication."
Over the last year, Bublitz has shared his work at public readings. In January 2015, he traveled to Chicago, where he was one of three featured poets for Waiting for the Bus reading series.
According to Bublitz, he is grateful for those who have helped him with his creative work. Some of these people include Dr. Keller, Dr. Hall, Mr. Hooley, Dr. Jennetta Calhoun Mish, who is the director of the MFA program at OCU, and his parents.
"I actually learned to read from my mom before I started public school," Bublitz said. "They [parents] pushed me to do the things I wanted to do and explore the places I wanted to explore in creativity."
To read Bublitz' published work, visit the following websites: http://thepoetsbillow.org/literary-art-gallary/2015-pangaea-prize/it-only-looks-like-leaving/ and http://o-dark-thirty.org/2014/12/03/vows/.
You may also like...