Behind the scenes of CUTV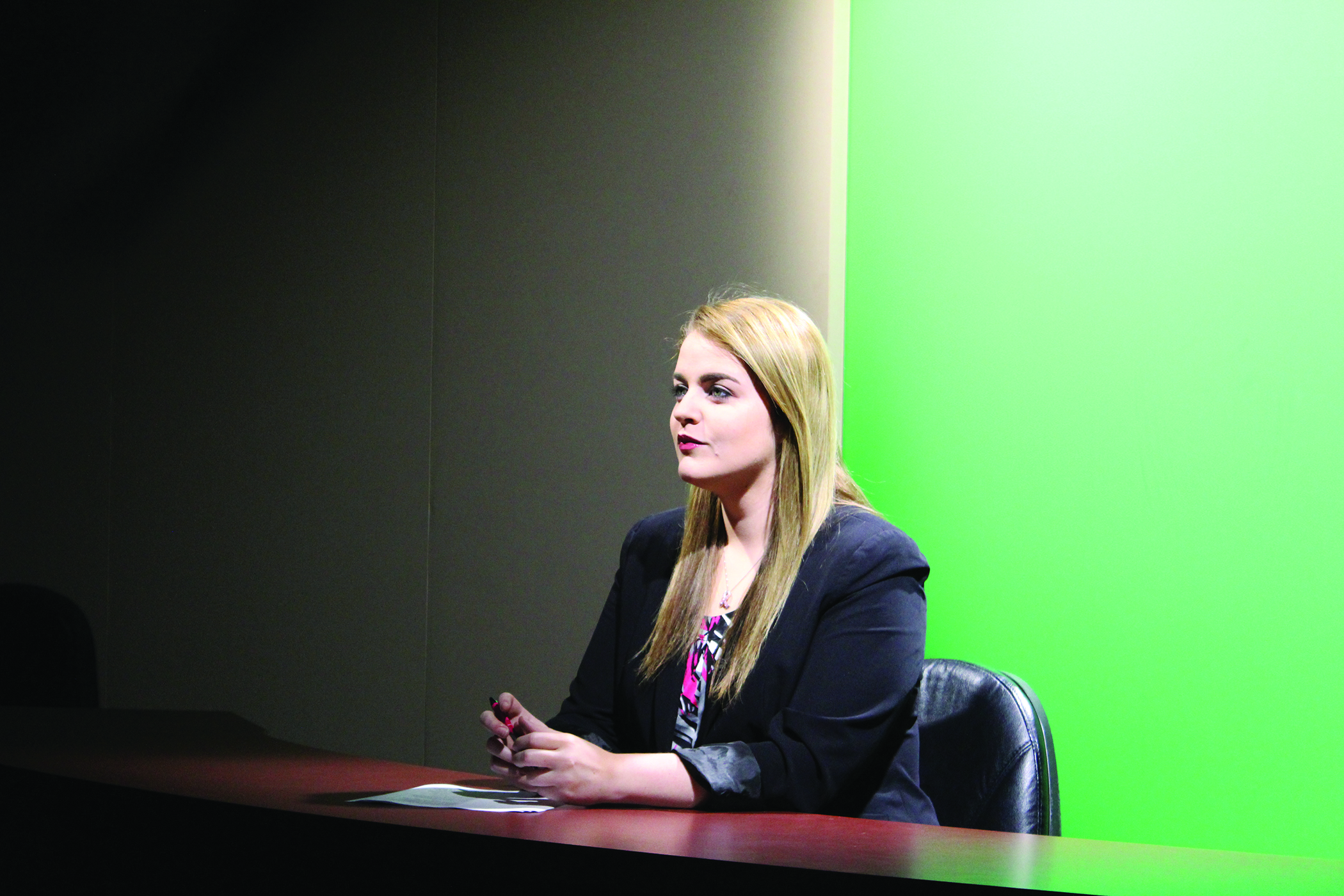 Haley Berry sits behind the desk of CUTV's show "Film Geek."
Jacob Jardel
Sports Editor
@JJardel_Writing
A few hours after filming her latest episode of CUTV's "Film Geek," host Haley Berry sat in a beanbag chair she keeps at her newsroom desk.
In short, it was just another day as host of a CUTV show.
"I love working with my crew," Berry said. "We're just able to laugh together and enjoy being on the set instead of just being all business. There's a time when it's all business, but there's also that time where we get to enjoy being around each other."
Video Production Manager Jeff Larson said a balance of work and banter has been a welcome integration to the weekly routine.
"It's been a lot of fun," he said. "She makes it exciting and makes me look forward to doing the show."
Berry took the helm of "Film Geek" at the beginning of the fall 2015 semester. Going in, she said she felt hesitant taking over the show.
"I was nervous about reading a teleprompter," she said, "[and] I was nervous about being on set. Now, I'm able to let go and be myself in front of the camera."
Larson has also noticed Berry's evolution with the show.
"She's grown faster than anybody I've seen," he said. "She's a quick learner, and now she's just flawless with it."
At the center of this growth has been that comfort Berry said she has grown into. Her personality reflects the sassy nature of Anna Kendrick and the "Pitch Perfect" character Fat Amy, and Larson says this self-sure style of banter makes its way onto the show.
"She throws in a little comedy and talks about the things that she wants to talk about," he said. "She won't do news or anything that she's not interested in."
Behind this banter and comedy, though, is what Berry describes as a good bit of work outside of watching movies and writing a review.
"There's so much more than that," she said. "You've got to write news stories and be able to create a show. … I have to come up with creative ideas. I'm a creative person, but there's so much more involved with it than I thought."
But the movie reviewing process still takes up much of the preparation time. From her first review of "Straight Outta Compton," Berry said that she has had to be more detailed with her reviews than a simple thumb up or down.
"I look back on some of the movies I loved in the past," she said. "Because I'm able to critique movies more in depth, I'm a little more critical of them."
Regardless, her love for movies still persists. This love comes from numerous memories of family bonding.
"Whenever I went to the movie theaters, it was a treat for us," Berry said. "My brother and I would just get so excited. It was the same thing with renting movies and watching movies at the house."
Now that she has her role on "Film Geek," Berry takes solace in having a job that makes her go to movies more often.
"I now have an excuse to go to the movies other than, 'Hey, Haley wants to go to the movies again,'" she said. "I actually have to. I still have excitement going to the movies, but it's not necessarily a treat for me. … It's not necessarily a bad thing; it's just part of my week now.
Berry has reviewed many movies this semester, like her personal favorite "Spectre" and her personal least favorite "A Walk in the Woods." She said that this last semester has been fun for her, from the banter in the newsroom to getting work done on camera.
More importantly, she said she is looking forward to even more of it next year.
"Expect a lot more movies and lot more experienced reviews," Berry said.
You may also like...