Aggies snap skid, defeat West Texas A&M in five sets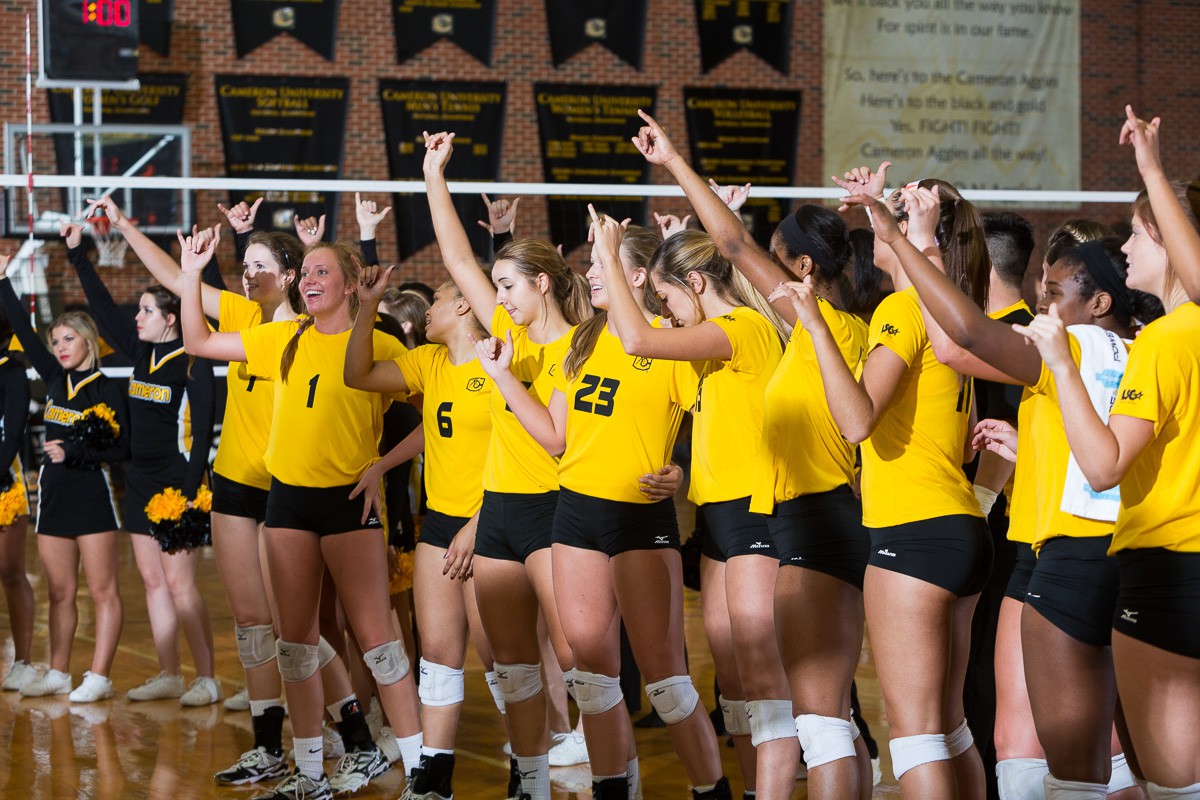 Krista Pylant
Sports Editor
@KristaPylant8
The Cameron volleyball team snapped its six game losing streak with a 3-2 win over West Texas A&M (24-26, 25-18, 25-23, 25-27, 15-12) on Oct. 27.
The win marked the first time since 1998 that the Aggies have defeated West Texas A&M with the last victory dating back to CU's Lone Star Conference Tournament title.
Senior Kat Evans said toppling this particular conference foe added an extra rush to the win.
"I told the girls in the huddle that I want to go out my senior year beating West Texas," Evans said. "They have always been a good team and this year they are not as great as they have always been, so it was really great to take it to them this year."
The Aggies had two players achieve a double-double on the match.
Freshman Jordan Williams put down 17 kills out of 76 attempts and added 18 digs to grab her fourth career double-double.
Freshman Tori Luckenbill attained her eighth career double-double after contributing 46 assists and 26 digs
CU freshman Jenna Gillean led the Aggies in kills with 18 on the match and sophomore Cristina Viera matched Luckenbill in digs with 26.
Freshmen Kayla Allen and Paige Dixon led Cameron in blocks with eight and six respectively.
Overall, Cameron ended the match with 65 kills, a .124 attacking percentage, and 117 digs, while West Texas A&M had 63 kills, a .136 hitting percentage, and 132 digs.
Cameron led for the beginning of set one, but WTAMU went on a five point run to come within a point of the Aggies' lead, 10-11.
CU inched away, and the Lady Buffs went on another six point scoring chain to tie the set at 20. The Aggies pulled away again to reach set point with WTAMU down by three.
However, the Lady Buffs remained strong and scored five consecutive points to win the set, 24-26.
With Cameron ahead 14-17 in the second set, the Aggies furthered their advantage with a six point run.
Three CU errors and a Lady Buffs kill brought WTAMU closer, but Cameron scored two more to seal the second set victory, 25-18. West Texas A&M ended the second set with a .034 hitting clip while Cameron had a .075 attacking percentage.
In the third set, Cameron came away with 18 kills and a .224 hitting clip compared to WTAMU's 14 kills and .200 attacking percentage.
The Lady Buffs had a one point advantage late in the set at 23-22, but two Lady Buff attack errors followed by a kill from Gillean brought CU the win, 25-23.
WTAMU held a 24-19 edge in set four, but Cameron got five consecutive points off of four Lady Buff errors and a CU kill to tie the set at 24. The set knotted once more at 25, but the WTAMU stayed alive by scoring two, taking the set 25-27.
Cameron remained down at the start of set five but tied the match at seven and got the edge, 8-7.
Both teams traded the lead as the set remained tight and tied for a final time at eleven until Cameron scored three straight points to lead, 14-12.
The Lady Buffs got a kill in, but CU's Gillean returned one back to bring the Aggies the victory, 15-12.
Evans said avoiding the agony of another defeat kept the team striving for victory.
"We wanted to finally break the losing streak we've been on," Evans said. "We've been working really hard in practice on the last few points in games, so being down in the fifth set and coming back is really big and shows we're not a team that gives up."
You may also like...