Volunteering with Miracle League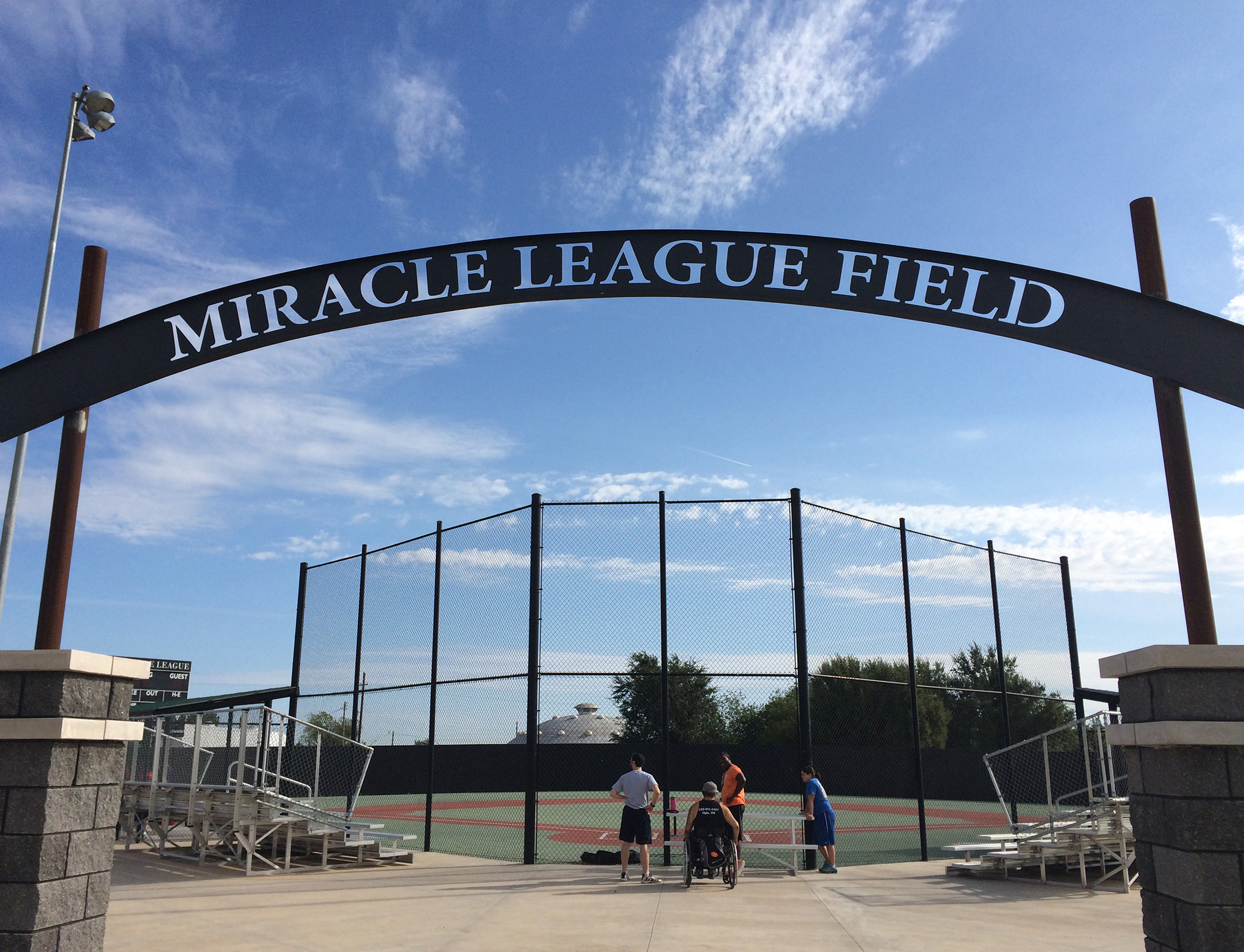 Jacob Jardel
Sports Editor
@JJardel_Writing
For Cameron students looking to give back, a Saturday morning stop to Elmer Thomas Park will provide the opportunity in the form of the Lawton-Fort Sill Miracle League.
The Miracle League is a chance for people with special needs to play baseball on a ballpark that affords the kids and young adults with a safe environment. Games start at 10 and 11:30 a.m. on Saturdays until Oct. 17.
Miracle League Sports/Membership Director of the Lawton Family YMCA Alvin Clemons said that the league helps children and adults from age three to 21 years in the two-inning games.
He added that his job enables him to interact with people in the community.
"I love being the Sports Director of the league for the reasons of bonding with the players and encouraging them that they are a very special part of our community," he said.
Director of Student Development Dr. Jennifer Pruchnicki serves as a Cameron representative for Miracle League. She said that her experience in disability services gave her a great opportunity with the organization.
"I have met some awesome individuals on the committee who want to make sure there are great things for kids to do in our community and who care about children and their families," she said. "It's been a wonderful experience."
Sophomore psychology major Carlos Dominguez said his experience with Miracle League has been positive for him as well.
"It was really awesome seeing the smiles on the kids' faces," he said.
According to Pruchnicki, volunteers – or "buddies" – play a part in helping the players hit the ball off of tees or assisting them around the bases if needed. However, she said the important part of the job is cheering the players on alongside the children's parents and other supporters.
"Kids do not care about whether someone has a disability or not," Pruchnicki said. "They want to have fun with whoever is up for it."
Alongside Dominguez, senior business administration major David Propes has acted as one of the "buddies" this season. He said that he had an immediate response when Pruchnicki brought up the prospect to him.
"I've always enjoyed helping our community," Propes said, "When this opportunity was brought up by Dr. Pruchnicki, I had to jump on it as soon as possible."
Dominguez said he also has volunteer experience with people of need in the community. However, Pruchincki added that the students learn something from an event such as this, regardless of previous volunteer experience.
"For students who volunteer," she said, "I think it helps them learn more about services and events in the community and lets them give back in a way that helps improve their communication skills, empathy and learning how to be more flexible and adaptable."
Dominguez added that the experience adds something else on top of those lessons.
"By being able to volunteer and play baseball with these kids, it's just a great feeling," he said.
Propes said he enjoyed helping the children.
"It was a lot of fun," he said. "I had a great time with the kids and seeing them get excited as they played the game was an awesome experience."
Clemons said that that the awesome experience translates to more than those helping.
"I think the Miracle League is a great benefit for special needs children and adults to have fun playing baseball," he said, "and the parents get opportunity to sit and watch and enjoy seeing their children have fun."
With all the benefits for everyone, Pruchnicki said she encourages everyone she can to join in and help.
"I want our students and community to support Miracle League because it is an awesome program," Pruchnicki said.
To participate in or get more information on Miracle League, contact Alvin Clemons at 355-9622 or aclemons@lawtonfamilyymca.org.
You may also like...