Medicine Park hosts annual Art Walk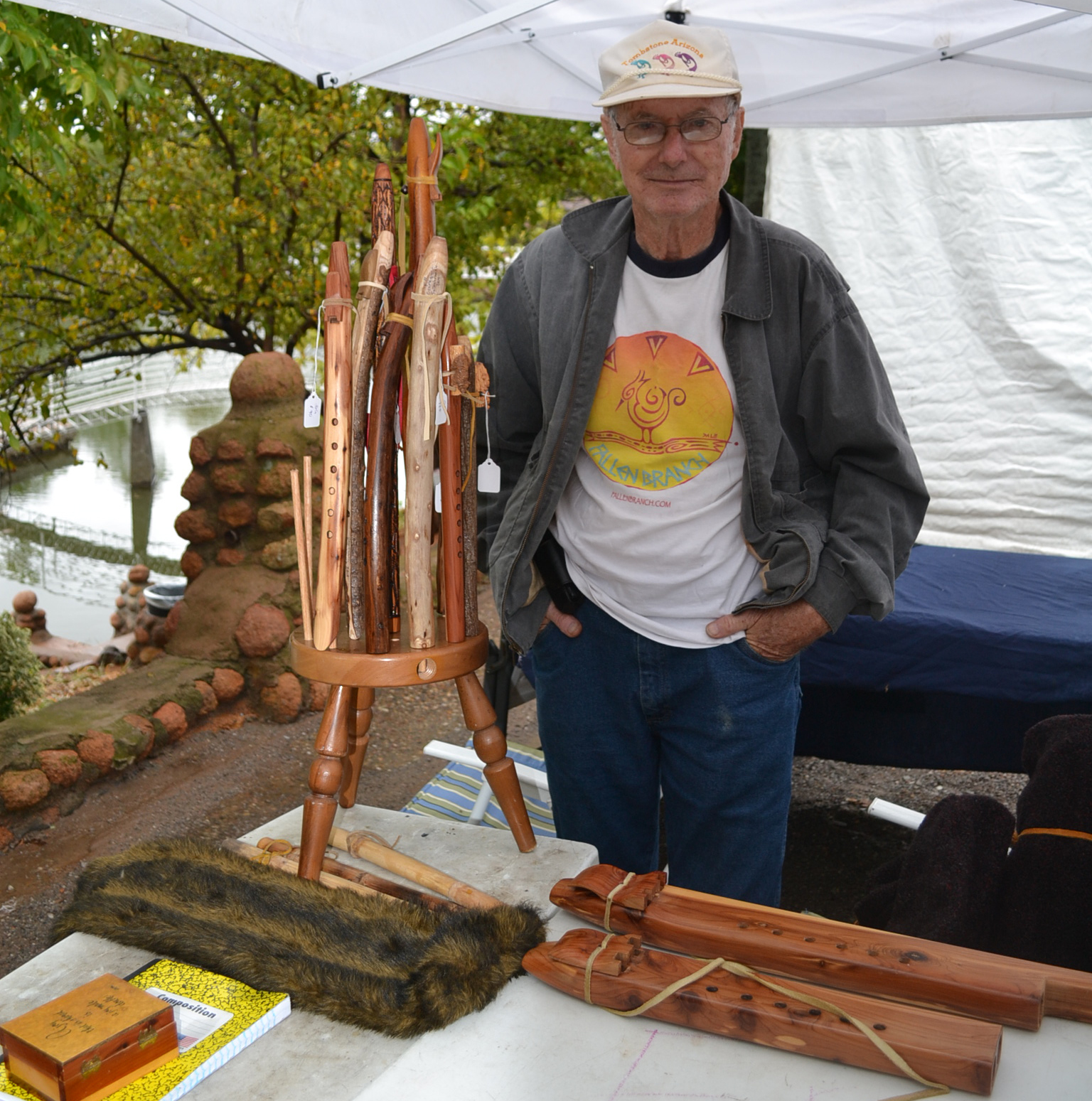 John Suttles showcases a variety of flutes, some of which he made, with Medicine Creek as a backdrop. Creeping Bear and Suttles were two of the many artists on display during the sixth annual Medicine Park Art Walk and Flute Festival on Sept. 19 and 20 in Medicine Park.
Vicky Smith
Assistant Managing Editor
@pinkwritinglady
Medicine Park hosted its sixth annual Art Walk and Flute Festival from Sept. 19-20. Those who attended received the opportunity to enjoy the work of featured artists and listen to live music, while young ones created their own art the Children's Booth.
Helen Riley, one of the coordinators of the Children's Book, said the Art Walk and Flute Festival provides a venue for artists to come display their work.
"It's really like the Arts for All Festival in Lawton," Riley said, "but in a small, more intimate location…This [festival] brings out the artists and the flute enthusiasts."
Susan May, another coordinator of the Children's booth and a fitness coach at Cameron, said the festival welcomed a diversity of art vendors.
"There's everything from sculpting to metal work to water colors, acrylics, photographs, tapestries, silk screening, jewelry," she said, "so there's pretty much something for everybody."
Riley said those who attended the Children's Booth made rain sticks, binoculars, shakers, pin wheels and jewelry.
"Quite a few of the children who come through are actually the children of the artists who have booths here," Riley said, "so it gives them something to do, but whenever you do things like this, you're exposing the next generation to art."
Don Brogdon, a senior computer science major at Cameron, said this year's festival marks his third time to help with Dwayne Eakins' photography booth.
"It's a lot of fun," he said. "I like seeing everybody's art and just getting to come here and kind of relax."
Among the many featured guests at the festival were photographer Steve Enter, carver Bobby Creeping Bear and flute maker John Suttles.
Enter, a photographer from Midwest City, said his photos capture the nature of the Wichita Mountains Wildlife Refuge.
"I enjoy when people enjoy when I take pictures," he said.
According to Enter, the festival has a great atmosphere.
"Everyone's just so friendly," he said. "I think it's just really good for people to get out and be amongst each other and see things and see what people can do because there are a lot of fantastic artists here."
Bear, a stone carver from Apache, said he carves a variety of stones, including alabaster and marble.
"I'm just demonstrating some carving techniques," he said. "I was here last year doing the same thing, and they invited me back this year. I think it's pretty neat down here."
Bear said his art is available to purchase in the Red Door Art Gallery, a shop in Medicine Park.
Suttles, a flute maker from southwest Missouri, said he has been making and selling flutes for a number of years for the company Fallen Branch Flutes.
"We go out and pick up branches on the ground and turn them into flutes and give them a new life," he said.
Suttles said his favorite part of the festival is visiting with the people.
"We've got friends from all over the United States that gather here together," he said. "The people here receive the vendors beautifully here…I just hope this keeps going here year after year."
According to Riley, after expenses for the Art Walk and Flute Festival have been paid, any extra funds will go to provide a scholarship for an intern at the Medicine Park Aquarium and Natural Sciences Center.
"[The center is] not completed yet," she said. "They'll get an intern from Cameron, so they will provide some internships for students to come and help."
For more information about the upcoming Medicine Park Aquarium and Natural Sciences Center, visit http://mpmns.org/.
You may also like...