2018 Cameron Plan: Looking ahead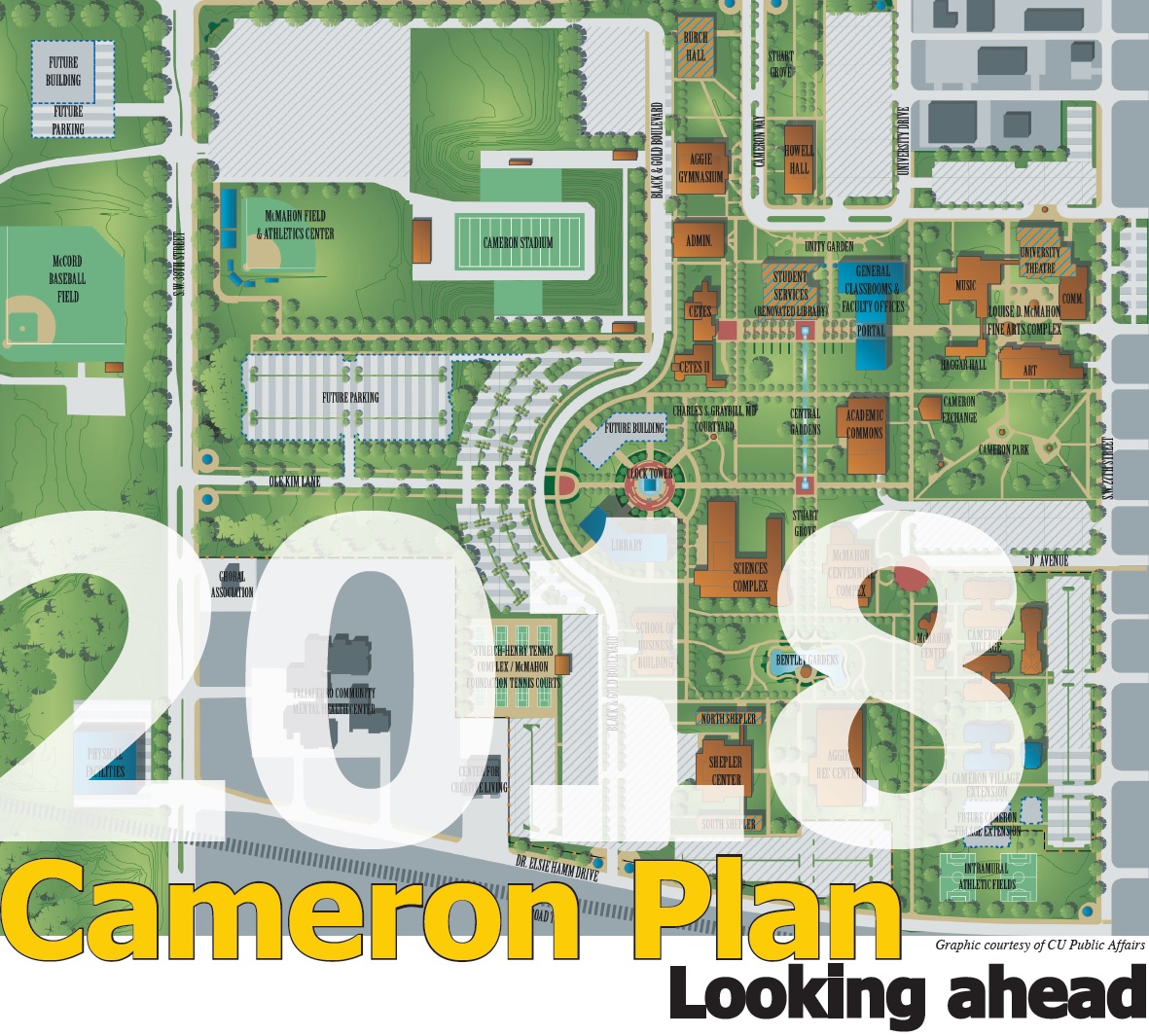 Jacob Jardel
Sports Editor
@JJardel_Writing
Nearly halfway through Plan 2018, Cameron University has many initiatives to implement on top of those already in place.
Cameron's third five-year plan, Plan 2018 began in 2013 and has focused on the phrase "Values driven, action oriented."
The proposals throughout the plan all focus on one of six core values: student learning; excellence in teaching, scholarship, service and mentoring; leadership in community and region; shared governance; diversity; and responsible stewardship.
These six tenets act as a launching pad for the various programs Cameron administration has established since 2013 and those they plan to put into effect until 2018. According to Cameron University President Dr. John McArthur, the progress has been going relatively smoothly.
"I think we're on track in most areas," he said, "but that's why we do an internal annual update to see where we are. The ones that we're lagging on, we'll put additional emphasis on this year.
"There are always so many good ideas that it helps us pick, choose and prioritize," McArthur said.
Overall, Plan 2018 contains 42 action items under the umbrella of the six core values. According to McArthur, the commitment to success seen in this year's five-year plan falls in line with the others before it.
"Plan 2008 had just been put in place when I arrived here, and each one of them has been ambitious. Each of the five-year plans has helped us improve Cameron."
Some of the initiatives put into effect so far have included Degree Works software, which helps students check their academic progress, and Recruiter software, which helps Admissions and Prospective Student Services staff keep in contact with potential students.
Other changes coming by the end of next year include improvements to help transfer students transition to Cameron and the establishment of a psychology clinic to train Master's students.
McArthur added that other initiatives are in the works to streamline routine administrative processes in order to eliminate excessive formality. One of these action plans involves establishing online enrollment for students.
"From a student perspective, I think it would be a big change," McArthur said. "They could go online and select their courses, interact with an advisor in an electronic format rather than having to make appointments."
With all these programs and more on the docket, McArthur said prioritizing the implementation becomes a task for which he asks outside assistance.
"We look at the process itself," he said, "listening to a wide array of stakeholders and trying to prioritize based on the impact on those different stakeholders."
The stakeholders to whom he refers are the Cameron students, faculty and staff. The input he receives from them not only builds the basis for the action plan to begin but also helps him decide on which priorities he and the administration should focus.
"On an annual basis, once I see those priorities, my task is to allocate the university resources in the most effective way possible so we can make as much progress on as many of those items as we can," McArthur said.
"We look at what we committed to do and say, based on what we know this year, here are the areas within that area we want to concentrate on more thoroughly," he said. "We make notes as we see things that are missing or new good ideas that we want to pursue."
Various changes within the university and throughout the global climate have shifted the focus of Plan 2018 over the years. With all of these priorities jockeying for position in different climates, the consistent adaptation is trying to keep student cost of education down.
According to McArthur, the work of the Office of University Advancement and the kindness of alumni has helped make this goal possible.
"That's the biggest way we keep costs down," he said. "It's by having other people who've had great Cameron experiences giving back so that another generation of students can go to school at the lowest possible cost and still get a great education."
In essence, these gifts can help students focus less on paying for the initiatives and more on studies and ideas that could better the university. McArthur said he is open to hearing student advice for what to do now and for Plan 2025, which goes into planning stages next fall.
"It's your university as a student, and we welcome your opinions and thoughts as a student body," he said. "We want to weigh those very carefully as we're planning the future for this institution."
For more information on Plan 2018, visit www.cameron.edu/plan2018.

You may also like...