Ole Kim: Behind the mascot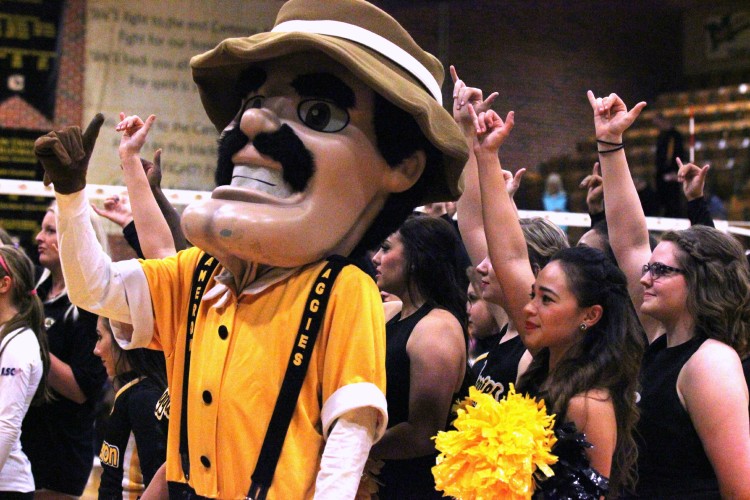 Jacob Jardel
Assistant Managing Editor
@JJardel_Writing
As the Homecoming bonfire burned through the veil of night, junior business major Waheed Gbadamosi felt a different kind of heat within him.
This heat came from the Ole Kim costume, which Gbadamosi has donned for the last two years as Cameron's mascot.
"It is very, very hot – especially during the summer," he said. "I'm lucky that most of our games are during the winter period because it really gets hot."
According to him, though, the heat was the least of his worries with the costume. A trip to the Universal Cheerleaders Association (UCA) Cheer Camp proved that fact.
"When I went to camp, if we combined all the mascot heads, mine weighed more than [the other mascots']," he said. "[And] it's hard to see. The visibility is not perfect. I can't see my legs."
Despite the discomfort of the costume, Gbadamosi said he has noticed the Aggie fervor stir up within him after he attended the UCO camp.
"It has solidified my Cameron pride," Gbadamosi said. "I'm more proud to be an Aggie than ever. If you go back and look at the history of how Ole Kim started, you have a sense of pride. It is a big honor to be the mascot."
However, Gbadamosi did not see himself being a mascot coming into his career at Cameron. His upbringing in Nigeria as the youngest of 16 children helped ease him into the process, though.
"It's something that kind of came naturally," he said. "Coming from a large family, you have to be naturally outgoing. If you don't speak up, you don't eat. So you have to remind people you're still here."
One thing he was unable to speak up about, though, was the identity of being Ole Kim.
"The first year, very few people knew," Gbadamosi said. "Except for my coach and the spirit team, nobody else [could know]. During my second year, a whole lot of people knew I was Ole Kim because I had to be with the cheerleaders and the student athletes."
The one thing that he still has to keep secret is where the mascot spends its down time when he is not cheering on the Black and Gold.
"Ole Kim has his office," Gbadamosi said, "and the office is top secret."
However, he made no secret that his favorite Cameron tradition is Homecoming because of how clear everyone's Aggie Pride becomes in that week.
"That is when you see the true Cameron spirit," Gbadamosi said. "Everyone is out, and everyone is involved and engaged. Once it's Homecoming, you know it's Homecoming. It's in the atmosphere."
However, Gbadamosi's favorite event to be Ole Kim at happens a little later in the spring.
"My favorite event so far is always Commencement," he said. "To be able to walk on that stage because it's filled with so many people and emotions, to see people moving forward with their lives is remarkable."
From the fervor of Homecoming to the celebration of graduation, Gbadamosi said he has learned a lot about being the mascot and about the Cameron experience as a whole. He added that his time at Cameron would not be possible without all the opportunities the university offers.
"I have had the opportunity to be involved with so many things at Cameron, which has given me a lot of experience," he said. "There are so many opportunities here, so many things you can take advantage of. It's left to you to seize the opportunity."
Though he is unsure of whether or not he will continue being Ole Kim into his senior year, Gbadamosi said that he learned about everything from punctuality to flexibility. One lesson transcends them all.
"The most important thing is to keep on cheering," Gbadamosi said. "No matter how the game goes, your duty is to keep on cheering, to keep on motivating everyone and getting the crowd going."
With this lesson in mind, Gbadamosi has one piece of advice for anybody who plans to be Ole Kim in the future.
"Put all your energy and all your effort into it," he said.
Tags FeaturedJacob Jardel
You may also like...