In memoriam: acclaimed Aggie Harold Hackler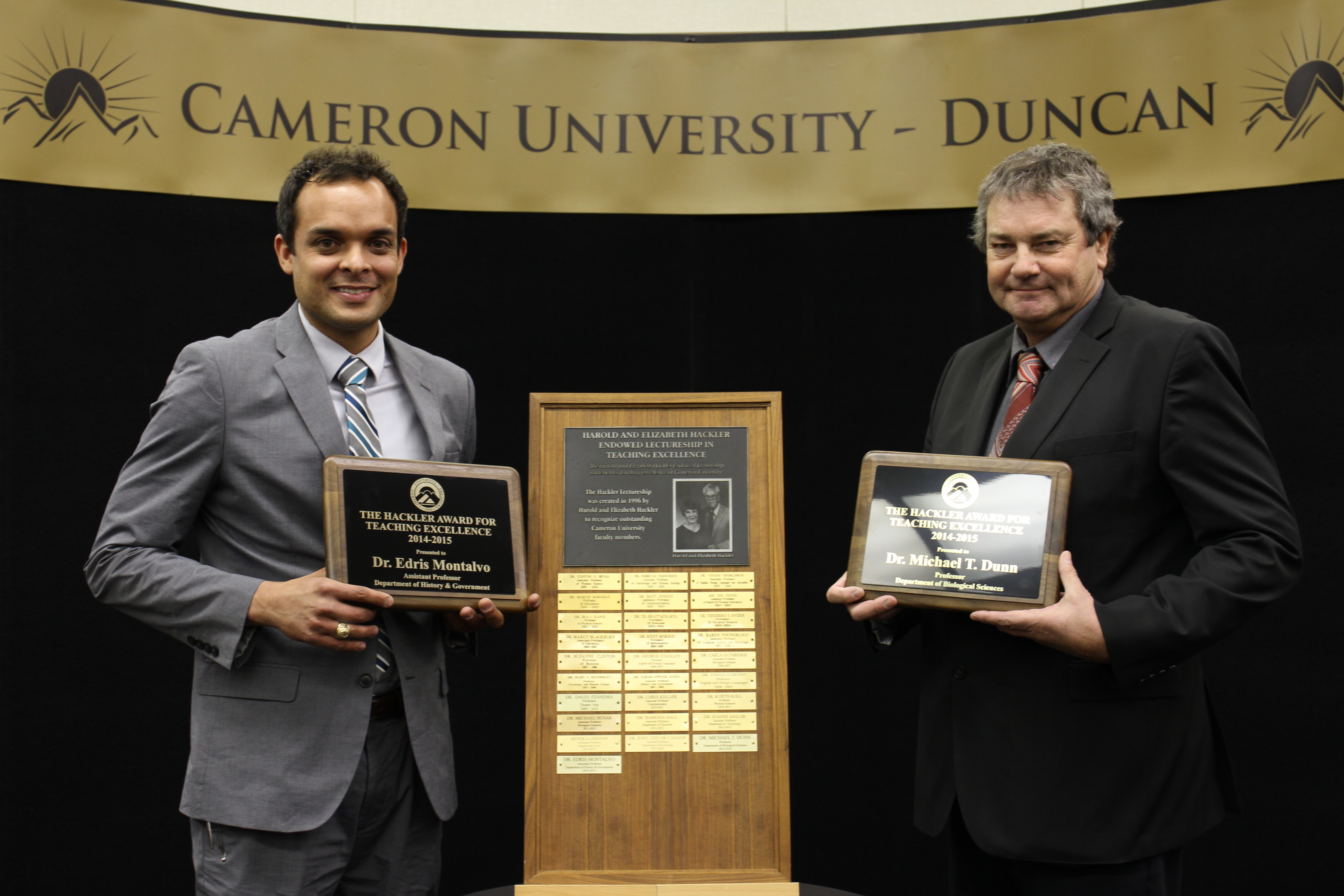 Hacklers awarding excellence: Dr. Edris Montalvo (left) and Dr. Mike Dunn (right) pose with their plaques after winning the Hackler Award for Teaching Excellence, named in part after the late Harold Hackler. The Cameron alumnus passed away on March 30. He was 89-years-old. He is survived by his wife Elizabeth.
Charlene Belew
Managing Editor
@CBelew15
An acclaimed Cameron Aggie and fierce Black and Gold supporter, Harold Ellison Hackler, age 89, passed away Sunday, March 30.
Harold Hackler and his wife, Elizabeth Nichols Hackler, both of Duncan, attended Cameron University together in the early 90s. In spring 1993, both graduated with associate degrees.
Harold graduated at the age of 67 and was the oldest individual who received a degree at Cameron in 1993.
His wife, who continued on in her educational career, graduated in 1998 with her bachelor's degree. She was also the oldest graduate of her class.
Both Harold and Elizabeth established an Endowed Lectureship in Teaching Excellence at Cameron University in March 1996 to recognize teachers in their endeavor to provide students with a quality education.
Cameron University President Dr. John McArthur said, to date, 28 Cameron University faculty members have received the Hackler Teaching Award.
"Harold and Elizabeth Hackler have been students and supporters of Cameron University and particularly our Duncan campus since the 1990s," McArthur said. "His unique combination of wit, wisdom and good cheer will be greatly missed."
Although Harold has passed, nominations for the 2015 Hackler award are still underway, and the award gives teachers an opportunity to enhance their professional capabilities inside and outside of the classroom.
"One of his legacies will continue to be the Harold and Elizabeth Hackler Teaching Excellence Award at Cameron University," McArthur said. "Through the Hacklers' generous financial gift with additional support from the Halliburton Foundation, the McCasland Foundation and the Oklahoma State Regents for Higher Education, an endowment has been created to recognize outstanding teaching in perpetuity."
The McCasland Foundation and the Oklahoma State Regents for Higher Education matched the couple's gift to create a pool of $100,000 for the lectureship endowment.
The idea behind the lectureship came because the Hacklers were impressed with the teaching quality they observed during their time at Cameron University, according to an alumni newsletter.
Harold also established the Harold E. Hackler Outstanding MBA Professor of the Year award at the University of Oklahoma.
Nominations for the 2015 Hackler Award are due by May 1.
A nominated faculty member must be a full-time member of the Cameron University faculty for at least three years, including the current year, and have the rank of Assistant Professor or higher, according to a nomination solicitation.
In addition to the stipend and professional development award, the Hackler winners also receive a plaque and have their names permanently recognized on the Hackler Lectureship honor roll plaque.
To nominate a Cameron University professor for the distinction, visit www.cameron.edu/academic_affairs/faculty-and-staff-awards.
The Office of Academic Affairs will notify eligible nominees and ask each nominee to provide an up-to-date curriculum vitae, a summary of teaching evaluations, department chair and/or dean evaluations for the previous three years and a statement of teaching philosophy, to include descriptions of teaching innovations or techniques.
Eligible nominee materials are due Aug. 21, 2015, to Administration Building room 250. Those with materials submitted at this time will receive consideration for earning the Hackler Award by the selection committee.
You may also like...