Going green for sustainability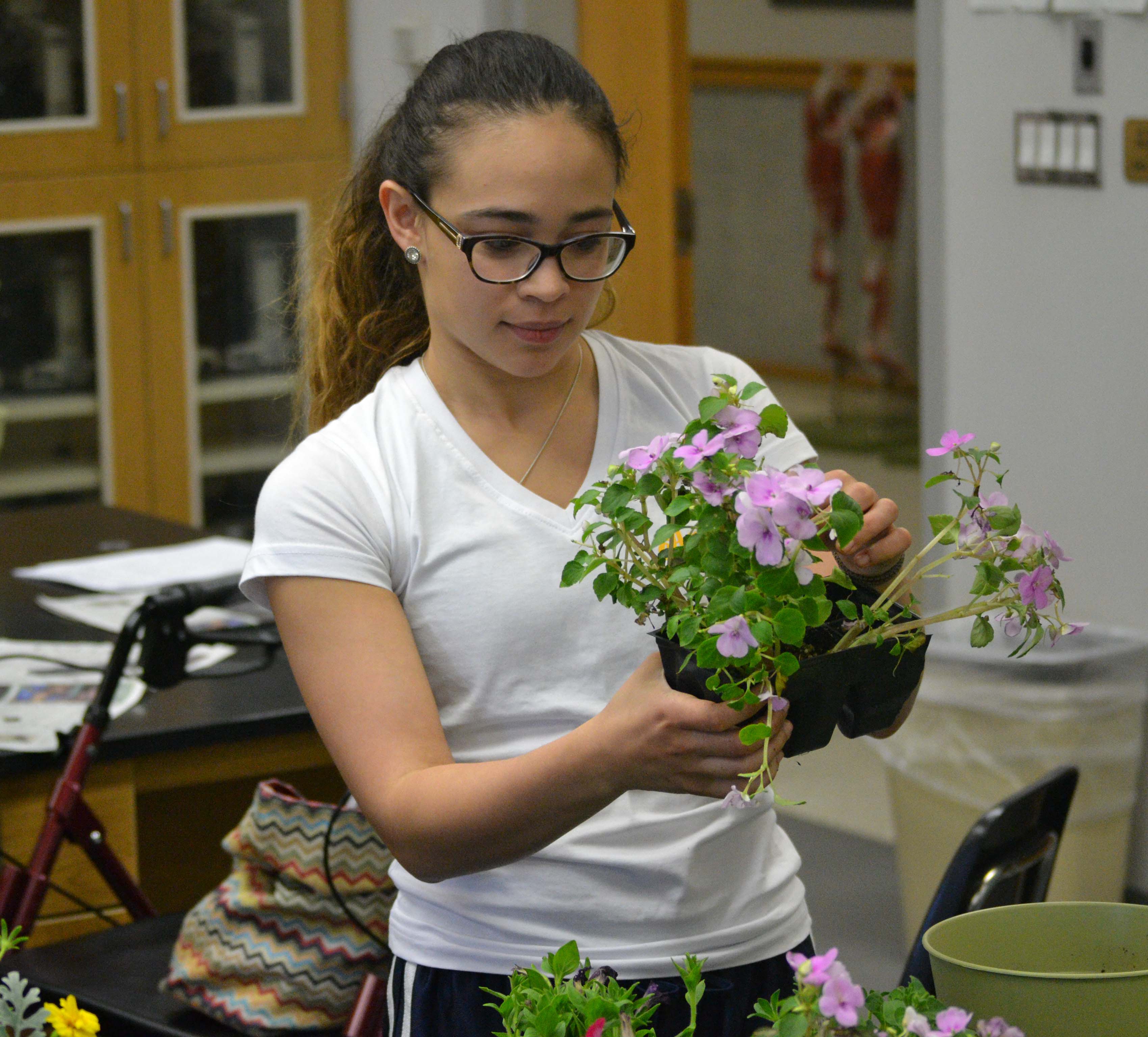 My green thumb: Junior Natalie Ruiz-Castillo works on replanting flowers at the Sustainable Gardening Workshop. The event was shaped around educating attendees on green methods and sustainability.
Joel Frambes
Copy Editor
@JoelPole12
The Cameron University Biology and Botany Clubs cultivated a new group of gardeners on April 10 when they hosted the Sustainable Gardening Workshop.
The groups welcomed anyone interested in turning their thumbs green and getting their hands dirty to the event from 2-4 p.m. in the Science Complex.
Students, alumni and members of the community all came out to learn about how to run a sustainable and successful garden.
Senior biology major Misti Shultz, currently an officer of both clubs and president-elect of Botany Club, ran the event, first instructing attendees of the workshop about ways to run a sustainable garden.
Addressing problems all Oklahoma gardeners face, the lesson featured discussion over waste water conservation, naturally sourced fertilization, efficient seedling germination and artificial chemical limitation.
Shultz introduced techniques for watering plants, centering around the idea of not spraying water in the air over the plants, thus wasting water.
The discussion also included composting, an effective way of reusing biodegradable waste for growing new life.
Shultz grabbed the interest and attention of gardening pupils by sharing her personal experiences and expert advice while maintaining that gardening was a source of joy she wants everyone to practice.
"When I was growing up, my grandma's husband was a park ranger, and he was real big into gardening," she explained. "We had three gardens every year, and we would go out and we would go to people that we knew. We would get manure and bring it home.
"We would prep the garden. And before the frost even lifted, we would be in the basement getting the seeds ready," Shultz recalled. "It was just a good, fun family activity."
While the groups designed the workshop for beginning gardeners, many knowledgeable gardeners were in attendance.
The informational section of the event satisfied both parties, with basic ideas and practices being taught to amateurs and a question and answer portion filled with advanced discussion between Shultz and the veteran gardeners.
Once the discussion concluded, the participants made their way to the botany lab where pots of soil and a variety of flowers awaited. It wasn't long before everyone had hands in dirt.
Shultz instructed novices on how to transfer store-bought plants to larger pots that would allow the flowers to grow and flourish outside of the restrictive plastic containers.
While it was not a difficult task, especially for the experienced gardeners, it was an important  one in growing the skills and confidence of the newcomers.
Senior biology major Holden Rowe was one of the students who felt the benefits of the workshop, and he took good humor in learning that gardening wasn't as daunting as he anticipated.
"I don't have a whole lot of experience with plants," he said. "When I try to plant, I typically kill them. So now I have some information as to why that might be the case."
Another student who gained self-assurance from the workshop was senior biology major Saranah Isenberg who reflected on her past failed attempts at growing plants.
"I've killed a cactus," she admitted. "No, I don't have a green thumb – more like a black arm – [but] I would like to plant herbs or garden vegetables."
This sentiment was popular among students who attended the event, and it was shared by Shultz.
"I wanted to do herbs and things that we could eat," she said, "but I somehow managed to get a fungus on all of the plants that I grew so we had to at the last minute go get the flowers."
Despite the vulnerability of homegrown plants to diseases and the inability or lack of desire to use pesticides to control such blemishes on household plants, it is worth the effort to raise them in this manner, according to Shultz.
"Gardening can be a lot of fun and it's not as much work as it seems like," she argued. "I grew up eating fresh grown fruits and vegetables and the quality that you get from that is far superior to what you would get at the supermarket. The tastes are just completely different."
The gardening workshop may be back next year by popular demand. Ronald Gaines, faculty sponsor of the Biology Club, is in favor of having Shultz organize a similar event next year along with many of the participants in this years workshop, including senior biology major Kathryn Parsley.
"[Misti] should do this again next year even though we're not going to have an academic festival for this next year," she said.
Shultz was excited to demonstrate her passion for gardening.
"I just wanted to share something that I enjoy with other people," she said, "and gardening is something that I have enjoyed since I was really little."
Tags FeaturedJoel Frambes
You may also like...